BFM Grey Matter 2019
12 July 2019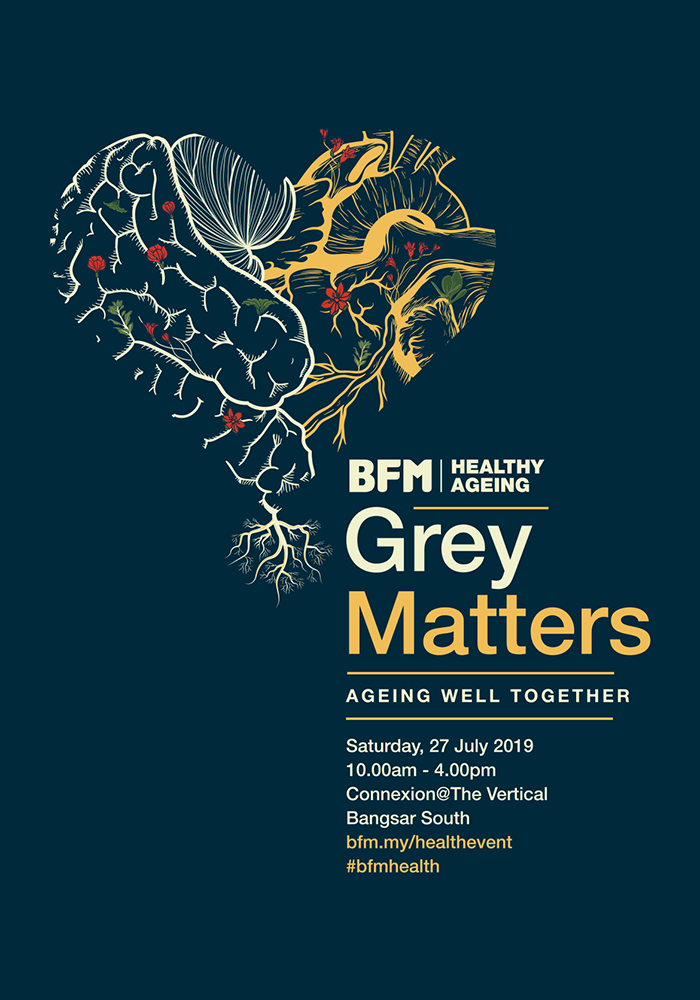 EVENT DETAILS:
| | |
| --- | --- |
| Date: | Saturday, 27 July 2019 |
| Venue: | Connexion @ The Vertical, Bangsar South |
| Time: | 10.00am – 4.00pm (registration starts at 9.00 am) |
| Topic Concept: | Grey Matters: Healthy Ageing and People Who Care for Them |
Synopsis:
Everyone talks about healthy ageing, but what does it mean? It's not just about living to 100; you'll also be entering a new phase of your life, one with its own joys and challenges. Whether it's pursuing a different career, picking up a new hobby, or spending time with family, you'll need to be in good physical and mental health. BFM'sGrey Matters event with Sunway Medical Centre is for everyone – those who are elderly, those who are getting there, and those who will be caring for the aged. Because we all need to start doing the right things today.
TIME
SESSION
9.00am
REGISTRATION & WELCOME REFRESHMENTS
10.00am
WELCOME ADDRESS BY MEERA SIVASOTHY, GM, BFM MEDIA
10.15am
OPENING SPEECH BY MR CHOY WAH WEI, CEO, SUNWAY MEDICAL CENTRE
10.30am

PANEL 1: HEALTHY JOINTS, ACTIVE LIFE

Synopsis:

Who says being older means being frail and weak? The oldest government leader in the world, Tun Dr Mahathir Mohamad, still cycles and exercises at the age of 94. Our joints and muscles can defy the debilitating effects of ageing if we maintain good physical activity throughout our lives. This means knowing how to prevent and manage injuries, whether through medical or surgical methods and rehabilitation therapy.

Guests:

Dr Suhail Suresh, Consultant Arthroplasty Orthopaedic and Trauma Specialist, Sunway Medical Centre
Dr Foong Chee Choong, Consultant Rehabilitation Medicine Specialist, Sunway Medical Centre
TBC

Moderator:

Ezra Zaid, Head of Digital & New Media, BFM Media

11.30am

PANEL 2: PALLIATIVE CARE & PAIN MANAGEMENT

Synopsis:

Our mortality is what gives life meaning. Life-limiting medical conditions, like certain types of cancer and other terminal diseases, force us to think about what really matters to us. Are we making health decisions based on our best interests? We help you navigate the grey areas in cancer care and pain management through the perspectives of oncology, palliative care, traditional and complementary medicine, as well as caregiving.

Guests:

Dr Julia Ho, Supportive Care Service and Palliative Care Physician, Sunway Medical Centre
Dr Lim Ren Jye, Modern Medicine Physician cum TCM Physician, Sunway TCM Centre
Dr Christina Lai Nye Bing, Consultant Clinical Oncologist, Sunway Medical Centre
Caregiver (TBC), Hospis Malaysia

Moderator:

Meera Sivasothy, Presenter, Health & Living

12.30pm
LUNCH
1.45pm

PANEL 3: THE HEART

Synopsis:

Cardiovascular disease – which includes heart attack, stroke and peripheral arterial disease – is the leading cause of death among Malaysians. Alarmingly, problems like high cholesterol, high blood pressure and high glucose are developing among younger people, which means we're seeing more Malaysians becoming burdened with heart problems into their old age. So when should the prevention of heart problems actually begin? What does good heart health mean, and what kind of dietary, medical and surgical interventions are suitable for older heart patients?

Guests:

Dato Dr. Yap Yee Guan, Consultant Interventional Cardiologist, Sunway Medical Centre
Dr Naresh Govindarajanthran, Consultant Vascular Surgeon, Sunway Medical Centre
L. Mageswary Lapchmanan, Former Head of Dietetics and Food Services, Hospital Selayang & Deputy Director, Allied Health Division, Ministry of Health

Moderator:

Lee Chwi Lynn, Presenter/Producer, Evening Edition

2.45pm

PANEL 4: THE MIND

Synopsis:

Retired? Well, your brain cells don't have to wither away. Staying mentally fit and alert will let you enjoy the years to come, whether it's to learn new skills or finally travel the world. But how do we take care of the mind when stroke, dementia and mental health problems are becoming more common? And how do we support caregivers, who bear a tremendous burden in an ageing population?

Guests:

Dr Syed Abdullah Al-Haddad, Consultant Neurosurgeon, Sunway Medical Centre
Dr Philip Poi, Consultant Geriatrician, Sunway Medical Centre
Ms. Aina Nur Azmi, Clinical Psychologist, Sunway Medical Centre

Moderator:

Tee Shiao Eek, Presenter/Producer, The Bigger Picture

3.45pm
TEA BREAK
4.00pm
END
Back