Royal College of Physicians-Sunway-Cambridge Medical Seminars 2019
13 March 2019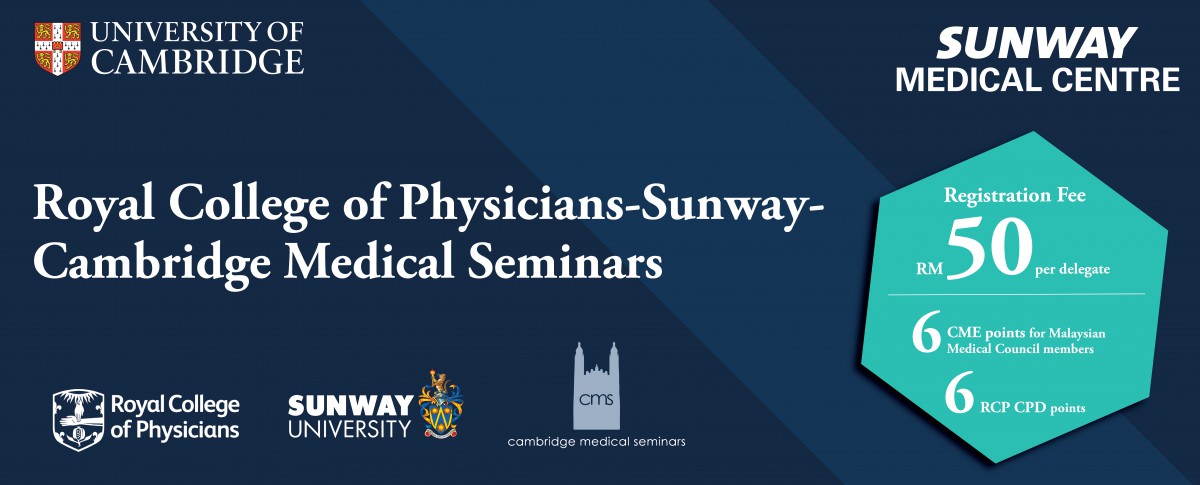 Calling all general and specialist doctors!
Register NOW for the inauguration of Royal College of Physicians-Sunway-Cambridge Medical Seminars!
Seize this opportunity to engage in leading-edge conversations with world-renowned specialists. This engaging 1-day inaugural conference programme will discuss the latest trends and developments in acute/general medicine through a blend of plenary lectures and breakout workshops on topics such as infectious disease, geriatrics, dermatology, and respiratory medicine.
Date:
28 April 2019, Sunday
Time:
08:00AM – 05:30PM
Location:
SunMed Convention Centre, 4th Floor, Tower A, Sunway Medical Centre
Contact:
03-74929005
012-4151210/ 03-74911275
sunmedpr@sunway.com.my
Programme
Time
Description
0800 – 0900
Registration
0900 – 0930
Opening remarks
0930 – 1000
Session Chairs: Dr Russell Roberts FRCP/ Dr Joseph Cheriyan
The Deadly Duo of Tuberculosis and HIV
Professor Edmund Ong, FRCP, FRCPI, MSc, DTMH, MBBS
Professor of Medicine, Newcastle University Medicine Malaysia & Institute of Cellular Medicine, Newcastle, UK
1000 – 1030
Dermatological Manifestations of Systemic Disease
Dr Jane Sterling, FRCP, MBBChir,
Consultant Dermatologist, Cambridge University Hospitals, UK
1030 – 1100
Polypharmacy in the Elderly
Dr Fraz Mir, FRCP, MA, MBBS,
Consultant Clinical Pharmacologist, Cambridge University Hospitals, UK
1100 – 1130
Coffee break
1130 – 1230
Breakout session 1
1130 – 1230
Breakout session 1
Group 1: Dermatology quiz;
Group 2: Comprehensive geriatric assessment
1230 – 1330
Lunch
1330 – 1400
Session Chairs: Dr Joseph Cheriyan FRCP / Dr Fraz Mir FRCP
Acute Kidney Injury – Everybody's Problem
Dr Russell Roberts, FRCP, MBBChir, MA,
Associate International Director (Asia Pacific), Consultant Nephrologist, Bradford Teaching Hospitals, Hon. Senior Lecturer, University of Leeds, UK
1400 – 1430
Cognitive Screening in Older Patients
Professor Tan Maw Pin, MRCP, MD, MBBS, BMedSci,
Professor of Geriatrics, University of Malaya & Adjunct Professor, Sunway University
1430 – 1500
Navigating Pneumonia from Diagnoses to Treatment
Dr Usha Rani, MRCP, MSc, MBBS, FCCP, AM,
Consultant Respiratory Physician, Sunway Medical
1500 – 1530
Coffee break
1530 – 1630
Breakout session 2
Group 2: Dermatology quiz; Group 1: Comprehensive geriatric assessment
1630 – 1700
An Update in HIV Therapy for the General Physician – Undetectability is a Reality
Professor Edmund Ong, FRCP, FRCPI, MSc, DTMH, MBBS
Professor of Medicine, Newcastle University Medicine Malaysia & Institute of Cellular Medicine, Newcastle, UK
1700 – 1730
Next Generation Haematology
Dr Wong Chieh Lee, MRCP, FRCPath, PhD, BSc(Hons), MBChB
Senior Consultant Haematologist and Clinical Director of the Clinical Research Centre, Sunway Medical Centre
Back