Fatty Liver Screening Package
10 September 2021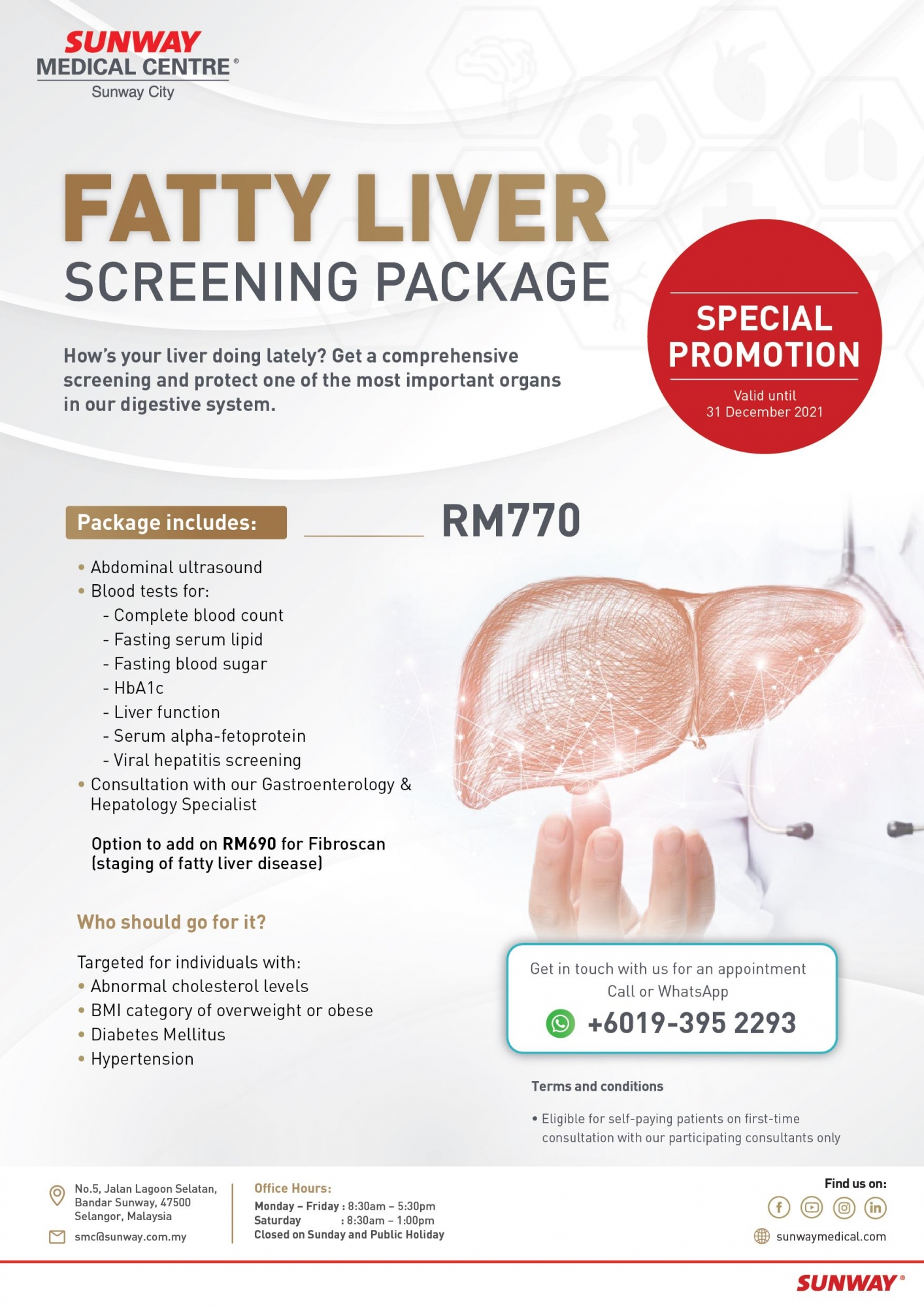 Love Your Liver
The liver is your body's large and hard-working detoxification organ. When you have obesity, high alcohol consumption, high blood sugar, or high blood fat, your liver has to work harder to metabolism excess fats, and fats that cannot be metabolised will be stored in the liver. The fat buildup causes inflammation, which can lead to scarring and permanent damage.
Our comprehensive liver screening package helps to find out how your liver is doing and the extent of liver damage, if any.
What is fatty liver disease?
Fatty liver disease is an increasingly condition caused by excess storage of fat in the liver. Due to mass chronic overnutrition, non-alcoholic fatty liver disease affects about a quarter of Malaysians.
Fatty liver can get worse over time. It can progress to liver inflammation (steatohepatitis), followed by liver scarring (fibrosis), and in severe cases, cirrhosis that ultimately leads to liver damage.
Should I screen?
You should screen for fatty liver disease if you are overweight, diabetic, hypertensive, or have abnormal cholesterol levels.
What can I expect from my visit?
Blood investigation
Abdominal ultrasound
Consultation with your chosen participating gastroenterology and hepatology specialist.
FibroScan (optional)
What is FibroScan?
FibroScan is a painless, easy, and quick way to analyse the fatty buildup / fatty change in your liver. Fatty buildup, or fibrosis, is the cause of liver stiffness.
FibroScan uses transient elastography that measures the speed of ultrasound waves as they move through the liver. The speed will differ as the waves move through areas of stiffness.
Your test results will be available immediately after the scan. Your doctor will interpret the results, and make plans with you if any further treatment or testing is needed.
Who are the participating doctors?
Contact wa.me/60193952293 and make your appointment with one of our participating gastroenterologists and hepatologists:
Dr Chung Yun Chien
Dr Ooi Ee Thiam
Dato' Dr Mrs S T Kew
Dr Sheikh Anwar Abdullah
Dr Tan Eng Soon
How long does the promotion last?
The promotion is valid until the end of 2021.
Back