Welcome to International Patient Centre
Your comfort
is our top priority
Crowned as the "Medical Tourism Hospital of the Year in Asia-Pacific" at the 2018 APAC Healthcare & Medical Tourism Awards, Sunway Medical Centre (SunMed) is a regional tertiary care hospital which is strategically located in the thriving township of Sunway City, a stone's throw away from Sunway Lagoon, Sunway Hotel, Sunway shopping mall, Sunway University and Monash University, providing holistic caring experience for the patients.
Named as "International Hospital of the Year" by IMTJ consecutively in 2016 and 2017, SunMed serves close to half a million patients annually and more than 50,000 international patient visits from more than 135 countries.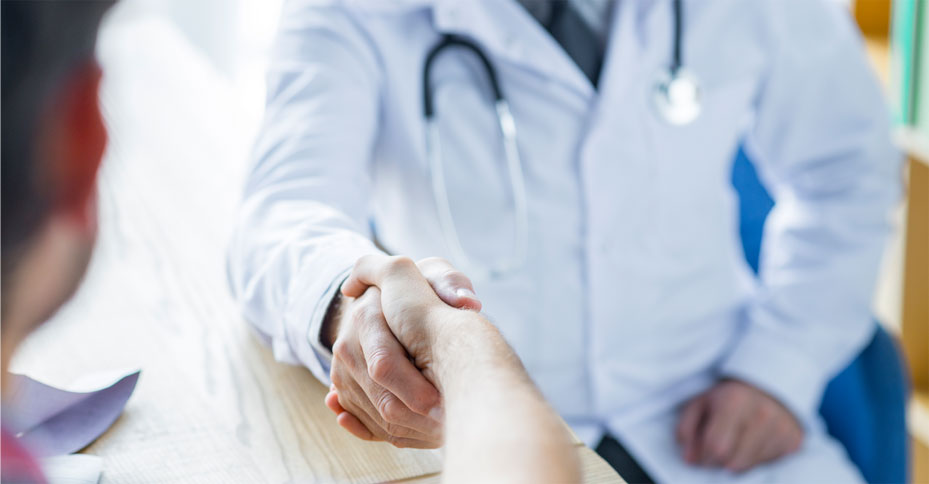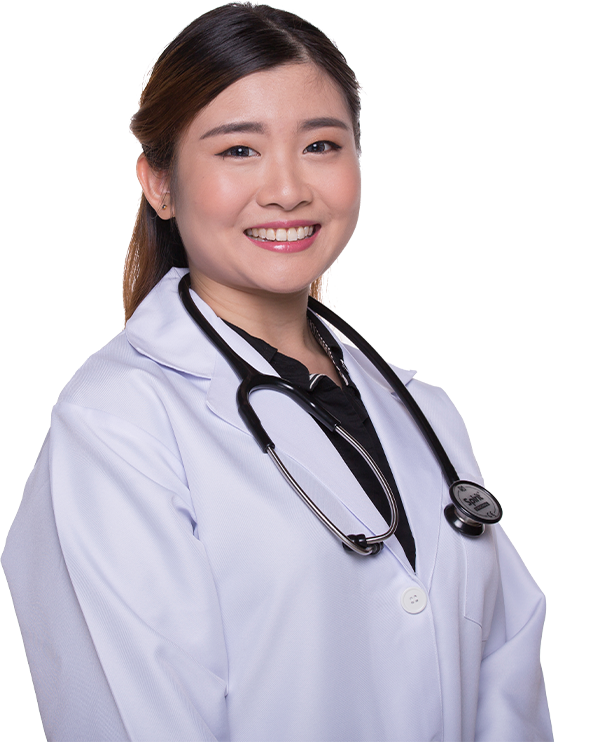 Services &
procedures offered
Medical problems – handling in sorting out the right specialist treatment
Provide estimated cost and duration of stay for requested procedure
Assist in medical transfer to Malaysia
Welcome and assist patient upon arrival in hospital
Provide transport for patient/family member to/from hospital within 5 km radius
Assist in personal request for general screening checks and collection of results
Visiting patient during their hospital stay
Provide 24 hours services whenever assistance is needed
Assist in admission and discharge for patient
Assist in booking of hotel
Arrange for a second opinion (international standard) wherever necessary
Assist with necessary medical documents in extending of visa stay in Malaysia
Assist in the necessary documents for insurance claim
Assist and provide air flight ticket booking via E booking system
Arrange for a medical report from doctor for change in date of flight ticket due to unforeseen prolonged medical stay
Arrange taxi transportation for patient and family members for their return to their home country
Promotions for
International Patients
Our experienced doctors are always ready to help achieve your health goals, hence at SunMed, we also offer packages for our international patients. Feel free to contact us and make an appointment today.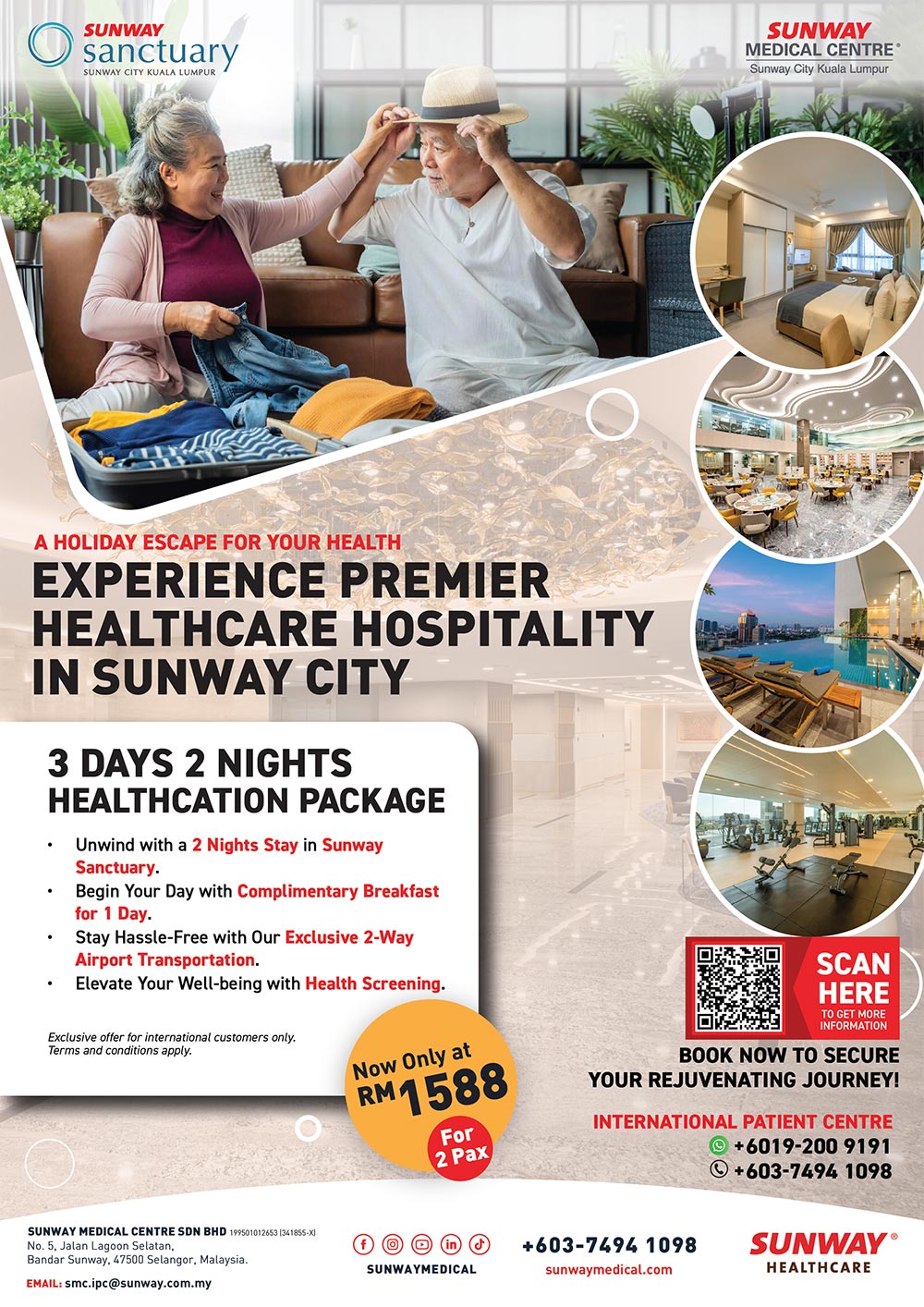 3 Days 2 Nights Healthcation Package
Get your health checked at Sunway Medical Centre, Sunway City and stay for three days and two nights in Sunway Sanctuary.
Explore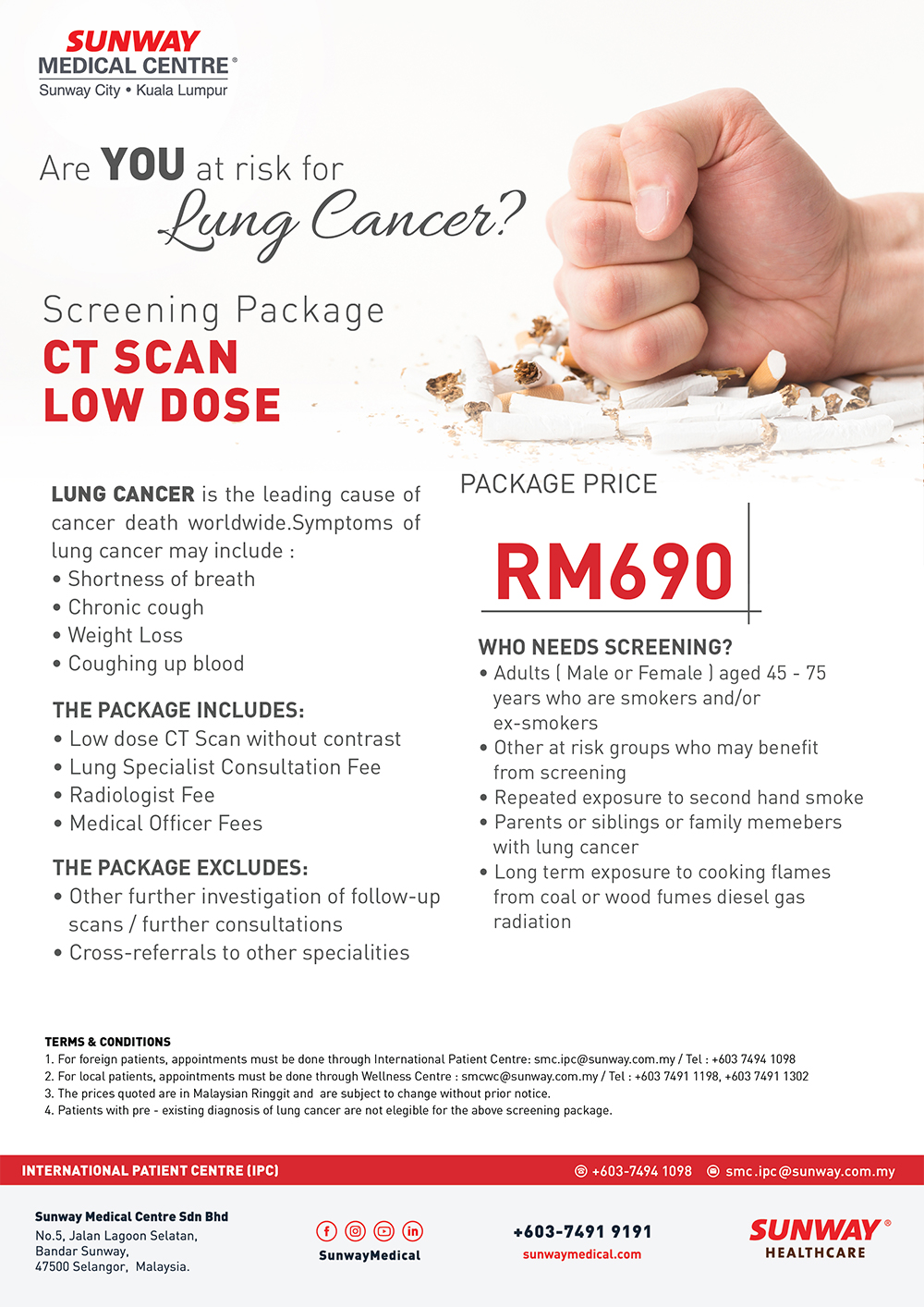 Low Dose CT Scan for Lung Cancer Screening
Get yourself checked and find out whether you are at risk for lung cancer.
Explore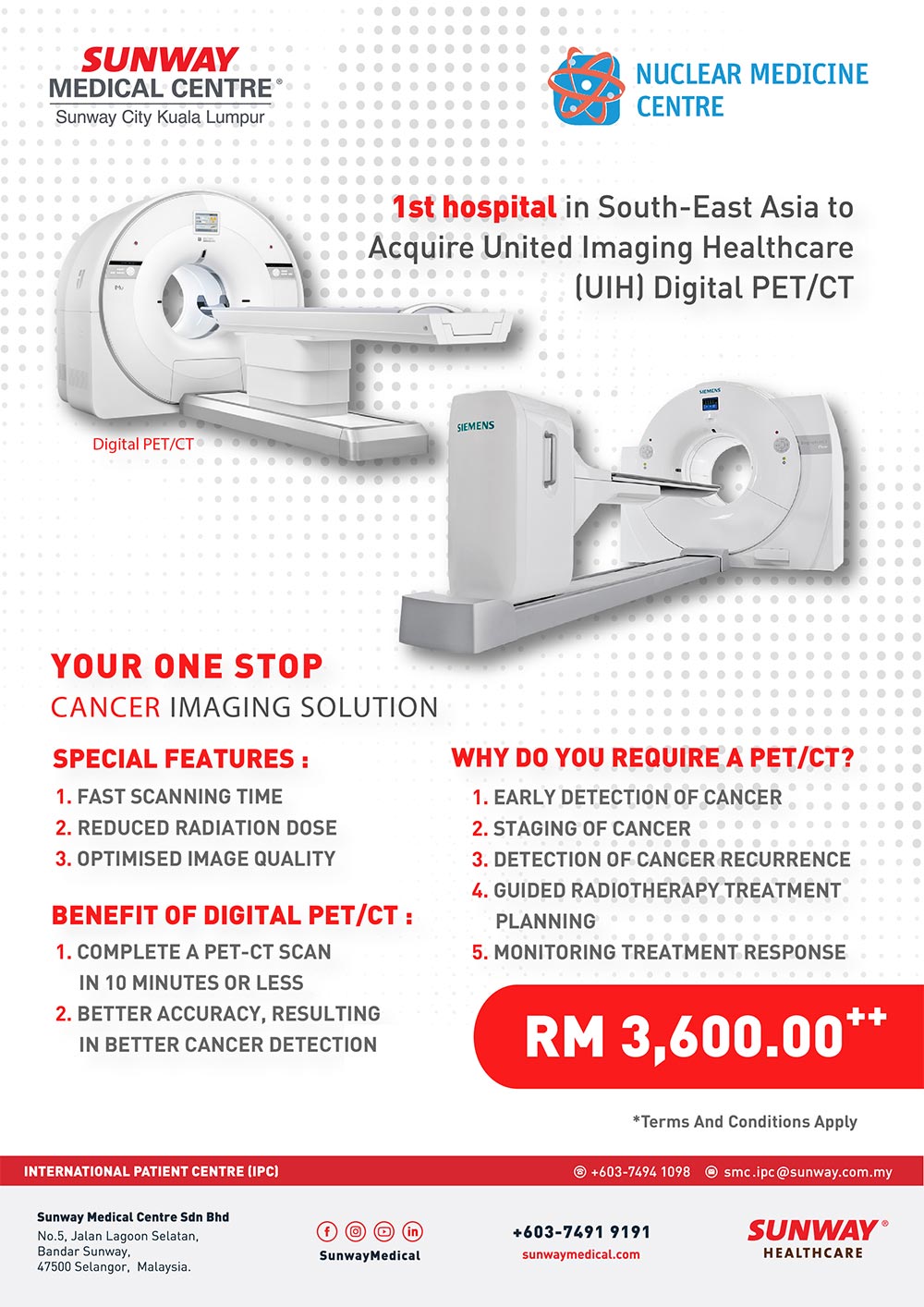 PET-CT Cancer Imaging Package
Get comprehensive information of the abnormal activity and function of cells in your body.
Explore
International Patient
Support
We understand that visiting the hospital can be especially stressful for our international patients, hence we do our best to provide as much support and care to ensure that we will make their stay as comfortable as possible.
Activities Around The Hospital
SunMed is located in the bustling township of Sunway, hence you will find some exciting places to visit within close proximity.
Muslim Patient
It is part of SunMed effort to provide a welcoming environment for all our Muslim Patients.
PHONE
+603-7494 1098 (Direct line)
+603-7494 1011 (Indonesian Interpreter)
+603-7494 1026 (Japanese Interpreter)
+603-7491 1488 (Fax No)

ADDRESS
Ground Floor, Tower C
Sunway Medical Centre
No 5, Jalan Lagoon Selatan, Bandar Sunway,
47500 Petaling Jaya, Selangor

EMAIL

Leave a Message
Please do not hesitate to contact us for more information.