Maternity Package 2023
01 January 2023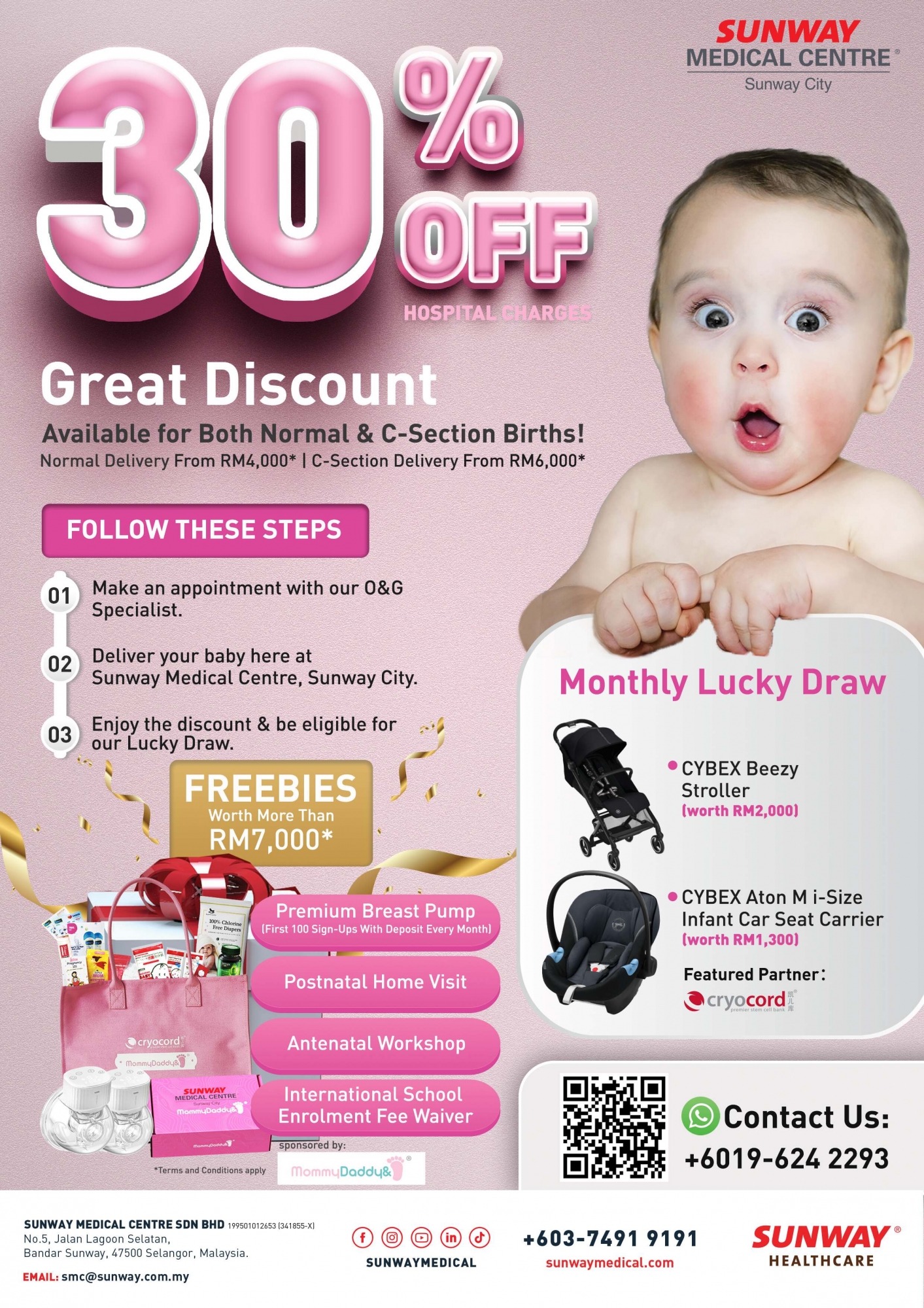 Begin Your Parenthood Journey With Us! Enjoy a 30% discount on 2023 baby birth hospital charges!* ​
First 100 sign-ups with deposit* (RM500.00)
Premier Samu Giken Wearable & Hands-Free Rechargeable Breast Pump x 2 units (worth RM700) *Not applicable to Sunway Healthcare Group employees

Free room upgrade from standard single to a premier single room (worth RM350) *Subject to room availability
With wonderful freebies (worth more than RM7,000*) such as ​
Maternity box

Antenatal workshop & hospital bag

Infant massage workshop

1x post-delivery home visit

Sunway International School enrolment fee waiver
Package included:
Mummy's hospital stay (Normal delivery 2D1N & C-section 3D2N)
Baby's nursery care
Baby vaccination and screening (Vitamin K, BCG, Hepatitis B - 1st dose & Hearing Test)
Registration & administration charges
Nursing services
Maternal & fetal monitoring
Standard medical supplies & equipment
Yummy meals
How to participate?
Follow these steps!
Make an appointment with our O&G specialists.
Deliver your baby here at Sunway Medical Centre, Sunway City.
Enjoy a discount & lucky draw!
Sign up for our Maternity Package today! Book your appointment with us HERE
Terms and Conditions:
Valid for deliveries between 1 January 2023 to 31 December 2023.
Valid for mothers giving birth at Sunway Medical Centre, Sunway City only.
The RM500 deposit is NOT for the Outpatient Bill; it is non-refundable and will be forfeited upon cancellation. Please be informed that you will still be required to place a deposit upon admission.
Valid for both corporate Guarantee Letter (GL) cases and self-paying patients.
The hospital reserves the right to discontinue or modify any of the Terms & Conditions of the promotion as deemed necessary without prior notification
Back