COVID-19 Tests + Neutralising Antibody (NAb) Test
16 July 2021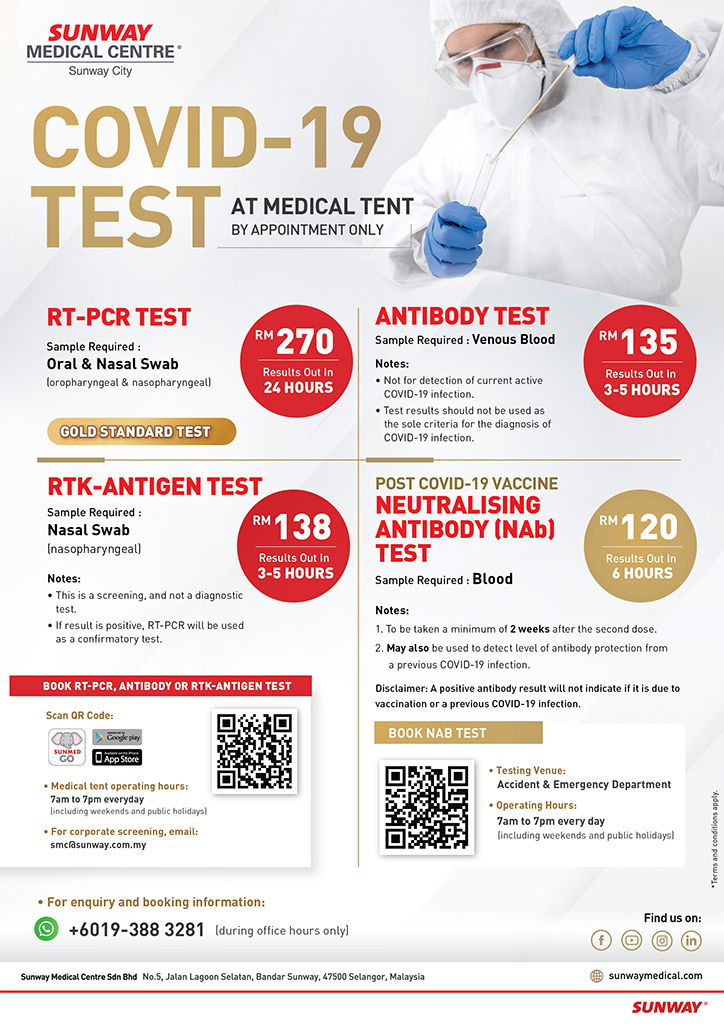 NEW: Post COVID-19 Vaccine Neutralising Antibody (NAb) Test — RM120
— Available at Sunway Medical Centre Accident & Emergency Department, 7am to 7pm. (including weekends and public holidays)
Your COVID-19 (Coronavirus SARS-CoV-2) immunity can be measured by the presence of neutralising antibodies in you. The test is, by far, the most accurate diagnostic test to predict your immunity against a future illness due to reinfection to the COVID-19 virus.
Other tests for COVID-19 at the medical tent:
GOLD STANDARD RT-PCR Swab (Nasal & Oral) Test — RM270

RTK-Antigen

Swab (Nasal) Test — RM138

Antibody Serology

Blood Test — RM135
All results out within a day.
WhatsApp Us to enquire at +6019-3883281 (during office hours only)
Corporate screening enquiries [email protected]
Medical tent testing operates from 7:00 am to 6:30 pm every single day.
About the tests:
If any test result is positive, RT-PCR will be used as a confirmatory test of the current infection.

The RTK-Antigen test is a screening and not a diagnostic test.

The antibody test is not for the detection of currently active COVID-19 infection.

The antibody test result should not be used as the sole criteria for the diagnosis of COVID-19 infection.
Terms and conditions:
Sunway Medical Centre is certified by the Ministry of Health (MOH) for COVID-19 screening.

All tests are conducted in-house at our Genetics & Molecular Diagnostic Centre.

Available for limited slots per day, and for self-paying patients only.

For international travelers, please verify your airline requirements before the test.

The result will be emailed to the patient once it is ready.

All tests can be scheduled by booking. Walk-ins without prior appointments may not have guaranteed slots.
How to book:
SunMedGO website
SunMedGO mobile app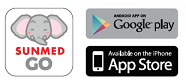 How to go:
Sunway Medical Centre, 5 Jalan Lagoon Selatan, Subang Jaya, Selangor.

Go with WAZE

Go with Google Maps
Back