Deliver Your 2021 Baby with Us!
01 April 2021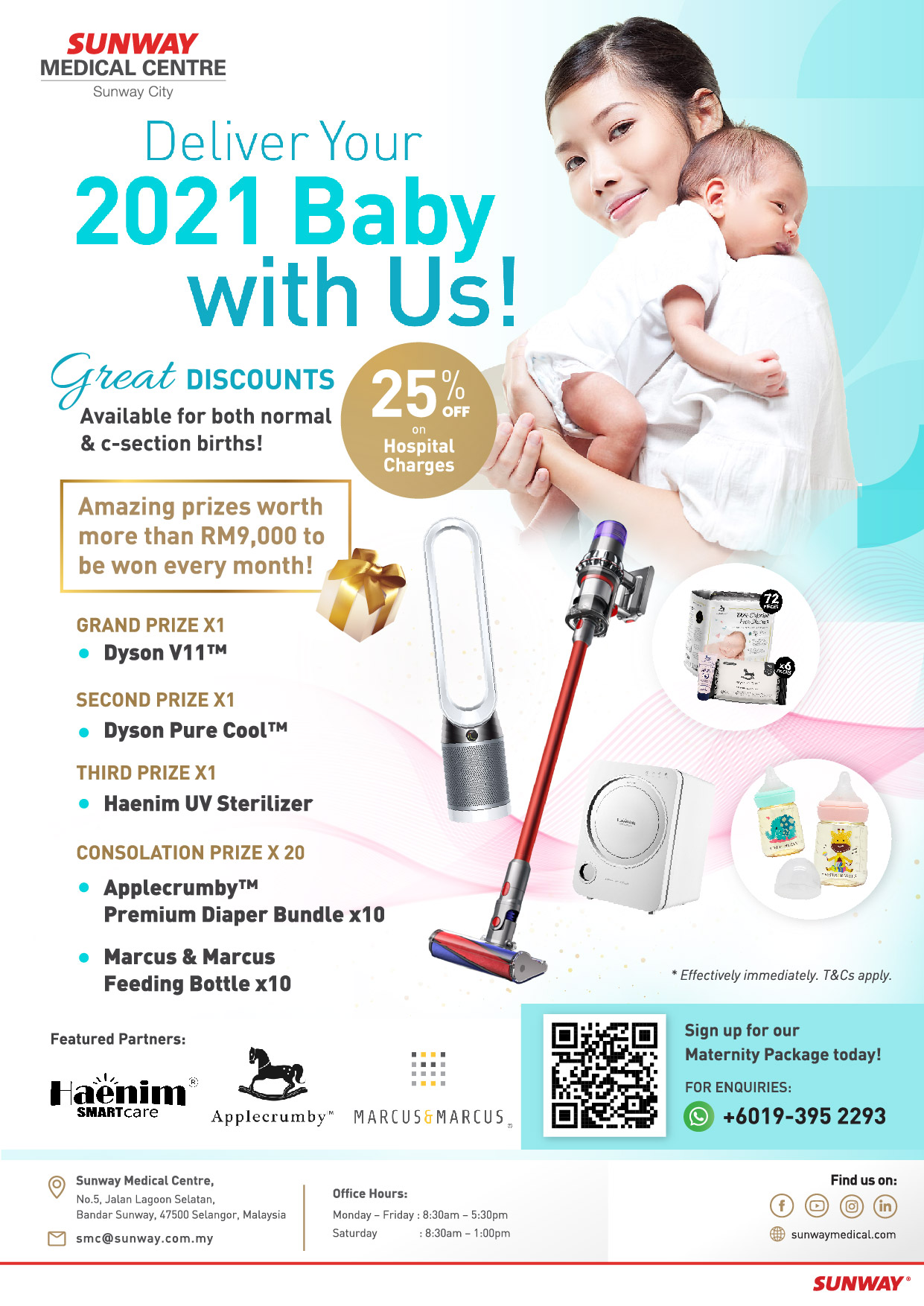 Deliver Your 2021 Baby with Us!
Great discounts available for both normal & c-section births!
25% off on Hospital Charges
Amazing prizes worth more than RM9,000 to be won every month!
Grand Prize x 1
Dyson V11™ Fluffy Cordless Vacuum worth RM2,899
Second Prize x 1
Dyson Pure Cool™ TP00 Air Purifier Tower Fan worth RM1,699
Third Prize x 1
Haenim 3G+ Smart View UVC-LED Sterilizer worth RM1,099
Consolation Prize x 20
Applecrumby™ 100% Chlorine Free Diapers worth RM284 x 10
Marcus & Marcus PPSU Transition Trainer Feeding Bottle worth RM75 x 10
GIVE BIRTH AND WIN Terms and Conditions:
Valid for deliveries between April 1st 2021 to December 31st 2021.

Valid for mothers giving birth at Sunway Medical Centre, Sunway City only.

Valid for mothers age 18 years and above only.

Every eligible mother is entitled to only one prize.

Exact prize items may vary subject to stock availability. In case of stock unavailability, a similar prize of similar value may be given.

All winners will be verified by Sunway Medical Centre, with no prize being transferable or exchangeable.

All winners are required to collect their prize in person at Sunway Medical Centre, except special reasons submitted in writing.

Winners who fail to comply with any term or condition may cause their prize to be forfeited.
Sign up for our Maternity Package today at http://sunwaymedical.com/maternity_campaign/ or contact +60 19-395 2293 .
Back