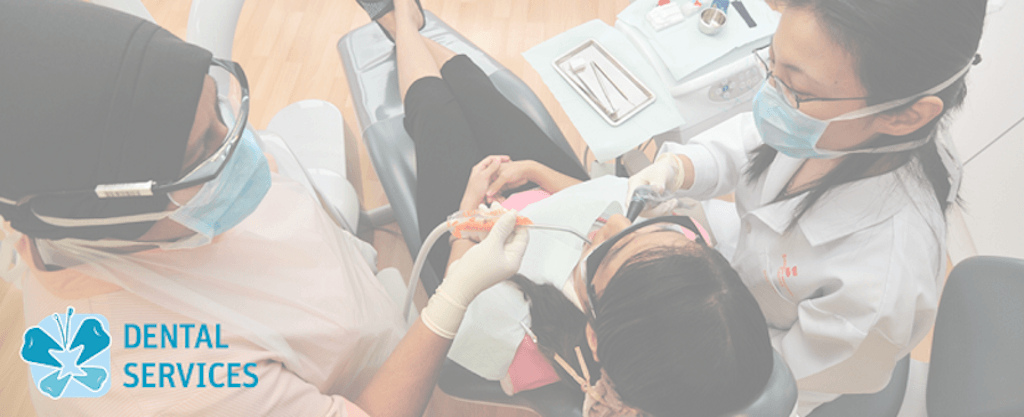 Your teeth are an important part of your personal appearance and a beautiful smile lends confidence to your overall appearance. As such, good dental hygiene such as regular brushing and flossing, using a mouth rinse and changing your toothbrush every three months is important.
Regular dental check-ups are vital in the prevention of gum disease and other oral health problems as early detection is key. You should visit your dentist every six months or if you experience any of these signs or symptoms:
Red, tender or swollen gums
Gums that bleed when you brush or floss
Gums that begin pulling away from your teeth
Loose permanent teeth
Changes in the way your top and bottom teeth align with each other
Unusual sensitivity to hot and cold
Persistent bad breath or an unusual taste in your mouth
Services & Procedures Offered
The dental centre at SunMed offers comprehensive oral care which includes:
Diagnostic (general check- ups, dental radiographic investigation)

Prophylaxis (scaling, polishing and air polishing)

Restorative (tooth-coloured and amalgam fillings)

Endodontics (treatment for dental nerve/root canals)

Peridontics (treatment for gums)

Removable prosthetics (dentures to replace missing teeth)

Oral surgery (extraction of permanent and baby teeth, as well as wisdom teeth)
Preventive (fluoride treatment and fissure sealant replacement. Services also include making sports mouth guards and night guards)

Aesthetic dentistry (use of implants to replace missing teeth)

Paediatric dentistry (dental treatment for children)

Special needs dentistry (dental treatments for those with developmental and acquired disabilities)

Oral and maxillofacial pathology (investigation, biopsy, diagnosis and treatment of oral maxillofacial related diseases)
The dental centre is equipped with the latest facilities including:
Digital panoramic (OPG/X-ray), lateral and peri- apical radiographs

Digital dental CT scans
Intra- oral camera

Tooth- whitening
Depending on the type of dental treatments, the procedure is done under local or general anaesthesia.
Contact Info
For more information or appointments, please call:
Operation Hours:
Monday – Friday : 8.30am – 5.30pm
Saturday : 8.30am – 1.00pm
Location:
1st Floor,Tower B