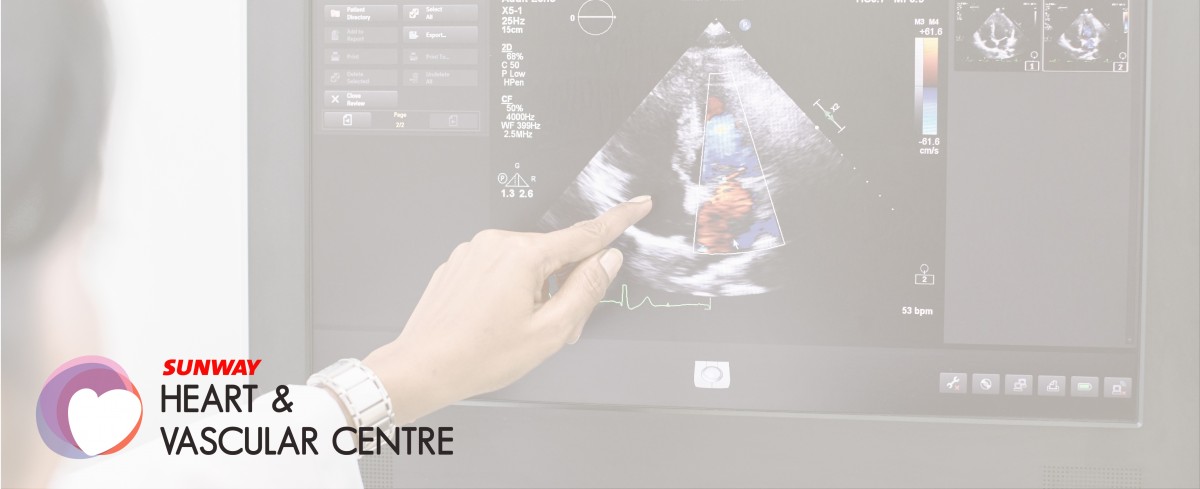 The Cardiac & Vascular Division at Sunway Medical Centre is one of the centres of excellence in this tertiary specialist care hospital. This division offers a comprehensive and professional service for patients with cardiac and vascular disease. Our cardiologists, paediatric cardiologists, cardiothoracic surgeons, vascular surgeons, endocrinologists, nephrologists, orthopaedic surgeons, and the rehabilitation team are all involved in the care of our patients.Working together, the doctors in Sunway Medical Centre provide the best possible care for patients with heart & vascular diseases.
The Vascular Division is equipped with the latest tools for screening, diagnosis and treatment for patients with vascular disease. The Vascular Laboratory is a non-invasive diagnostic unit – Non-Invasive Cardiac Lab (NICL). It is equipped with 'Doppler' and Duplex ultrasound scanners that are able to screen and diagnose patients with vascular disease safely and accurately. If indicated, the patients may proceed to the state-of-art 64-slice CT Angiography or Magnetic Resonance Angiography. In the treatment of vascular disease, the Vascular Division believes that open procedures (open surgery) and minimal invasive procedures (endovascular procedures) complement each other. Whereas some patients may benefit from endovascular procedures, others may require open surgery, and yet others benefit from a combined approach of endovascular intervention and open surgery. The Vascular Division has an Endovascular suite for these procedures.
Services & Procedures Offered
The Vascular Division offers Elective consultation as well as Emergency services for urgent conditions like ruptured aortic aneurysms, aortic dissection, acute limb ischemia and vascular trauma
Arterial Disease
---
Abdominal Aortic aneurysms & Thoracic Aortic aneurysms
Aortic dissection & Dissecting aneurysms
Peripheral arterial diseases: Occlusive diseases | Embolism & Thrombosis | Aneurysms
Diabetic foot and ulcers
Carotid artery diseases: Carotid artery stenosis | Carotid body tumour | Aneurysm
Renovascular hypertension
Heart Disease
There are several forms and symptoms of heart disease. The most common cause of heart disease is narrowing or blockage of the coronary arteries, the blood vessels
that supply blood to the heart itself. Below is a list of other heart conditions:
---
Heart Conditions:
Angina (chest pain)
Arrhythmia (abnormal heart rhythm), e.g. Atrial Fibrillation (AF)
Cardiomyopathy
Congenital Heart Disease (Paediatric) – Atrial Septal Defect (ASD), Ventricular Septal Defect (VSD), Patent Foramen Ovale, Tetralogy of Fallot
Congestive Heart Failure (CHF)
Coronary Artery Disease/ Coronary Heart Disease (CHD)
? Acute Coronary Syndrome
? Stable Coronary Artery Disease
High Cholesterol
Hypertension (High Blood Pressure)
Valvular Heart Disease
Structural Heart Disease – Cardiomyopathies, Atrial Septal Defect (ASD),
Ventricular Septal Defect (VSD), Patent Foramen Ovale (PFO)
Venous Disease
---
Varicose veins
Deep venous thrombosis
Venous ulcers
Others
---
Vascular access procedures for hemodialysis (AVF)
Arteriovenous malformation (AVM)
Traumatic vascular injury
Hyperhidrosis (Sweaty palms)
Vascular Disease
Vascular disease refers to medical conditions that affect your circulatory system, including diseases of the arteries, veins and lymphatic.
As the heart beats, it pumps blood through a system of blood vessels called the circulatory system. The vessels carry blood to every part of the body. Arteries carry blood away from the heart while veins return it. Risk factors for vascular diseases include family history, sedentary lifestyle, diabetes, smoking and obesity. The following are conditions that fall under the
category of vascular disease.
---
Vascular Conditions:
Abdominal Aortic Aneurysms
Peripheral Arterial Disease (PAD)
Carotid Artery Disease
Varicose Veins
Deep Vein Thrombosis (DVT)
Vascular Access (AV Fistula)
The following procedures are performed at the Vascular Division at Sunway Medical Centre:
Arterial
---
Aortic aneurysms: Endovascular stent grafts | Open repair
Peripheral arterial diseases: Angioplasty/stenting | Bypass procedures
Carotid artery: Carotid endarterectomy | Carotid angioplasty and stenting | Excision of aneurysms and carotid body tumour
Venous
---
Varicose veins: Open surgery | Endovenous laser therapy | Injection sclerotherapy
Others
---
Arteriovenous malformation : Excision | Embolisation | Sclerotherapy
Vascular access for hemodialysis: Creation of arteriovenous fistula | Creation of arteriovenous graft | Angioplasty and stenting of central vein occlusions | Solution for multiple access failures
Thoracoscopic sympathectomy
Our Services
24-hour emergency services
Congestive heart failure management
Heart rhythm management
– Electrophysiology studies
– Cardiac ablation
– Pacemaker implantation
– Implantable Cardiac Defibrillator
– Cardiac resynchronization therapy
Hypertension management
Pulmonary hypertension management
Cardiac rehabilitation
Cardiothoracic surgery (adult & paediatric)
– Coronary artery bypass graft – CABG (Bypass surgery)
– Valvular surgery
– Video-Assited Thracoscopic Surgery (VATS)
– Thoracotomy
Interventional procedures
– Coronary angiogram, angioplasty & stenting
– Peripheral artery angiogram, angioplasty & stenting
– Structural interventional procedures (Atrial Septal Defect, Patent
Foramen Ovale)
Complete array of Heart & Vascular diagnostic tests
– Echocardiography
– Doppler Ultrasound
– Stress echocardiography
– CT angiogram
– Electrocardiogram (ECG)
– Cardiac MRI (3 Tesla)
– Stress ECG
– Cardiac calcium scoring
– Holter monitoring
– SPECT/CT scan
– Transesophageal echocardiography
– Cholesterol profile lab tests
Vascular Surgery
– Endovascular stent grafts
– Arteriovenous fistula
– Aortic aneurysm repair
– Carotid endarterectomy
– Arteriovenous malformation treatment
– Varicose vein treatment
Acute care and services
– On-site electrocardiogram (ECG)
– Interventional procedures: angioplasty, stenting
– Congestive heart failure management
– Heart rhythm management
– Pacemaker insertion
– Cardiothoracic surgery (adults & paediatric)
– Vascular trauma management
– Aortic dissection management
– Ruptured aortic aneurysm management
– Acute limb ischemia management
Vascular Laboratory & Endovascular Rooms
Vascular Laboratory
Vascular laboratory (lab) is used to study blood flow in arteries and veins. Most vascular disease patients can be investigated in the vascular lab. We have a state of the art vascular lab on site which can perform the necessary tests safely, quickly and accurately. This minimal invasive lab has the appropriate equipment and staff to investigate, diagnose and monitor vascular condition.
Vascular disease is a unique condition which should be managed by specialized personnel in a dedicated environment. The vascular lab follows this idea where a patient can be seen and diagnosed as a one stop clinic. This minimises the disruption and inconvenience caused during the management of the vascular disease.
Vascular lab is based on the ever improving ultra sound technology. With the latest ultra sound scanner, invasive investigation is a thing of the past. The vascular system of the extra cranial arteries, peripheral arteries, abdominal aorta and peripheral venous systems can be evaluated immediately.
Monitoring the patient is now an important part of the role of the vascular lab. The efficacy of the treatment can be determined in the vascular lab. A good example is ultra sound scan evaluation of arteriovenous fistula (AVF) of dialysis patient. Frequent surveillance reduces the long term thrombosis and complications.
The vascular lab can complement the role of primary care physician in management of vascular disease. The primary care physician can directly refer the patient to the vascular lab for assessment, for example ankle brachial pressure index for peripheral arterial disease.
Endovascular Rooms
The management of vascular diseases has changed tremendously in the last decade. Ten to 15 years ago, the treatment of most vascular diseases frequently involved major surgeries. This may be in the form of aneurysm resection or surgical bypass, etc.
Over the last decade, as the understanding of vascular diseases improved, new techniques and new modalities of treatment had been developed. This has given vascular surgeons more options when he decides which modality of treatment is the best. Many of these newer techniques are less invasive and have generally made the treatment safer. Most of these less invasive surgeries are done through small incisions, and the 'surgery' is done under x-ray imaging. Examples of these procedures are Endovascular aneurysm resection (EVAR) and Thoracic endovascular aortic repair (TEVAR).
As traditional operating theatre and radiological suite are no longer suitable for these procedures, Endovascular suite or Hybrid theatre has been designed to do this function. Endovascular suite combined the sterility and lighting system of the operating theatre and the imaging facilities of the radiological suite, i.e. '2-in-1'. The sterility and good lighting make the operation safer with minimal risk of infection and the good imaging facility allows for good visualization and accurate placement of the stent-grafts, stents or balloons.
Sunway Medical Centre is the first and only hospital in the country to have a state of art, dedicated Endovascular suite. In this Endovascular suite, diagnostic studies and procedures can take place in the same room, at the same table, without having to move the patient. The Endovascular suite enables vascular surgeons to do open surgery, as well as, minimally invasive procedures in the same place. This is especially helpful in emergency situations when diagnosis and treatment must be done simultaneously and efficiently.
Vascular Conditions
Abdominal Aortic Aneurysms
Peripheral Arterial Disease (PAD)
Carotid Artery Disease
Varicose Veins
Deep Vein Thrombosis (DVT)
Vascular Access (AV Fistula)
Contact Info
For more information or appointments, please call:
Location:

1st Floor, Tower B

Operation Hours:

Monday – Friday: 8.30am – 5.30pm
Saturday: 8.30am – 1.00pm