A Healthy Heart Starts with Healthy Practices
19 June 2021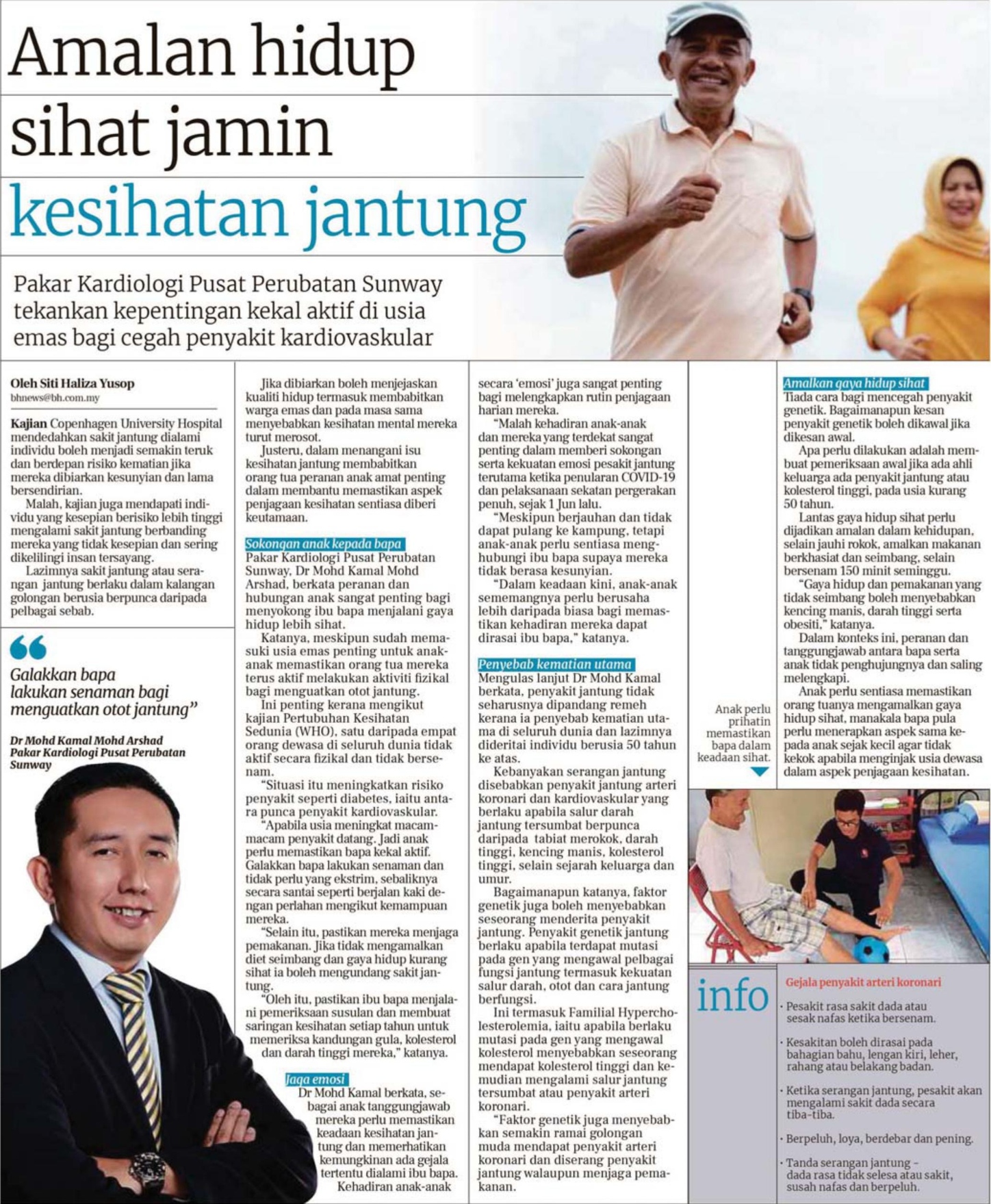 Heart disease should not be underestimated as it is the leading cause of death worldwide and is commonly suffered by individuals aged 50 and over.
Most heart attacks are caused by coronary artery and cardiovascular disease which occurs when the blood vessels of the heart become blocked due to smoking, high blood pressure, diabetes, high cholesterol, as well as family history and age
Genetic factors can also cause a person to suffer from heart disease and occurs when there are mutations in genes that control various functions of the heart including the strength of blood vessels, muscles and the way the heart works.
"Genetic factors are causing more and more young people to get coronary artery disease and heart disease despite taking care of their diet," said Consultant Cardiologist, Dr Mohd Kamal Mohd Arshad.
Children are important in supporting their parents to lead a healthier lifestyle. Despite entering the golden age, it is important that their parents continue to be active in physical activities to strengthen the heart muscle.
"Additionally, make sure they take care of their nutrition. An unbalanced diet and unhealthy lifestyle can invite heart disease.
"Also, make sure your parents go for regular follow-ups and health screenings every year to keep their sugar, cholesterol and blood pressure in check," he said.
The 'emotional' presence of children and those closest to the elderly is also very important to provide support and strength to heart patients, especially during this pandemic and implementation of movement restrictions.
"Despite being far away and unable to balik kampung, children should always contact their parents so that they do not feel lonely," Dr Mohd Kamal advised.
Genetic heart disease cannot be prevented however the effects of genetic diseases can be managed if detected early. What you can do is go for regular health screenings if any of your family members have heart disease or high cholesterol, at the age of less than 50 years.
Practice a healthy lifestyle with a nutritious and balanced diet and 150 minutes of exercise a week, in addition to staying away from cigarettes, to avoid the risk of heart disease.
Source: Berita Harian
Back