A Nurse's Story: How I Learned My Speciality – Sunway Medical Centre
12 May 2022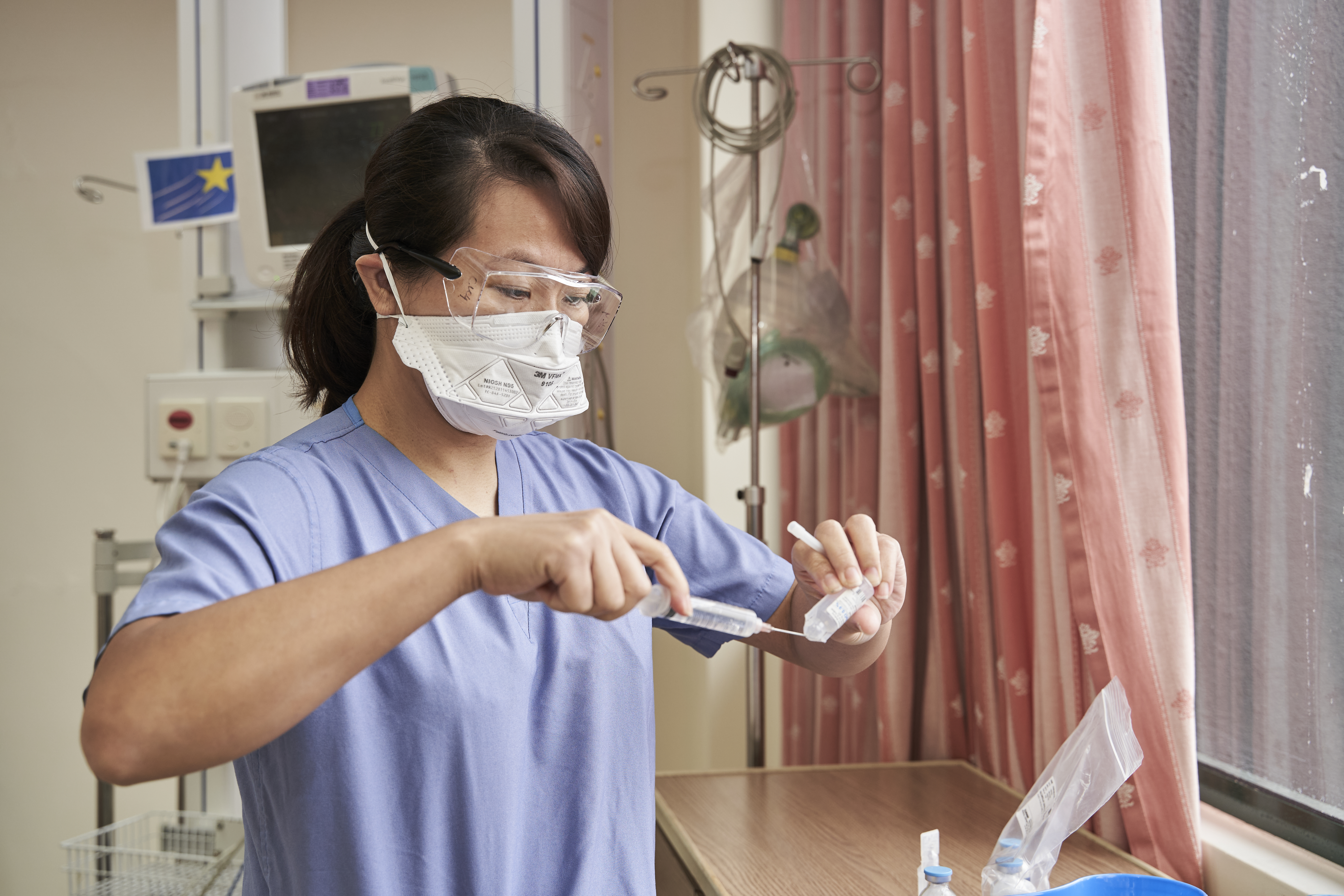 From nurse coordinators to nurses who assist doctors in the Operating Theatre, nurses cover a wide range of roles and responsibilities.
Nurses are said to be the pillars, the backbone, and the biggest support system of the health care industry, and there is good reason for that saying.
This World Nurses' Day, we want to highlight the amazing things a nurse does, especially in a large tertiary hospital like Sunway Medical Centre, Sunway City.
From nurse coordinators who coordinate between patients, their families and donors on stem cell transplant, to nurses who assist doctors in the Operating Theatre (OT) for robotic-assisted surgeries, nurses cover a wide range of roles and responsibilities.
"A nurse's role evolves constantly, because each patient is unique and the best way we care for our patients is to learn from more experienced nurses, learn from the doctors, and attended courses to up-skill ourselves so that we can be the best at our work," said Chan Lai Hong, Group Director of Nursing at Sunway Healthcare Group.
"We're really proud of our nursing team because a lot is expected of them and yet the best nurses we know always come ready to support doctors, their fellow nurses and most importantly our patients. They're wonderful and amazing indeed," said Dr Seow Vei Ken, Acting Chief Executive Officer (CEO) cum Medical Director at Sunway Medical Centre.
Working With Surgeons And Robots
Robotic assisted surgeries are slowly gaining popularity as a form of Minimally Invasive Surgeries (MIS) due to the small incisions and faster recovery post-surgery. Richel Emong is a male nurse trained to assist in robotic surgeries at Sunway Medical Centre, Sunway City and his journey to becoming one was quite a feat.
"As an operation theatre nurse, I assist surgeons in eye and robotic-assisted surgeries. I also take care of patients throughout the journey of a surgery. In September 2016, I was lucky to be chosen to train in robotic surgery when the hospital brought in the da vinci Si robotic system. I was trained in-house before being given the chance to attend training in the Robotic Training Centre in South Korea circa 2017," Emong explained.
It's a rare specialty, being an OT nurse trained in robotics, and Richel shared that it comes with its challenges as well.
"I once assisted in a robotic surgery that lasted 12 hours because it was a very challenging surgery. The long hours standing wore me out physically, but I had to train myself to focus and keep calm because I was assisting the surgeon himself. While most people think that a nurses' role is quite straightforward, it really isn't and there are times when we will need to multitask in order to provide the best support and care for doctors and patients alike."
Despite the challenges, Richel said that he is grateful for his family who is understanding of his career choice. A few of his family members are also involved in the medical line, hence they understand how his time can sometimes be occupied by work and that day offs are reserved for rare but important occasions.
To encourage his fellow colleagues on this special day, Richel reminds them that "In nursing, whatever you do, wherever you are, you must have patience and responsibility. You need to have a good survival instinct on the job without affecting your quality as a nurse because nursing is not an easy career to have. Being a nurse means you hold your own tears and start drawing smiles on people's faces."
Helping Patients Find Hope Through Stem Cell Transplant
Chew Roon Sin started her career as a nurse in the medical surgical ward, which nursed cancer patients at Sunway Medical Centre, Sunway City. Nursing cancer patients was a tedious task, but being able to tend to their needs and knowing the care given relieved their pain or discomfort gave her a great sense of achievement.
So when Chew's previous manager offered an opportunity to specialise in haematology transplant or what we know as stem cell transplant, she volunteered herself to learn.
Most of the patients Chew meets in the Haemato-Oncology ward are patients with a form of blood cancer.
She communicates with the transplant coordinators to arrange for the patient's treatments and would also work with patients themselves or stem-cell donors in order to conduct a stem-cell extraction process.
"In the past, stem cell extraction was a process that needed to be done surgically, but with medical advancement, these processes can now be done in a ward, using a machine manned by specialised nurses," Chew explained.
"There are two types of transplants, Autologous and Allogeneic. Autologous means the cells are obtained from the same individual that will be receiving the transplant; whereas Allogeneic on the other hand means the cells are obtained from a donor. The stem cell extraction process takes about 6 hours and I have to constantly monitor the vitals of the donor to ensure that they are okay and comfortable during the entire process."
Chew feels like the greatest contribution of a nurse is being there for their patients.
They are the ones who are the first to detect abnormalities when symptoms present themselves, and alert consultants to carry out immediate nursing interventions before the patient ends up with serious complications.
They also build rapport and gain trust from patients and family members throughout their stay, enabling patients to share their thoughts and feelings during the treatment process.
"The patients I see are those that have a life expectancy. We see them find hope through the treatment process and while it's great to see their life getting extended for months or years if the outcome is positive; there is no denying that some patients don't have good outcomes and they eventually pass away," she said.
While the work is tough, Chew shared that her family is proud of her. She also hopes that her fellow comrades can keep up their passion, saying: "Shout out to all nurses because you've made a great choice to become a nurse, saving lives and touching souls every day."
Helping Patients Through Their Most Critical Moments
Citing how things move really fast in the High Dependency Unit (HDU), Sunway Medical Centre's HDU ward nurse Chung Kah Yung shares that she's been working in a private hospital multidisciplinary Intensive Care Unit (ICU), which caters from neonate to adult for 17 years.
"I was given an opportunity from my seniors and doctors over the years to learn and be exposed to neonatal and paediatrics in the ICU. It was my responsibility to take good care of the patients assigned to me. From serving medications, providing for their basic needs, to monitoring their vital parameters; I usually let my patients rest as much as possible and perform as needed procedures with the ultimate aim of helping them recover and be transferred out from the ICU," said Chung, who leads a team of nurses on her shifts.
Nurses in the critical care wards are usually assigned to one patient per nurse as they have to monitor the patient's condition closely. They are also the doctor's second hand, so if the doctors require a blood test or any other procedures to be done on the patient, the nurses in these wards arrange for the procedures and keep the doctors constantly updated on the patient's condition.
When it comes to children patients who are placed in critical care, Chung says that her experience is what helps her to monitor the child closely and detect any abnormalities.
"I learned a lot from my seniors previously. For example, there was a case of a child who came in through Accident & Emergency (A&E) at night, and when I took over the morning shift, I was assigned to care for her with a senior nurse. However, suddenly the child's vitals shut down and she was impending arrest.
"Our team of doctors and nurses had to resuscitate her, put her on life support and then wait for her to enter surgery. I wasn't familiar with how to operate the life support machine then, but being able to watch my senior do it was a real learning experience."
One of the things Chung shared about being a nurse is the lifelong learning attitude they carry. "There are a lot of things to learn, and we need to keep updating ourselves in the health care world."
This is why she cites that going for training is important for nurses to be able to equip themselves with the right knowledge.
"I want to encourage my fellow nurses to keep their chin up and be proud of themselves, because I know our families are proud of what we do as nurses as well," said Chung. She hopes that more people can join the health care system as nurses to keep the pillars of the system strong.
Source: Code Blue
Back