Advanced treatments in interventional pulmonology
16 May 2020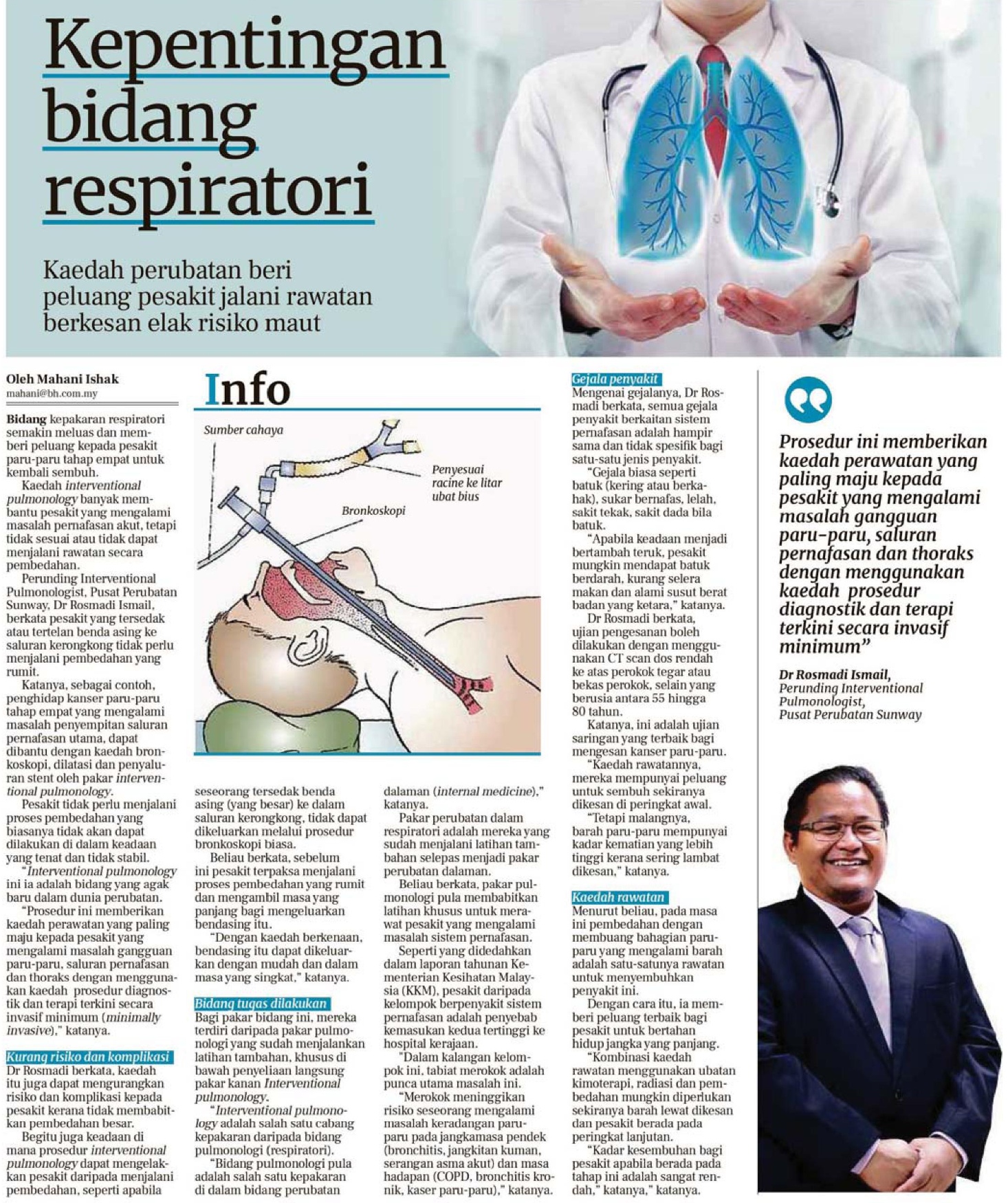 Interventional pulmonology is a relatively new field in the medical world. It is one area of expertise in the respiratory field, while pulmonology is one speciality in the field of internal medicine. Interventional pulmonology greatly assists patients with acute respiratory problems, especially for those who are not advisable or unable to undergo surgery.
"Interventional pulmonology provides the most advanced method of treatment for patients suffering from lung, respiratory and thoracic problems using the latest minimally invasive diagnostic and therapeutic procedures. The risks and complications to the patient is reduced as it does not involve a major surgery," said Dr Rosmadi Ismail, Consultant Interventional Pulmonologist, Sunway Medical Centre.
For example, a patient who choked or swallowed a large foreign object in the throat, which cannot be removed through the usual bronchoscopy procedure, would need to previously undergo a complicated surgical procedure to remove the foreign object.
Now, with interventional pulmonology procedures, the patient will not need to undergo a complicated surgery to remove it. Instead, the foreign object can be removed easily and in no time through the procedures involved in interventional pulmonology.
Also, for patients with Stage 4 lung cancer, this new field is giving them a better chance of recovery. Those with narrowing of the main respiratory tract can be assisted through the use of bronchoscopy, dilation and stent drainage by an interventional pulmonology specialist. The patient will not need to undergo a surgical procedure which is usually not possible given the patient's serious and unstable condition.
Interventional pulmonology specialists are pulmonologists who have undergone additional training, specifically under the direct supervision of a senior interventional pulmonologist. Meanwhile, pulmonologists are specialists who treat patients with respiratory problems, and respiratory specialists are those who have additional training after becoming an internal medicine specialist.
An annual report by the Ministry of Health revealed that patients with respiratory problems contribute to the second highest cause of admission to government hospitals.
"Smoking is the leading cause of this problem. Smoking increases the risk of developing short-term lung inflammation such as bronchitis, germ infections and acute asthma attack and in the long-term, chronic obstructive pulmonary disease (COPD), chronic bronchitis and lung cancer," Dr Rosmadi stressed.
He added that the symptoms related to respiratory diseases are very similar and not specific to any one type of disease. Common symptoms include dry cough or cough with phlegm, difficulty breathing, tiredness, sore throat and chest pain when coughing. When the patient's condition worsens, they may cough up blood, lack in appetite and start to lose weight significantly.
Lung cancer can be detected using a low-dose CT scan, which can be done on smokers or former smokers, as well as those between 55 and 80 years old. This is the best screening test for lung cancer.
"Patients with lung cancer have a higher chance of recovery if detected early but unfortunately, lung cancer has a high mortality rate as it is often detected too late," Dr Rosmadi said.
Currently, surgery to remove the cancerous part of the lung is the only treatment to cure the disease. This provides the best chance for patients to survive longer.
"A combination of treatment methods using chemotherapy, radiotherapy and surgery may be required if the cancer is detected in later stages or if the patient is in the advanced stages. When patients are at this stage, the recovery rate is very low," Dr Rosmadi said.
Source: Berita Harian
Back