Advantages of Multidisciplinary Team Meetings
31 May 2022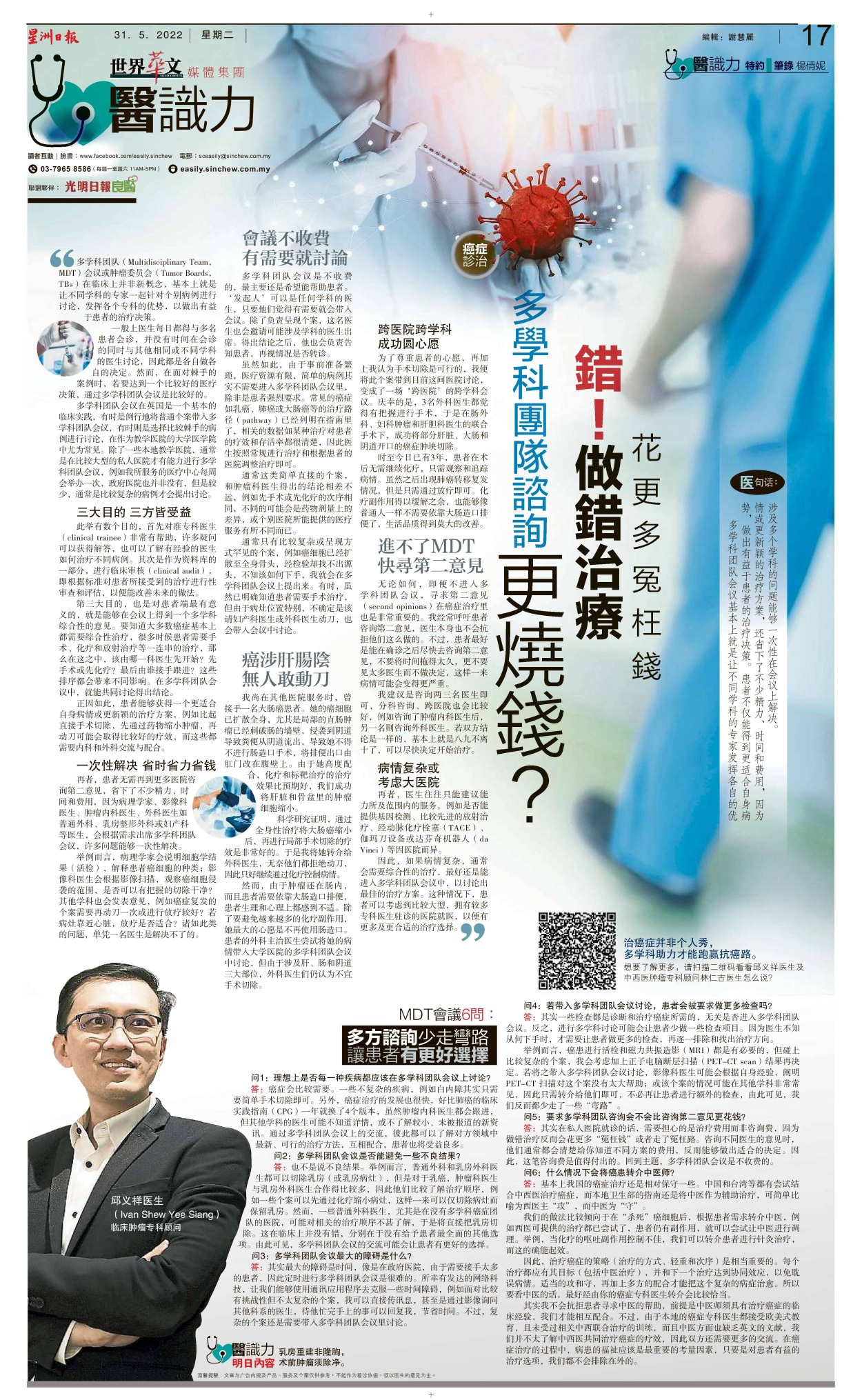 Multidisciplinary team meetings and tumour boards are ways specialists from different disciplines come together to discuss individual cases and make treatment decisions that benefit the patient. Bearing in mind that most cancers require comprehensive treatment where they need surgery, chemotherapy and radiotherapy but which of these should be done first? Through a multidisciplinary team meeting, a conclusion can be reached together.
Dr Ivan Shew, Consultant Clinical Oncologist, Sunway Medical Centre, Sunway City shares his thoughts.
Ideally, should every disease be discussed in a multidisciplinary team meeting?
Cancer would be more necessary compared to less complex diseases that require simple surgical removal. Cancer treatment is evolving rapidly, for example, the Clinical Practice Guidelines (CPG) for lung cancer changes four times a year. Although oncologists continuously keep themselves updated, doctors in other disciplines may not know the details or be aware of smaller, unreported new information. Patients then benefit from the exchange in information at multidisciplinary team meetings, where each can learn about the latest, feasible treatments in the other's field and work with each other.
Do multidisciplinary team meetings prevent poor outcomes?
It's not that there are bad outcomes. For example, both general and breast surgeons can remove the breast (or breast lesion) but in the case of breast cancer, oncologists and breast surgeons work together more often so they have a better understanding of the sequence of treatment.
For example, in some cases the lesion can be reduced by chemotherapy first, so that only the lesion can be removed and the breast preserved. However, some general surgeons, especially in hospitals without a multidisciplinary cancer team, may not have a good understanding of the relevant sequence of treatment and just remove the breast.
This is not clinically wrong; the difference is that the patient is not given other options. This shows that multidisciplinary team meetings can give patients a better choice.
What is the biggest barrier in multidisciplinary team meetings?
The biggest obstacle is actually time. Like in government hospitals, it is difficult to conduct multidisciplinary team meetings at regular intervals because there are so many patients to see. Fortunately, with the advanced internet technology, we can use communication applications to overcome some of the time barriers.
For example, for more challenging but less complex cases, I can directly send a message or even ask a doctor from another department via video call and he can get back to me when he is available, saving time. However, complex cases need to be brought into a multidisciplinary team meeting to be discussed.
Will patients be asked to do more tests if they are brought to a multidisciplinary team meeting?
Some tests are actually required to diagnose and treat cancer and are not relevant to whether or not they are being brought into the multidisciplinary team meeting. Contrarily, having a multidisciplinary discussion may result in the patient having fewer tests done. It is only when the doctor doesn't know where to start that he needs to ask the patient to do more tests and then rule them out and find out the direction of treatment one by one.
For example, a biopsy and magnetic resonance imaging (MRI) are both necessary for cancer, but in more complex cases, I would consider adding a PET-CT scan before deciding. If brought to a multidisciplinary team meeting, the imaging physician may, from his or her own experience, state that the PET-CT scan is not very helpful in this case, or that the case may be so common in other disciplines that it can be referred to them without the patient having to undergo additional investigations, thus saving from detours. This means that we all take fewer wrong turns.
Is it more expensive to ask for a multidisciplinary team consultation than a second opinion?
In fact, if you go to a private hospital, it is the cost of the treatment that you need to worry about, not the cost of the consultation, because you will spend more money when you take a wrong turn and if you get the wrong treatment. When consulting a different doctor, they will usually give you a clear idea on the cost of different options and you will be able to make the right decision. Therefore, the consultation fee is worth the cost and there is no charge for multidisciplinary team meetings.
Source: Sin Chew
Back