Be Vigilant to Omicron
28 February 2022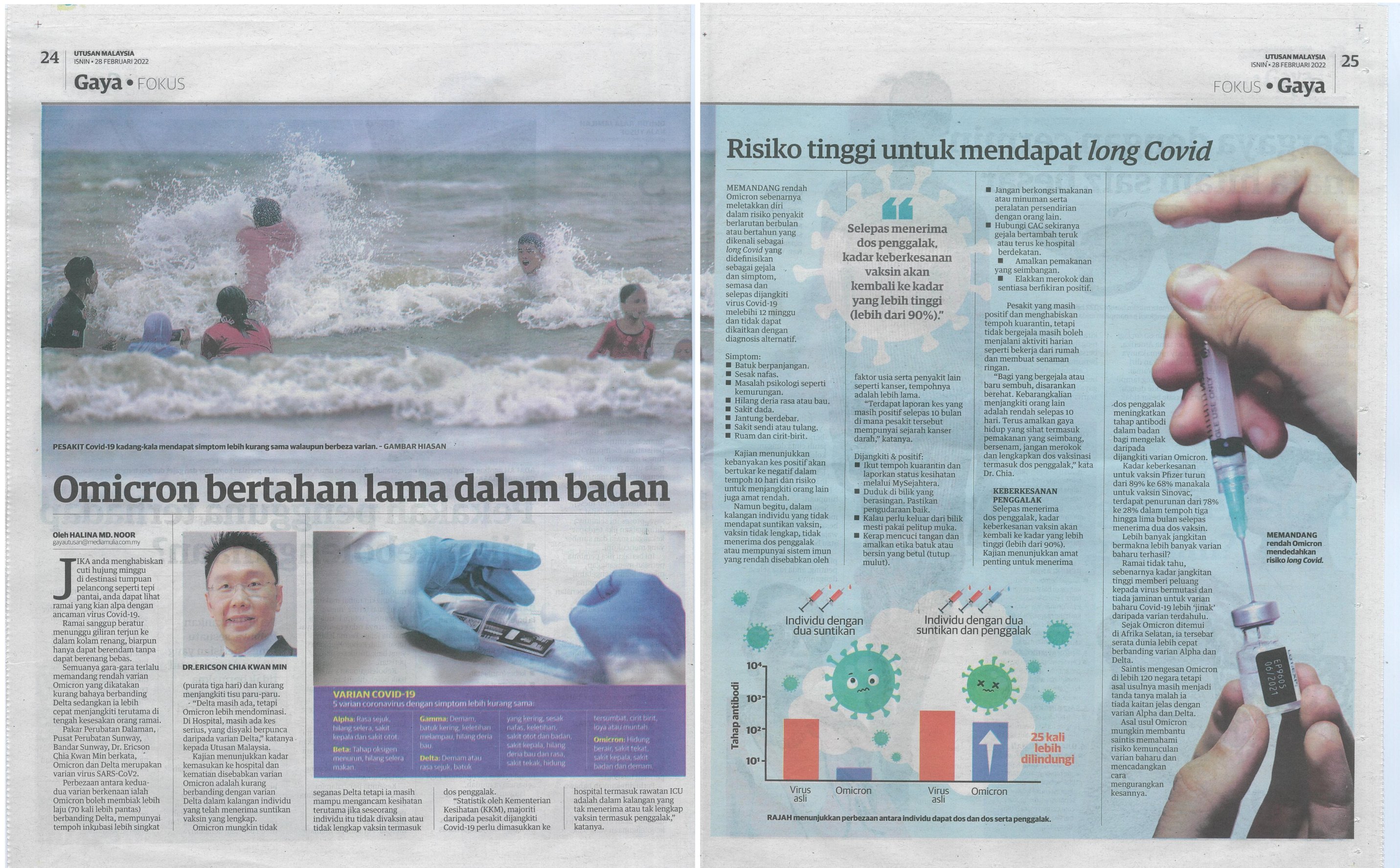 If you spend a weekend in a tourist destination such as the beach, you can see that many are increasingly oblivious to the threat of the COVID-19 virus.
Many are willing to wait in line to dive into the pool, even if they can only take a dip without being able to swim freely.
All because of underestimating the Omicron variant which is said to be less dangerous than Delta but is more infectious especially in the midst of crowds.
Sunway Medical Centre, Internal Medicine Physician, Dr Ericson Chia Kwan Min said Omicron and Delta are variants of the SARS-CoV2 virus.
The difference between the two variants is that Omicron can reproduce faster (70 times faster) than Delta, has a shorter incubation period (average of three days) and infects lesser in the lungs.
"Delta is still there, but Omicron is more dominant. In hospitals, there are still serious cases, which are suspected to be caused by Delta variants," he said.
Studies show the rate of hospital admissions and deaths due to Omicron is less compared to Delta among individuals who have completed their vaccination.
Omicron may not be as violent as Delta but it can still be a health threat especially if an individual is not vaccinated or has incomplete vaccines including booster doses.
"Statistics by the Ministry of Health (MOH) show that the majority of patients infected with COVID-19 need to be admitted to hospital and those receiving Intensive Care Unit (ICU) treatment are among those who do not receive or have incomplete vaccines including the booster shot," he said.
High risk of getting long COVID
Underestimating Omicron puts an individual at risk of a months-long or years-long disease known as long COVID which is defined as symptoms and signs, during and after being infected with the COVID-19 virus beyond 12 weeks and cannot be associated with an alternative diagnosis.
Symptoms
Cough
Difficulty breathing
Psychological problems such as depression
Loss of sense of taste or smell
Chest pain
Heart pounding
Joint or bone pain
Rash and diarrhoea
Studies show most positive cases will turn negative within 10 days and the risk of infecting others is also very low.
However, among individuals who did not receive the vaccine, have incomplete vaccine, did not receive a booster dose or has a low immune system due to age factor as well as other diseases such as cancer, the duration is longer.
"There are case reports of individual who are still positive after 10 months where the patient has a history of blood cancer," Dr Chia said
For those infected & positive:
Follow the quarantine period and report your health status through MySejahtera
Stay in a separate room. Ensure good ventilation
If you need to leave the room, wear a face mask at all times
Wash your hands often and practice proper coughing or sneezing etiquette
Do not share food or drinks and personal items with others
Contact the COVID Assessment Centre (CAC) if symptoms worsen or to a nearby hospital immediately
Eat a balanced diet
Avoid smoking and always think positive
Patients who are still positive and have completed the quarantine period, but are asymptomatic can still engage in daily activities such as working from home and doing light exercise.
"For those who are symptomatic or have just recovered, rest is recommended. The probability of infecting others is low after 10 days. Continue to practice a healthy lifestyle including a balanced diet, exercise, do not smoke and complete vaccination doses including booster shots," said Dr Chia.
Booster Effectiveness
After receiving a booster shot, the effectiveness of the vaccine will return to a higher rate (over 90%). Studies show that it is important to receive the booster shot to increase the level of antibodies in the body to avoid being infected with Omicron.
The efficacy rate for the Pfizer vaccine dropped from 89% to 68% while for the Sinovac vaccine, there was a decrease from 78% to 28% within three to five months after receiving two doses of the vaccine.
Do more infections mean more new variants are produced?
Many do not know the fact that high infection rates give the virus a chance to mutate and there is no guarantee if there will be new COVID-19 variants which are more benign' than the previous variant.
Since Omicron was discovered in South Africa, it has spread around the world faster than Alpha and Delta.
Scientists have detected Omicron in more than 120 countries but its origin is still in question and it has no clear connection with the Alpha and Delta variants.
Omicron may help scientists understand the risks of the emergence of new variants and suggest ways to mitigate their effects.
Source: Utusan Malaysia
Back