Cancer Through Illustrations
03 March 2020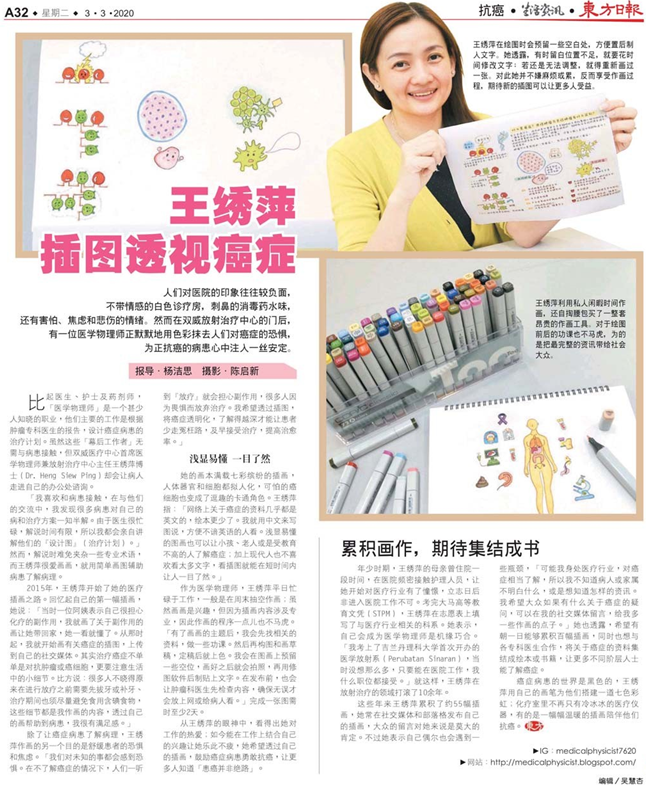 People tend to have a negative perception on hospitals – indifferent white treatment rooms, the pungent smell of antiseptic and unsettling emotions of fear, anxiety and sadness. Yet behind the door of the Cancer & Radiosurgery Centre at Sunway Medical Centre, a medical physicist is using colours to erase the fear of cancer while injecting a glimmer of hope into the hearts of patients who are fighting it.
Dr Heng Siew Ping, Chief Medical Physicist and Senior Manager of the Cancer & Radiosurgery Centre at Sunway Medical Centre, began her interest in illustration in 2015. It started with a patient who expressed her concern about the side effects of chemotherapy so she drew an illustration on the side effects for her to take home, and the patient understood it right away.
"Since then, I have been drawing illustrations about cancer and uploading them on my own social media platforms. Treating cancer is not just about fighting tumours or cancer cells, it is also about paying attention to the little details in life. For example, many people do not know they need to have their teeth extracted or filled before undergoing radiotherapy and that they need to avoid food that contain iodine during treatment. All these details are part of the contents in my illustrations," Dr Heng said.
Compared to doctors, nurses and pharmacists, medical physicists are a little known profession. Their main job is to design treatment plans for cancer patients based on reports from oncologists. Although these "behind-the-scenes" professionals do not have to come into contact with patients, Dr Heng welcomes patients into her office for consultations.
"I love to engage with patients and during these interactions, I find that many of them know little to nothing about their illness and treatment options. As doctors are often busy and have limited time during consultation, I will always explain to them about their treatment plan," she said, adding that as some terminology cannot be avoided during the explanation, she decided to use simple drawings to help patients understand.
Apart from explaining to cancer patients about their condition, her drawings also relieve patients of their fears and anxieties. "We all have fears of the unknown. Without much knowledge about cancer, people worry about the side effects whenever they hear about radiotherapy and many give up on treatment out of fear. Through my illustrations, I hope patients can understand cancer better so they receive early treatment and increase their recovery rate, and are less likely to go down the wrong path," she said.
Easy understanding and reading
Information about cancer on the internet are often in English and few options in the form of illustration books. Therefore, Dr Heng's illustrates the diagrams in Chinese for those who don't understand English. Her illustration books are filled with colourful drawings of organs, cells and the dreaded cancer cells which are transformed into funny cartoon characters. Her drawings are easy to understand for children and the elderly; also for people today who do not like to read too many words. Illustrations can help them understand in a glance.
As a medical physicist, Dr Heng is occupied with work on weekdays and usually finds time to draw during weekends. Although drawing is a hobby for her, the contents of her illustrations are professional in nature.
"Once I have a theme in mind, I will first do some research and look for relevant information. Then I will plan the illustration and draw a draft. When it is finalised, will it be coloured. Once complete, I will take a photo and use an editing software to insert text. I usually leave some space in between the drawings for the text. I will also get an oncologist to check the content to ensure there are no errors before I show it to the patient or share it online. It takes at least wo days to complete an illustration," she explained.
Dr Heng hopes she can encourage cancer patients through her illustrations to fight cancer and to let more people know that "cancer is not the end".

Amassing illustrations into a book
Dr Heng's mother was hospitalised for a period of time when she was younger and during that time, she would be in frequent contact with the medical staff at the hospital. This made her decide that she wanted to work in a hospital and after completing her Malaysian Higher School Certificate (STPM), she signed up for courses related to medicine. It is pure coincidence that she would become a medical physicist.
"I got accepted as the first batch in the Faculty of Medical Radiology at University Malaysia Kelantan. I didn't give it much thought at the time as I would take any course as long as I could work in a hospital," she said. This is how she started her journey in the field of radiotherapy for the past 10 years.
Over the years, Dr Heng has drawn about 55 illustrations which have received good response from the public. But, she confesses that she does run into bottlenecks sometimes.
"Sometimes I don't know what patients or their families aren't clear about cancer, or what kind of information they would like to know. I hope they can leave comments on my social media platforms if they have questions; that also inspires my drawings," she said.
Dr Heng revealed that she wishes to accumulate 100 illustrations and work with different specialists to compile information about cancer into a book so that more people from different walks of life can learn about cancer.
The world for cancer patients may be black, but Dr Heng is using her brush to create a rainbow for them. There are no longer only cold medical equipment or devices in the chemotherapy room, but warm illustrations to accompany them in their fight against cancer.

Source: Oriental Daily News
Back