Clear vision with LASIK
14 December 2019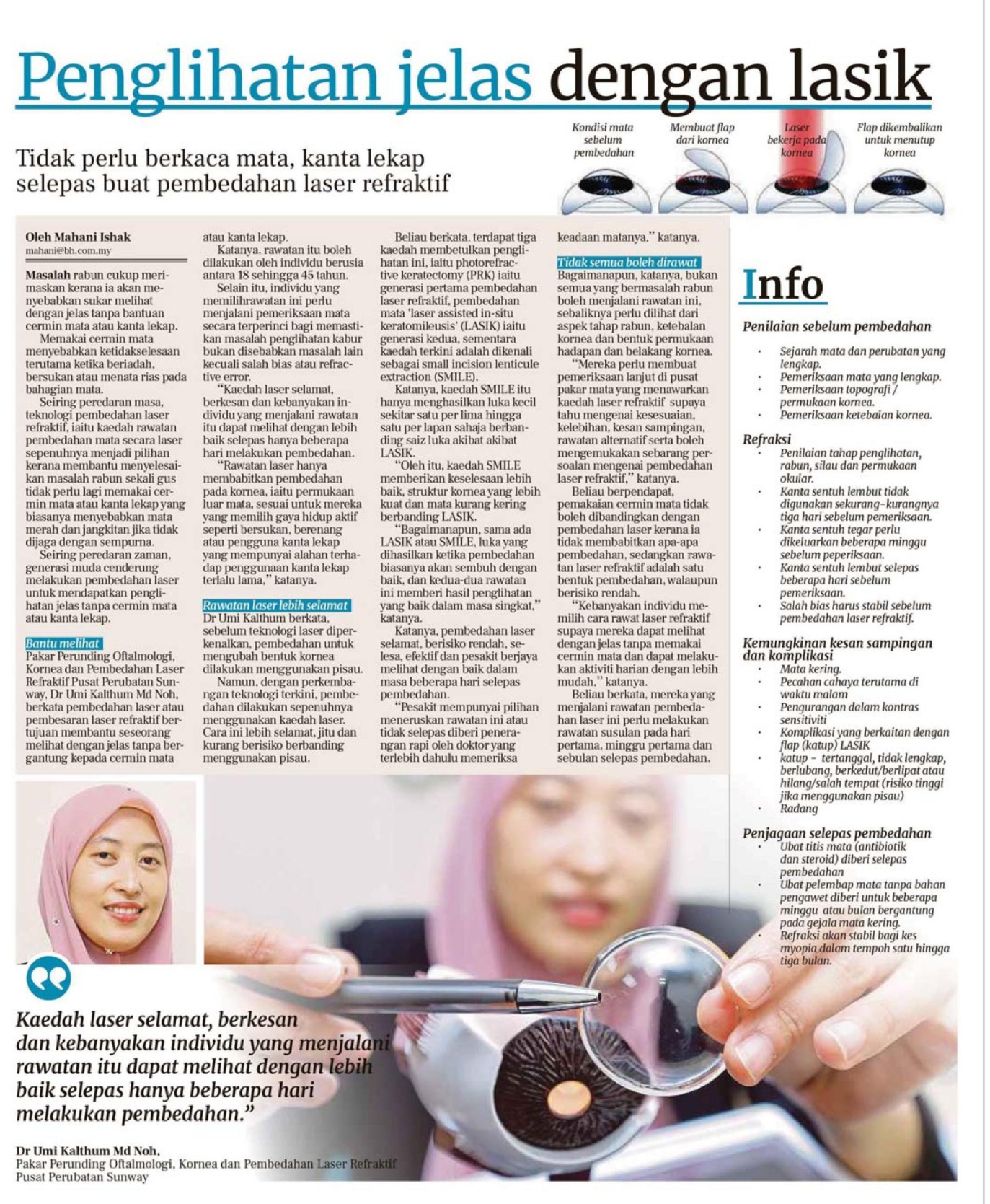 It can be frustrating when it is difficult to see clearly without the help of glasses or contact lenses. Also, wearing glasses can cause discomfort especially when exercising, while participating in sports or when putting on makeup to the eye area.
With the advancement in technology, refractive laser surgery becomes a preferred choice to correct vision problems so that it is no longer necessary to wear glasses or contact lenses, which often cause red eyes and infections if not properly cared for.
Sunway Medical Centre, Ophthalmologist and Cornea and Refractive Laser Surgery Specialist, Dr Umi Kalthum Md Noh, said laser surgery aims to help individuals see clearly without relying on glasses or contact lenses. The treatment can be done by individuals between the ages of 18 and 45.
Individuals who choose this treatment need to undergo a detailed eye examination to ensure that their vision problems are not caused by any other reasons besides a refractive error.
"Laser surgery is safe, effective and most people who undergo the treatment can see better after just a few days of surgery. The treatment only involves surgery on the cornea, which is the outer surface of the eye, making it suitable for those who choose to have an active lifestyle and those who are allergic to prolonged contact lens use," Dr Umi Kalthum said.
Before laser technology was introduced, surgery to change the shape of the cornea was done using a knife but due to technology development, surgery today is performed entirely using a laser. This method is safer, more accurate and less risky than using a knife.
There are three methods to correct vision, namely photorefractive keratectomy (PRK), the first-generation refractive laser surgery, the second generation laser assisted in-situ keratomileusis (LASIK), and the latest method known as Small Incision Lenticule Extraction (SMILE).
Dr Umi Kalthum said SMILE only creates about one-fifth to one-eighth of the wound size compared to LASIK. Therefore, it provides better comfort, stronger corneal structure and less dry eyes than LASIK.
"But whether LASIK or SMILE, the lesions during surgery usually heal well, and both treatments provide good vision results in a short time," she said, adding that laser surgery is safe, low risk, comfortable, effective and the patient is able to see well within a few days after surgery.
Those who have undergone the laser surgery need follow up with their doctor on the first day, first week, and one month after surgery.
However, not all individuals with vision problems can undergo this treatment. It depends on the eye power, corneal thickness and the shape of the surface in front and back of the cornea.
"Patients need to do further examination at a specialist eye centre that offers refractive laser surgery to find out the suitability, benefits, side effects, alternative treatments and so that they can raise any questions about refractive laser surgery. The patient has the option to proceed with the treatment or not after a medical consultation by the doctor who will first examine his eye condition," Dr Umi Kalthum said.
She thinks the use of glasses cannot be compared to laser surgery because it does not involve any surgery, even if refractive laser treatment is a form of surgery, although one with a low risk.
"Most individuals opt for refractive laser treatment so they can see clearly without wearing glasses so they perform their daily activities more easily," she said.
Source: Berita Harian
Back