Combining Eastern and Western approaches
18 January 2020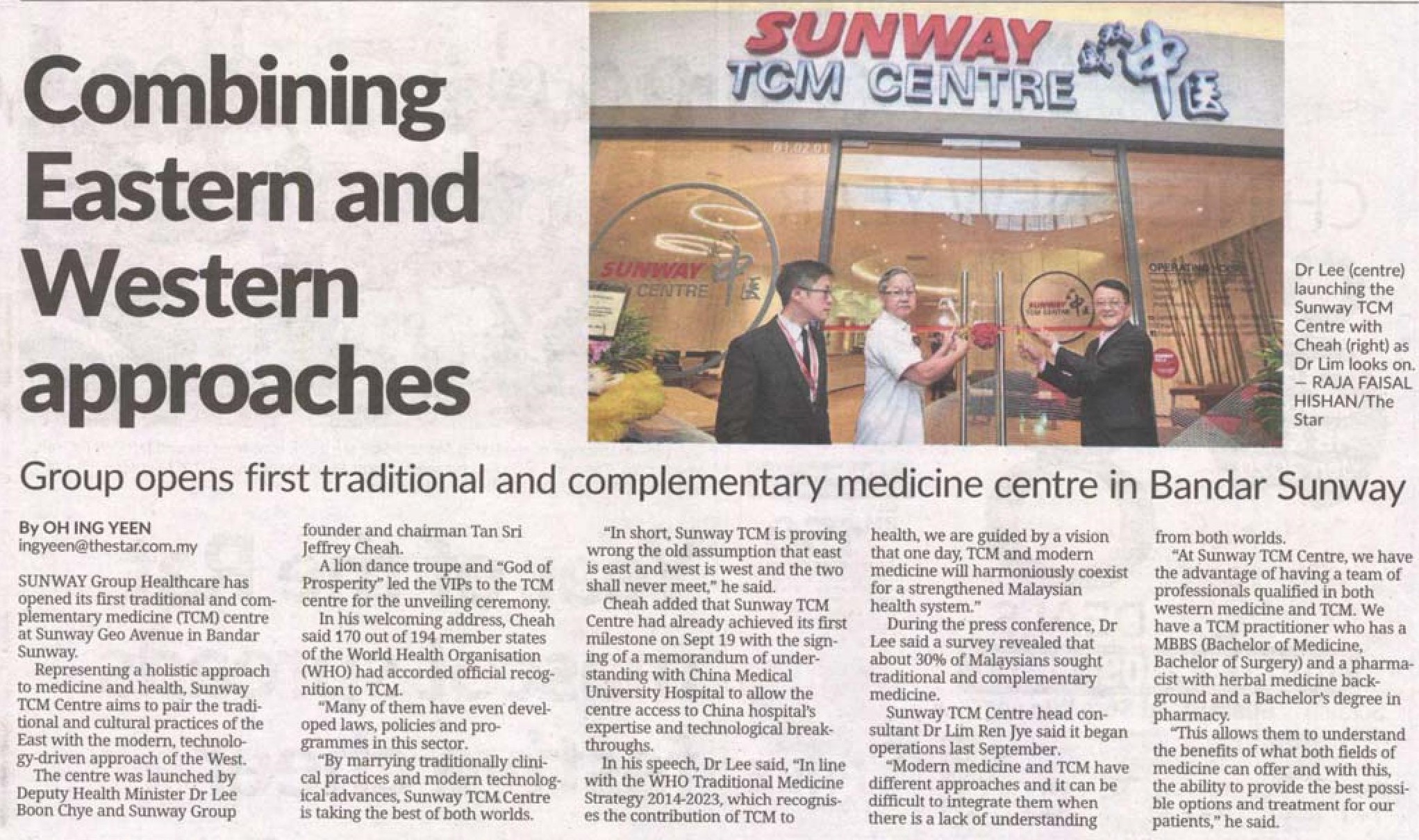 Sunway Group Healthcare has opened its first traditional and complementary medicine (TCM) centre at Sunway Geo Avenue in Bandar Sunway.
Representing a holistic approach to medicine and health, Sunway TCM Centre aims to pair the traditional and cultural practices of the East with the modern, technology-driven approach of the West.
The centre was launched by Deputy Health Minister Dr Lee Boon Chye and Sunway Group founder and chairman Tan Sri Jeffrey Cheah.
A lion dance troupe and "God of Prosperity" led the VIPs to the TCM centre for the unveiling ceremony.
In his welcoming address, Cheah said 170 out of 194 member states of the World Health Organisation (WHO) had accorded official recognition to TCM.
"Many of them have even developed laws, policies and programmes in this sector.
"By marrying traditionally clinical practices and modern technological advances, Sunway TCM Centre is taking the best of both worlds.
"In short, Sunway TCM is proving wrong the old assumption that east is east and west is west and the two shall never meet," he said.
Cheah added that Sunway TCM Centre had already achieved its first milestone on Sept 19 with the signing of a memorandum of understanding with China Medical University Hospital to allow the centre access to China hospital's expertise and technological breakthroughs.
In his speech, Dr Lee said, "In line with the WHO Traditional Medicine Strategy 2014-2023, which recognises the contribution of TCM to health, we are guided by a vision that one day, TCM and modern medicine will harmoniously coexist for a strengthened Malaysian health system."
During the press conference, Dr Lee said a survey revealed that about 30% of Malaysians sought traditional and complementary medicine.
Sunway TCM Centre head consultant Dr Lim Ren Jye said it began operations last September.
"Modern medicine and TCM have different approaches and it can be difficult to integrate them when there is a lack of understanding from both worlds.
"At Sunway TCM Centre, we have the advantage of having a team of professionals qualified in both western medicine and TCM. We have a TCM practitioner who has a MBBS (Bachelor of Medicine, Bachelor of Surgery) and a pharmacist with herbal medicine background and a Bachelor's degree in pharmacy.
"This allows them to understand the benefits of what both fields of medicine can offer and with this, the ability to provide the best possible options and treatment for our patients," he said.
Source: The Star
Back