Committed to providing the best service
15 November 2019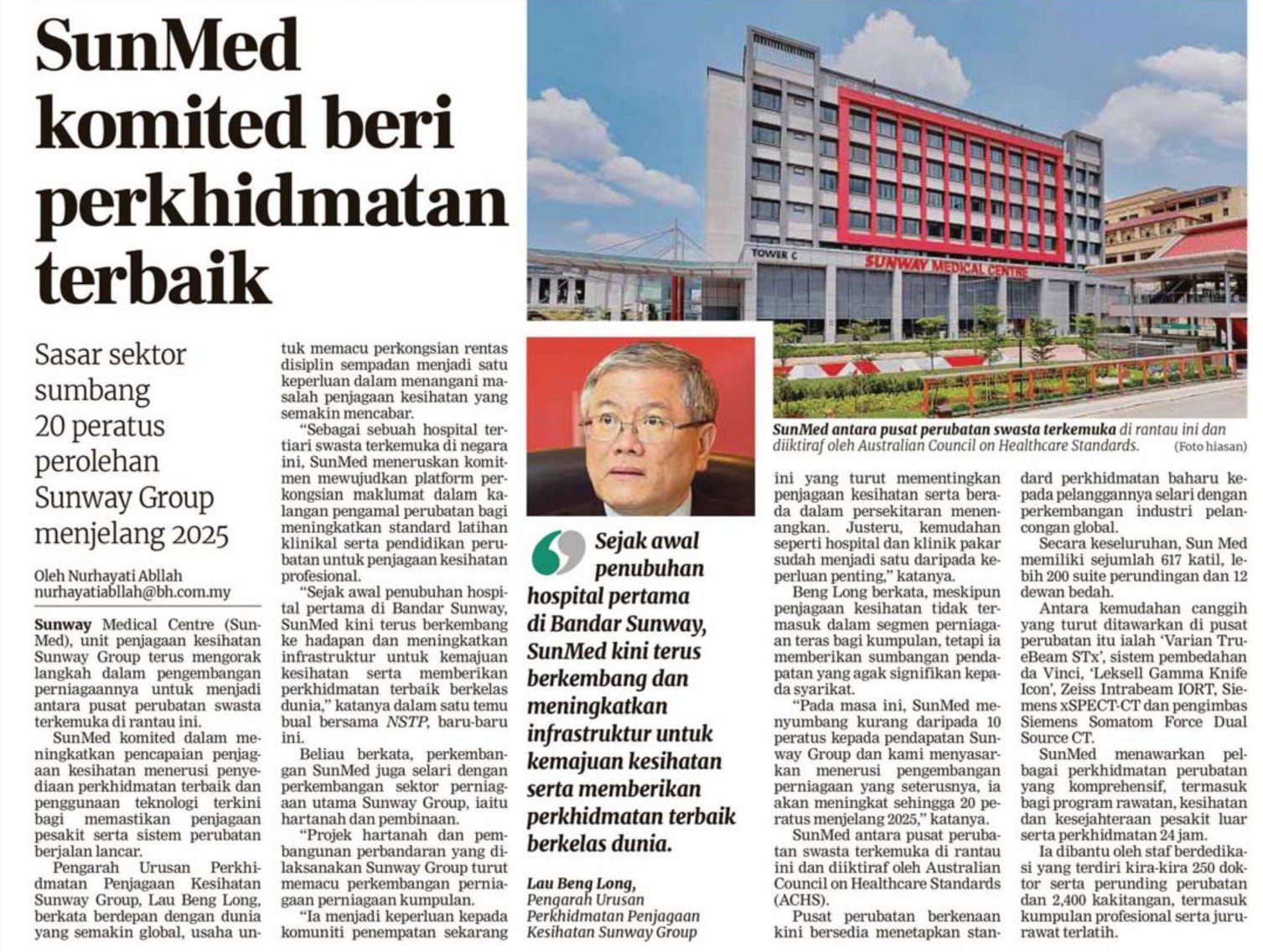 Sunway Medical Centre, Sunway Group's healthcare unit, continues to expand its business to become one of the region's leading private medical centres. It is committed to improving healthcare through the provision of best services and the use of cutting-edge technology to keep patients and medical systems running smoothly.
Sunway Healthcare Group Managing Director, Lau Beng Long said facing an increasingly globalised world, efforts to drive cross-disciplinary partnerships are a must in addressing increasingly challenging health care issues.
"As the nation's leading private tertiary hospital, Sunway Medical Centre continues its commitment to establishing information sharing platforms among medical practitioners to improve clinical training standards and medical education for professional healthcare.
"Since the inception of the first hospital in Sunway City, Sunway Medical Centre has been steadily expanding and improving its infrastructure and providing world-class services," he said.
He added that the hospital's growth was also in line with the growth of Sunway Group's core business sector, real estate and construction.
"Sunway Group's real estate and urban development projects are also driving the group's business growth. It is a necessity for the current community who consider the importance of healthcare in a relaxed environment. Therefore, facilities such as hospitals and specialist clinics have become one of the essentials," Lau said.
He added that although healthcare is not part of the core business segment of the group, it does provide a significant financial contribution to the company.
"At present, Sunway Medical Centre contributes less than 10% to Sunway Group's revenue and through our future business expansions, we aim to increase it to 20% by 2025," Lau said.
Sunway Medical Centre is one of the leading private medical centres in the region and is recognised by the Australian Council on Healthcare Standards (ACHS). The medical centre is setting new standards of service for its customers in line with the growth of the global tourism industry.
In total, Sunway Medical Centre has a total of 617 beds, over 200 consultation suites and 12 surgeons. Among the advanced facilities offered include the Varian TrueBeam STx, da Vinci surgery system, Leksell Gamma Knife Icon, Zeiss Intrabeam IORT, Siemens xSPECT-CT and Siemens Somatom Force Dual Source CT scanners.
Sunway Medical Centre offers a comprehensive range of medical services, including outpatient treatment, health and wellness programmes, and 24-hour services. It is assisted by a dedicated staff of approximately 250 medical consultants and 2,400 staff, including a team of medical professionals and trained nurses.
Source: Berita Harian
Back