Educate kids on Covid-19 and risks, adults advised
12 October 2021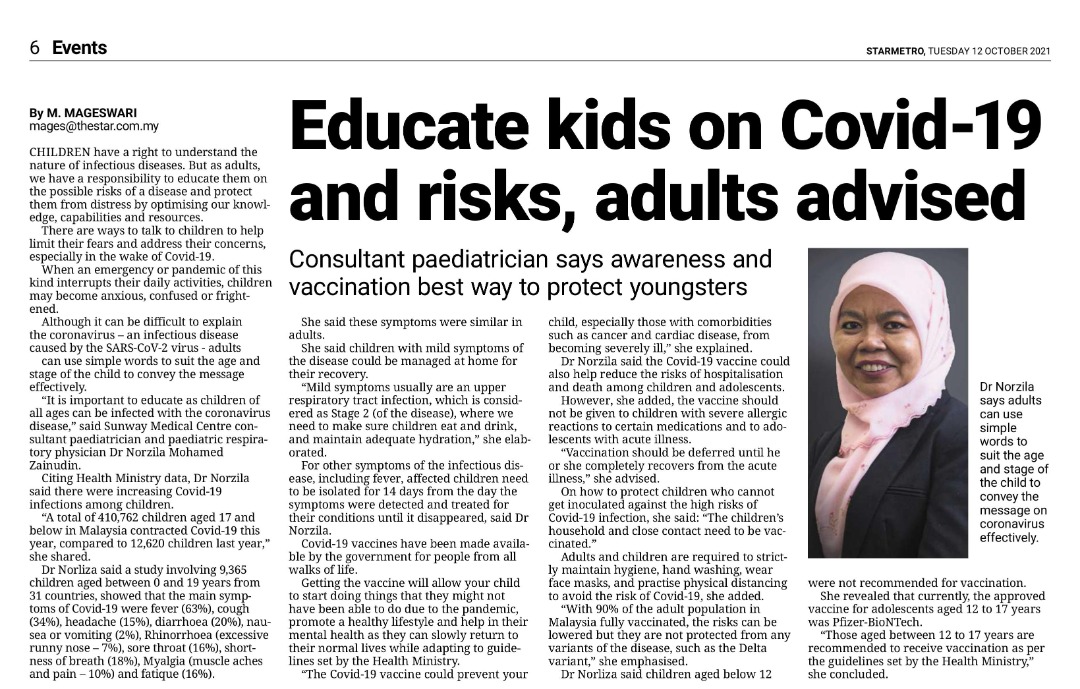 Children have a right to understand the nature of infectious diseases. But as adults, we have a responsibility to educate them on the possible risks of a disease and protect them from distress by optimising our knowledge, capabilities and resources.
There are ways to talk to children to help limit their fears and address their concerns, especially in the wake of Covid-19.
When an emergency or pandemic of this kind interrupts their daily activities, children may become anxious, confused or frightened.
Although it can be difficult to explain the coronavirus – an infectious disease caused by the SARS-CoV-2 virus – adults can use simple words to suit the age and stage of the child to convey the message effectively.
"It is important to educate as children of all ages can be infected with the coronavirus disease," said Sunway Medical Centre consultant paediatrician and paediatric respiratory physician Dr Norzila Mohamed Zainudin.
Citing Health Ministry data, Dr Norzila said there were increasing Covid-19 infections among children.
"A total of 410,762 children aged 17 and below in Malaysia contracted Covid-19 this year, compared to 12,620 children last year," she shared.
Dr Norzila said a study involving 9,365 children aged between 0 and 19 years from 31 countries, showed that the main symptoms of Covid-19 were fever (63%), cough (34%), headache (15%), diarrhoea (20%), nausea or vomiting (2%), Rhinorrhoea (excessive runny nose – 7%), sore throat (16%), shortness of breath (18%), Myalgia (muscle aches and pain – 10%) and fatigue (16%).
She said these symptoms were similar in adults.
She said children with mild symptoms of the disease could be managed at home for their recovery.
"Mild symptoms usually are an upper respiratory tract infection, which is considered as Stage 2 (of the disease), where we need to make sure children eat and drink, and maintain adequate hydration," she elaborated.
For other symptoms of the infectious disease, including fever, affected children need to be isolated for 14 days from the day the symptoms were detected and treated for their conditions until it disappeared, said Dr Norzila.
Covid-19 vaccines have been made available by the government for people from all walks of life.
Getting the vaccine will allow your child to start doing things that they might not have been able to do due to the pandemic, promote a healthy lifestyle and help in their mental health as they can slowly return to their normal lives while adapting to guidelines set by the Health Ministry.
"The Covid-19 vaccine could prevent your child, especially those with comorbidities such as cancer and cardiac disease, from becoming severely ill," she explained.
Dr Norzila said the Covid-19 vaccine could also help reduce the risks of hospitalisation and death among children and adolescents.
However, she added, the vaccine should not be given to children with severe allergic reactions to certain medications and to adolescents with acute illness.
"Vaccination should be deferred until he or she completely recovers from the acute illness," she advised.
On how to protect children who cannot get inoculated against the high risks of Covid-19 infection, she said: "The children's household and close contact need to be vaccinated."
Adults and children are required to strictly maintain hygiene, hand washing, wear face masks, and practise physical distancing to avoid the risk of Covid-19, she added.
"With 90% of the adult population in Malaysia fully vaccinated, the risks can be lowered but they are not protected from any variants of the disease, such as the Delta variant," she emphasised.
Dr Norzila said children aged below 12 were not recommended for vaccination.
She revealed that currently, the approved vaccine for adolescents aged 12 to 17 years was Pfizer-BioNTech.
"Those aged between 12 to 17 years are recommended to receive vaccination as per the guidelines set by the Health Ministry," she concluded.
Source: The Star
Back