Every part of the body is at risk of cancer
29 August 2020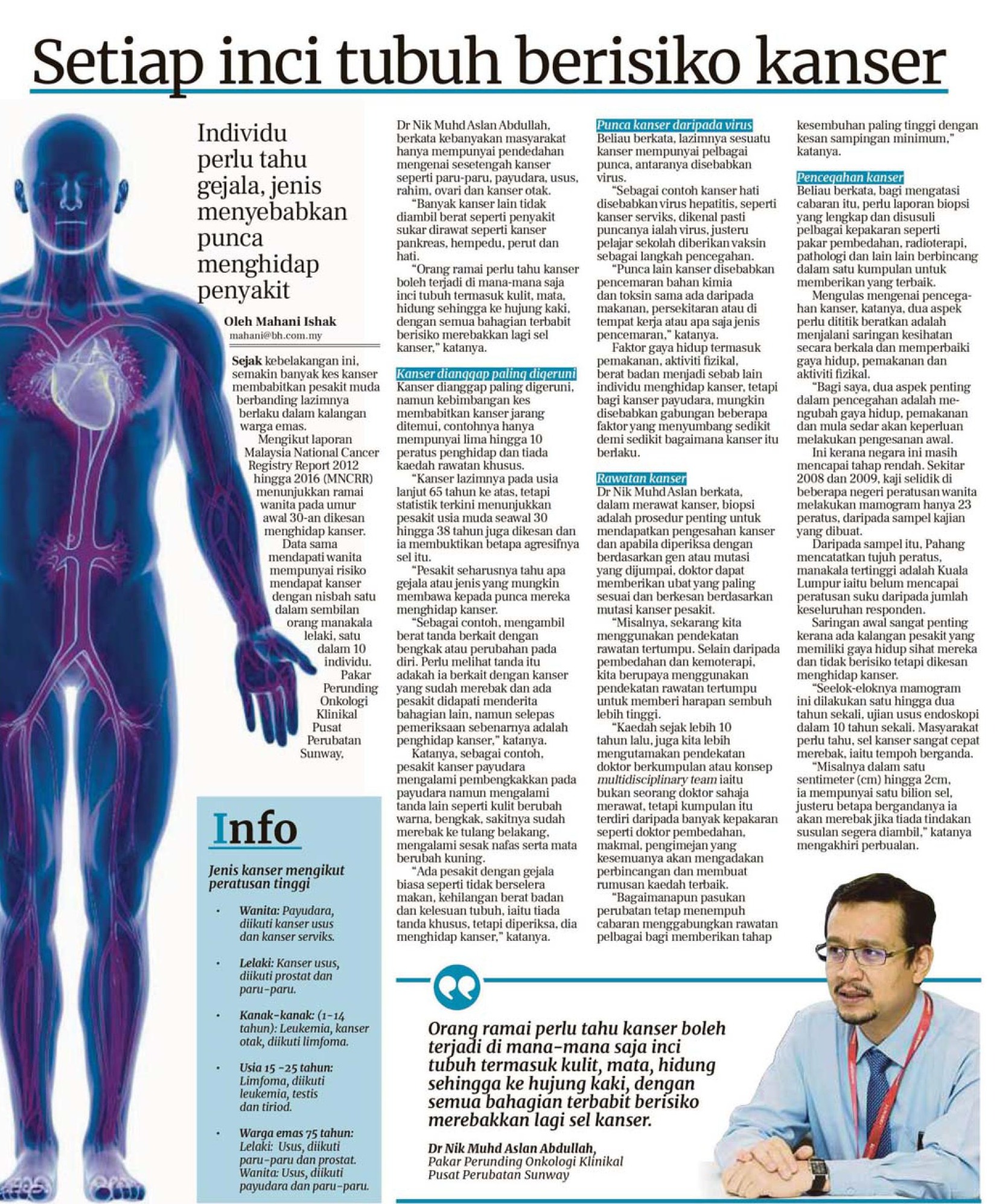 Lately, there are more cancer cases involving young patients than among the elderly and the Malaysia National Cancer Registry Report 2012-2016 (MNCRR) showed that many women in their early 30s are diagnosed with cancer. Similar data also found that women are more at risk of getting cancer with a ratio of one in nine people while men, one in 10 individuals.
Sunway Medical Centre Consultant Clinical Oncologist, Dr Nik Muhd Aslan Abdullah said most people are only exposed to certain cancers such as lung, breast, colorectal, cervix, ovarian and brain.
"Many other cancers are not taken seriously such as cancer of the pancreas, bile, stomach and liver which are difficult to treat. Yet, people need to know that cancer can occur in any part of the body including the skin, eyes, nose to the tip of the foot as all these parts are at risk of further spreading the cancer cells," he said.
Cancer is the most feared, but rare cancers are uncommon with only 5% to 10% of patients developing it and there are no specific treatment methods.
"Cancer is common in those 65 years and above, but latest statistics show that young patients between 30 and 38 years old are also affected, proving how aggressive cancer cells are.
"Patients therefore need to be aware of symptoms that may indicate cancer. For example, noticing signs of swelling or changes to oneself. These signs may be related to cancer cells that have spread while some patients may experience pain in certain parts of their body, and after an examination only can it be confirmed if it is cancer," Dr Nik Muhd Aslan said.
For example, breast cancer patients experience swelling in their breasts but also experience other signs such as skin discolouration, swelling, pain in the spine, shortness of breath and yellowing of the eyes.
There are also patients with common symptoms such as loss of appetite, weight loss and lethargy which are not specific signs but when examined, it is confirmed that the individual has cancer.
Dr Nik Muhd Aslan said there are many causes for cancer and among them is due to virus. For example, liver cancer is caused by the hepatitis virus while cervical cancer is caused by the HPV virus and therefore school students are given the vaccine as a preventive measure.
"Cancer can also be caused by any type of pollution due to chemicals and toxins whether from food, the environment or at the workplace," he added.
Lifestyle factors including diet, physical activity and weight are other causes for individuals to develop cancer. But for breast cancer, it may be due to a combination of factors that contribute to how the cancer develops.
Dr Nik Muhd Aslan said to treat cancer, a biopsy is an important procedure to obtain a cancer diagnosis and when examined based on genes or mutations, doctors can provide the most appropriate and effective medication based on the patient's cancer mutations.
"For example, we now apply the targeted therapy approach apart from surgery and chemotherapy which is able to give a higher chance of recovery. This method was introduced more than 10 years ago.
"We also adopt the multidisciplinary team approach where there is not only one doctor treating but a group of specialists including surgeons and imaging and lab specialists who discuss and formulate the best treatment.
"However, the medical team still faces challenges in combining various treatments to provide the highest recovery rate with minimal side effects," he said.
To overcome these challenges, it is necessary to have a complete biopsy followed by a discussion with various specialists including surgeons, radiotherapists, pathologists and others to determine what's best for the patient.
To prevent cancer, Dr Nik Muhd Aslan said two aspects should be emphasised and that is to undergo regular health screenings and improving one's lifestyle in terms of nutrition and physical activity.
However, the level of awareness in Malaysia is still low. Between 2008 and 2009, a survey done in several states on the percentage of women undergoing mammogram is only 23% of the entire study sample.
In that survey, Pahang only had 7% of women undergoing the mammogram test while the highest was Kuala Lumpur but the numbers did not even record a quarter of the total of respondents.
Early screening is important because some patients may lead a healthy lifestyle and are not at risk, and yet are diagnosed with cancer.
"Ideally, mammogram should be done once every two years while a colonoscopy once in every 10 years. Cancer cells spread quickly where the cells keep doubling in number. For example, a 1cm to 2cm tumour contains one billion cancer cells, which shows how fast it spreads if no action is taken immediately," Dr Nik Muhd Aslan said.
Source: Berita Harian
Back