Here's what Pink October represents
17 October 2021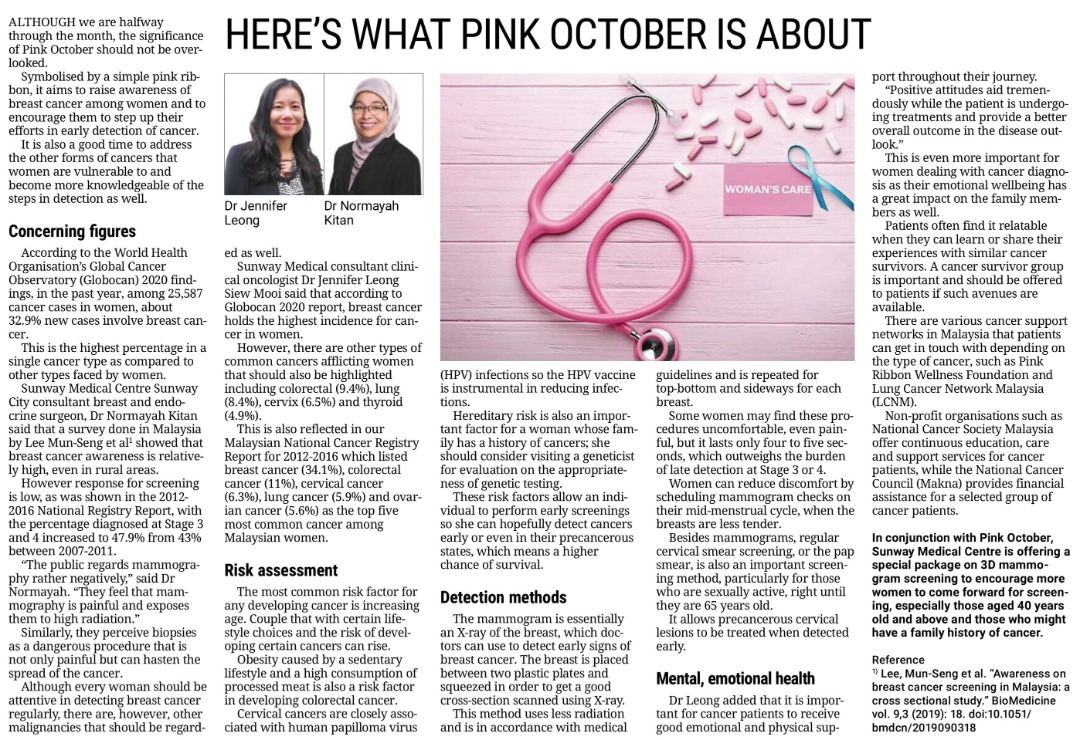 ALTHOUGH we are halfway through the month, the significance of Pink October should not be overlooked.
Symbolised by a simple pink ribbon, it aims to raise awareness of breast cancer among women and to encourage them to step up their efforts in early detection of cancer.
It is also a good time to address the other forms of cancers that women are vulnerable to and become more knowledgeable of the steps in detection as well.
Concerning figures
According to the World Health Organisation's Global Cancer Observatory (Globocan) 2020 findings, in the past year, among 25,587 cancer cases in women, about 32.9% new cases involve breast cancer.
This is the highest percentage in a single cancer type as compared to other types of cancers faced by women.
Sunway Medical Centre Sunway City consultant breast and endocrine surgeon, Dr Normayah Kitan said that a survey done in Malaysia by Lee Mun-Seng et al (1) showed that breast cancer awareness is relatively high, even in rural areas.
However response for screening is low, as was shown in the 2012-2016 National Registry Report, with the percentage diagnosed at late stage (Stages 3 and 4) increased to 47.9% from 43% between 2007-2011.
"The public regards mammography rather negatively," said Dr Normayah. "They feel that mammography is painful and exposes them to high radiation."
Similarly, they perceive biopsies as a dangerous procedure that is not only painful but can hasten the spread of the cancer.
Although every woman should be attentive in detecting breast cancer regularly, there are, however, other malignancies that should be regarded as well.
Sunway Medical consultant clinical oncologist Dr Jennifer Leong Siew Mooi said that according to Globocan 2020 report, breast cancer holds the highest incidence for cancer in women.
However, there are other types of common cancers afflicting women that should also be highlighted including colorectal (9.4%), lung (8.4%), cervix (6.5%) and thyroid (4.9%).
This is also reflected in our Malaysian National Cancer Registry Report for 2012-2016 which listed breast cancer (34.1%), colorectal cancer (11%), cervical cancer (6.3%), lung cancer (5.9%) and ovarian cancer (5.6%) as the top five most common cancer among Malaysian women.
Risk assessment
The most common risk factor for any developing cancer is increasing age. Couple that with certain lifestyle choices and the risk of developing certain cancers can rise.
Similarly obesity caused by a sedentary lifestyle and a high consumption of processed meat is also a risk factor in developing colorectal cancer.
Cervical cancers are closely associated with human papilloma virus (HPV) infections so the HPV vaccine is instrumental in reducing infections.
Hereditary risk is also an important factor for a woman whose family has a history of cancers; she should consider visiting a geneticist for evaluation on the appropriateness of genetic testing.
These risk factors allow an individual to perform early screenings so she can hopefully detect cancers early or even in their precancerous states, which means a higher chance of survival.
Detection methods
The mammogram is essentially an X-ray of the breast, which doctors can use to detect early signs of breast cancer.
The breast is placed between two plastic plates and squeezed in order to get a good cross-section scanned using X-ray.
This method uses less radiation and is in accordance with medical guidelines and is repeated for top-bottom and sideways for each breast.
Some women may find these procedures uncomfortable, even painful, but it lasts only four to five seconds, which outweighs the burden of a late detection at Stage 3 or 4.
Women can reduce discomfort by scheduling mammogram checks on their mid-menstrual cycle, when the breasts are less tender.
Besides mammograms, regular cervical smear screening, or the pap smear, is also an important screening method, particularly for those who are sexually active, right until they are 65 years old.
It allows precancerous cervical lesions to be treated when detected early.
Mental, emotional health
Dr Leong added that it is important for cancer patients to receive good emotional and physical support throughout their journey.
"Positive attitudes aid tremendously while the patient is undergoing treatments and provide a better overall outcome in the disease outlook."
This is even more important for women dealing with cancer diagnosis as their emotional wellbeing has a great impact on the family members as well.
Patients often find it relatable when they can learn or share their experiences with similar cancer survivors. A cancer survivor group is important and should be offered to patients if such avenues are available.
There are various cancer support networks in Malaysia that patients can get in touch with depending on the type of cancer, such as Pink Ribbon Wellness Foundation and Lung Cancer Network Malaysia (LCNM).
Non-profit organisations such as National Cancer Society Malaysia offer continuous education, care and support services for cancer patients, while the National Cancer Council (Makna) provides financial assistance for a selected group of cancer patients.
In conjunction with Pink October, Sunway Medical Centre is offering a special package on 3D Mammogram screening to encourage more women to come forward for screening, especially those aged 40 years old and above and those who might have a family history of cancer.
Source: The Star
Back