Honesty is a life-saving policy
08 April 2020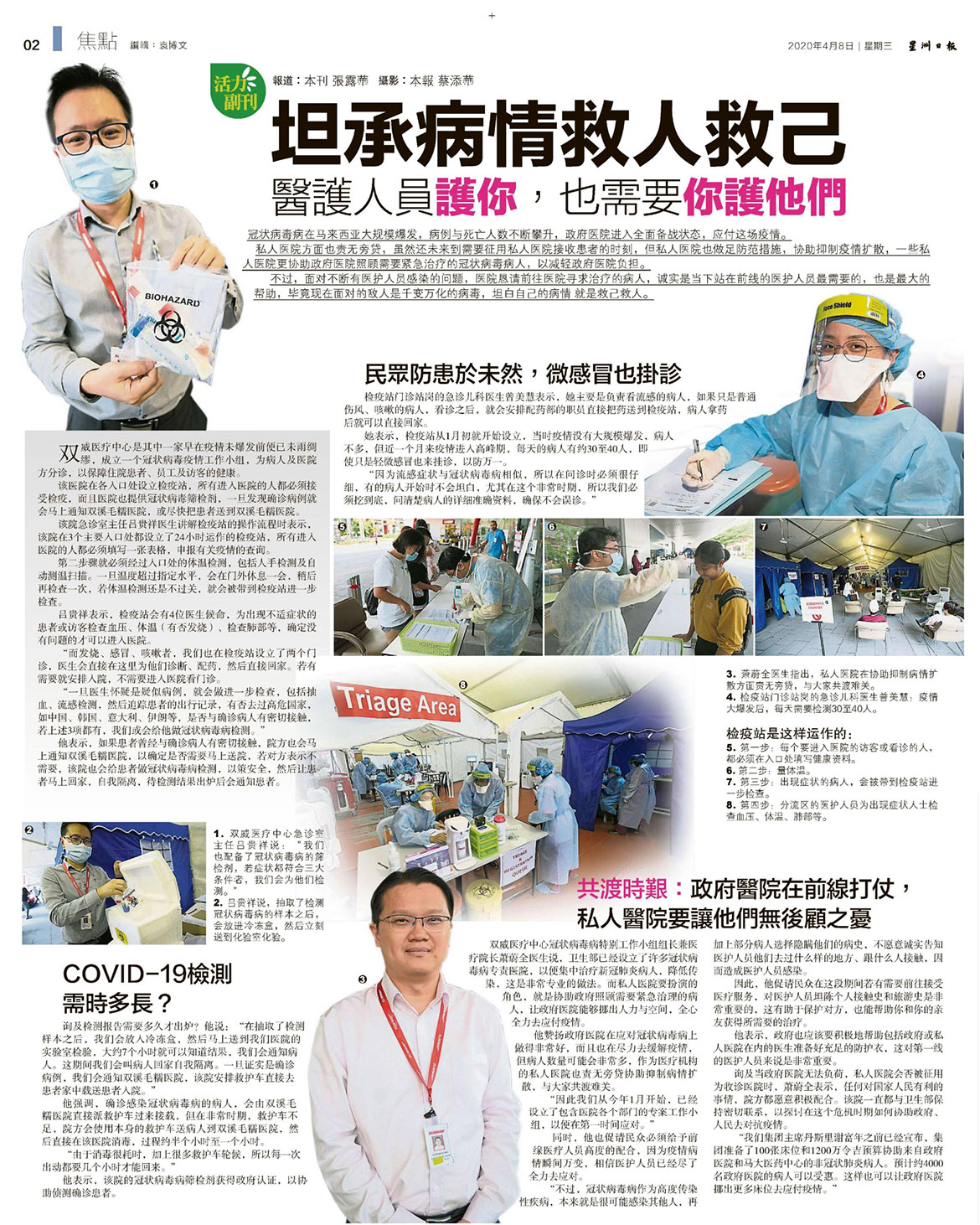 Sunway Medical Centre is among the private hospitals that have taken precautions to be well-prepared for the COVID-19 outbreak. The hospital set up a COVID-19 taskforce that is in charge of the triage process of patients and ensuring environmental safety for them as well as staff and visitors. Coupled with the taskforce, the hospital also set up a triage counter at each entrance to screen all patients and visitors. Additionally, it also provides COVID-19 tests whereby once a confirmed case is found, Sunway Medical Centre will immediately inform and arrange for the patient's transfer to the Ministry of Health Malaysia designated hospital, Sungai Buloh Hospital.
Dr Low Kwai Siong, Consultant Emergency Physician Cum Head of Accident & Emergency of Sunway Medical Centre explained to Sin Chew Daily on the triage process of the hospital. According to him, medical officers from the hospital are on standby at the triage counters to conduct further check-ups on blood pressure, body temperature and lung function of the patients and visitors that have symptoms. Patients and visitors can only be allowed to enter the hospital once the doctor confirms that they are safe and not related to COVID-19. Patients diagnosed with COVID-19 will be directly picked up by an ambulance from Sungai Buloh Hospital.
Dr Seow Vei Ken, Sunway Medical Centre's Medical Director cum the Head of COVID-2019 Taskforce commended the government's professional effort in handling the COVID-19 outbreak by setting up designated hospitals for COVID-19 patients. To support the government, private hospitals like Sunway Medical Centre will assist government hospitals in taking care of non-COVID-19 patients who need urgent treatment. This is in order to assist government hospitals free up their manpower and facilities that would be otherwise used to tackle the pandemic.
"If the public needs to go to the hospital for medical treatment during this period of time, it is very important for them to be honest to the medical staff on their contact history and travel history." Dr Seow urged, citing that these precautions will not only help protect the medical staff, but also the patients along with their friends and family.
He also highlighted that Sunway Group founder and chairman, Tan Sri Dr Jeffrey Cheah has announced that Sunway Group Healthcare has prepared 100 beds and a budget of RM12 million to assist non-COVID-19 patients from government hospitals and University Malaya Medical Centre. This initiative is expected to benefit around 4,000 public patients. This will also allow government hospitals to empty more beds and focus on managing COVID-19 cases.
Source: Sin Chew Daily
Back