Hyperinflammation in Kids' Bodies
02 December 2022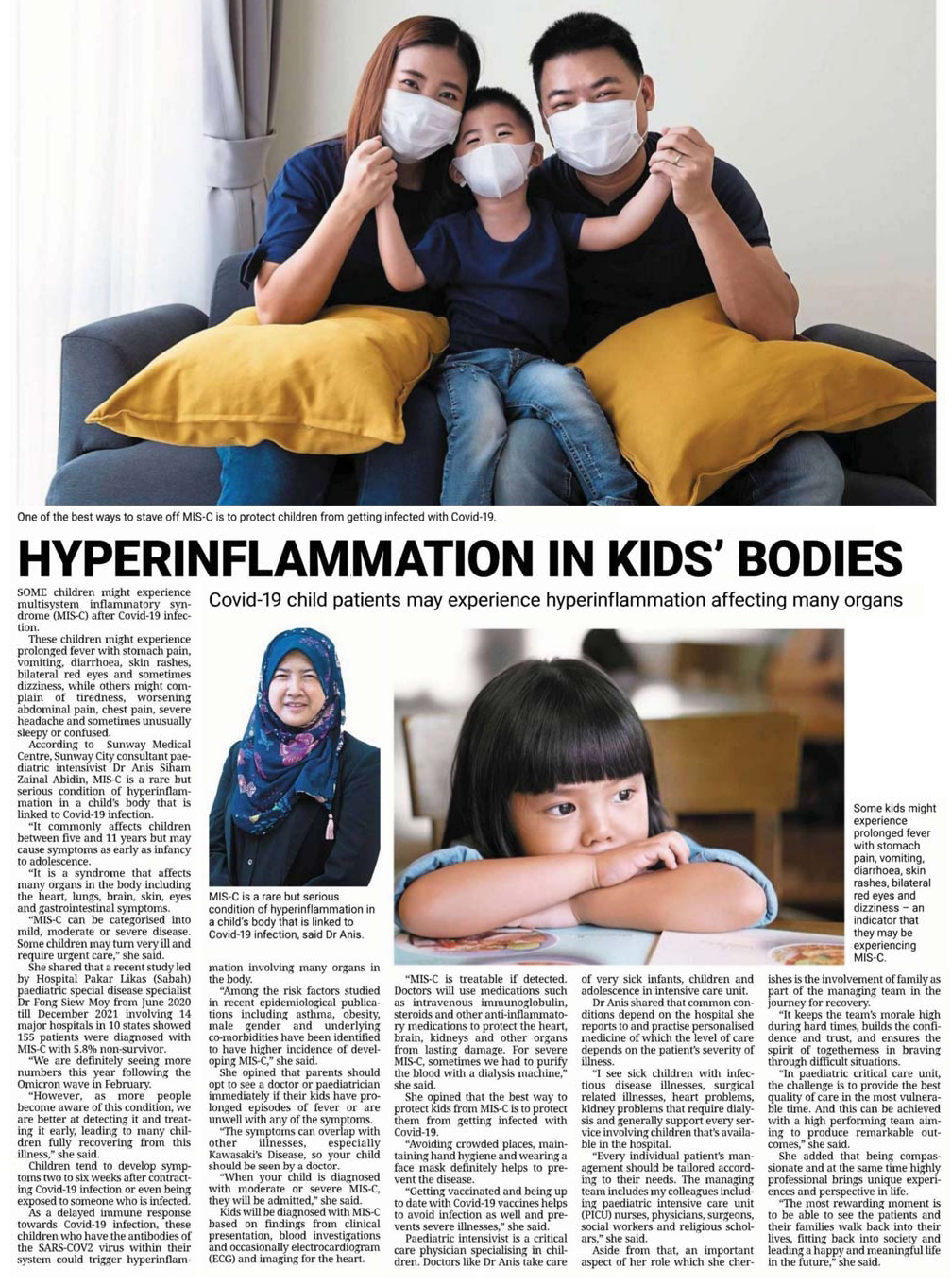 Some children might experience multisystem inflammatory syndrome (MIS-C) after Covid-19 infection.
These children might experience prolonged fever with stomach pain, vomiting, diarrhoea, skin rashes, bilateral red eyes and sometimes dizziness, while others might complain of tiredness, worsening abdominal pain, chest pain, severe headache and sometimes unusually sleepy or confused.
According to Sunway Medical Centre, Sunway City consultant paediatric intensivist Dr Anis Siham Zainal Abidin, MIS-C is a rare but serious condition of hyperinflammation in a child's body that is linked to Covid-19 infection.
MIS-C is a rare but serious condition of hyperinflammation in a child's body that is linked to Covid-19 infection, said Dr Anis.
"It commonly affects children between five and 11 years but may cause symptoms as early as infancy to adolescence.
"It is a syndrome that affects many organs in the body including the heart, lungs, brain, skin, eyes and gastrointestinal symptoms.
"MIS-C can be categorised into mild, moderate or severe disease. Some children may turn very ill and require urgent care," she said.
She shared that a recent study led by Hospital Pakar Likas (Sabah) paediatric special disease specialist Dr Fong Siew Moy from June 2020 till December 2021 involving 14 major hospitals in 10 states showed 155 patients were diagnosed with MIS-C with 5.8% non-survivor.
"We are definitely seeing more numbers this year following the Omicron wave in February.
"However, as more people become aware of this condition, we are better at detecting it and treating it early, leading to many children fully recovering from this illness," she said.
Children tend to develop symptoms two to six weeks after contracting Covid-19 infection or even being exposed to someone who is infected.
As a delayed immune response towards Covid-19 infection, these children who have the antibodies of the SARS-COV2 virus within their system could trigger hyperinflammation involving many organs in the body.
"Among the risk factors studied in recent epidemiological publications including asthma, obesity, male gender and underlying co-morbidities have been identified to have higher incidence of developing MIS-C," she said.
She opined that parents should opt to see a doctor or paediatrician immediately if their kids have prolonged episodes of fever or are unwell with any of the symptoms.
"The symptoms can overlap with other illnesses, especially Kawasaki's Disease, so your child should be seen by a doctor.
"When your child is diagnosed with moderate or severe MIS-C, they will be admitted," she said.
Kids will be diagnosed with MIS-C based on findings from clinical presentation, blood investigations and occasionally electrocardiogram (ECG) and imaging for the heart.
Some kids might experience prolonged fever with stomach pain, vomiting, diarrhoea, skin rashes, bilateral red eyes and dizziness – an indicator that they may be experiencing MIS-C.
"MIS-C is treatable if detected. Doctors will use medications such as intravenous immunoglobulin, steroids and other anti-inflammatory medications to protect the heart, brain, kidneys and other organs from lasting damage. For severe MIS-C, sometimes we had to purify the blood with a dialysis machine," she said.
She opined that the best way to protect kids from MIS-C is to protect them from getting infected with Covid-19.
"Avoiding crowded places, maintaining hand hygiene and wearing a face mask definitely helps to prevent the disease.
"Getting vaccinated and being up to date with Covid-19 vaccines helps to avoid infection as well and prevents severe illnesses," she said.
Paediatric intensivist is a critical care physician specialising in children. Doctors like Dr Anis take care of very sick infants, children and adolescence in intensive care unit.
Dr Anis shared that common conditions depend on the hospital she reports to and practise personalised medicine of which the level of care depends on the patient's severity of illness.
"I see sick children with infectious disease illnesses, surgical related illnesses, heart problems, kidney problems that require dialysis and generally support every service involving children that's available in the hospital.
"Every individual patient's management should be tailored according to their needs. The managing team includes my colleagues including paediatric intensive care unit (PICU) nurses, physicians, surgeons, social workers and religious scholars," she said.
Aside from that, an important aspect of her role which she cherishes is the involvement of family as part of the managing team in the journey for recovery.
"It keeps the team's morale high during hard times, builds the confidence and trust, and ensures the spirit of togetherness in braving through difficult situations.
"In paediatric critical care unit, the challenge is to provide the best quality of care in the most vulnerable time. And this can be achieved with a high performing team aiming to produce remarkable outcomes," she said.
She added that being compassionate and at the same time highly professional brings unique experiences and perspective in life.
"The most rewarding moment is to be able to see the patients and their families walk back into their lives, fitting back into society and leading a happy and meaningful life in the future," she said.
Source: The Star
Back