Let's Talk About Male Cancer This Movember
21 November 2021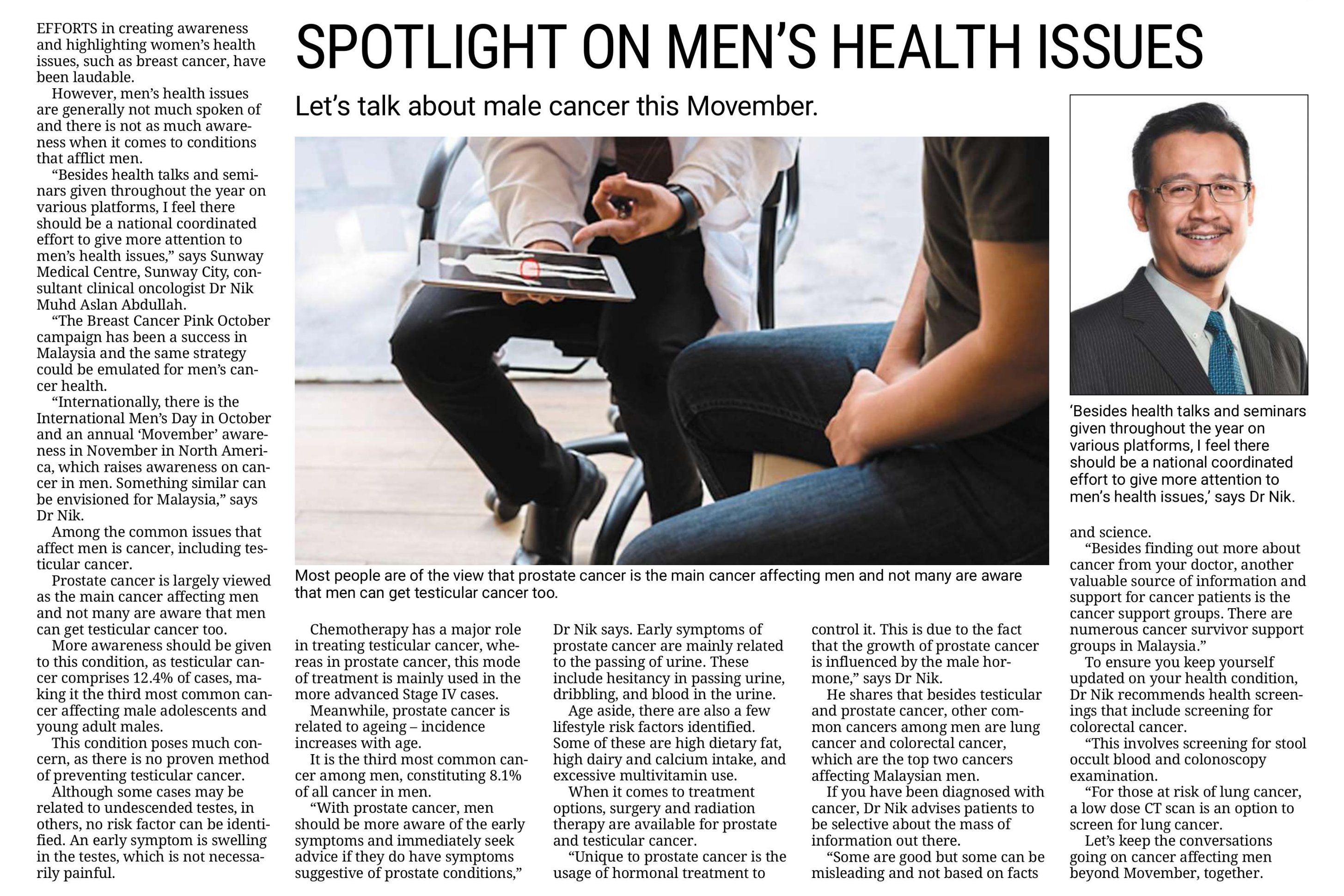 Efforts in creating awareness and highlighting women's health issues, such as breast cancer, have been laudable.
However, men's health issues are generally not much spoken of and there is not as much awareness when it comes to conditions that afflict men.
"Besides health talks and seminars given throughout the year on various platforms, I feel there should be a national coordinated effort to give more attention to men's health issues," says Sunway Medical Centre, Sunway City consultant clinical oncologist Dr Nik Muhd Aslan Abdullah.
"The Breast Cancer Pink October campaign has been a success in Malaysia and the same strategy could be emulated for men's cancer health.
"Internationally there is the International Men's Day in October and an annual 'Movember' awareness in November in North America which raises awareness on cancer in men. Something similar can be envisioned for Malaysia," says Dr Nik.
Among the common issues that affect men is cancer, particularly testicular cancer.
While prostate cancer is largely held as the main cancer affecting men, not many people are aware that men can get testicular cancer.
More awareness should be given to this condition, as testicular cancer comprises 12.4% of cases or ranks the third commonest cancer affecting male adolescents and young adult males. This condition poses much concern, as there is no proven method of preventing testicular cancer.
Although some cases may be related to undescended testes, in some others no risk factor can be identified. An early symptom is swelling in the testes, which is not necessarily painful.
Chemotherapy has a major role in treating testicular cancer whereas in prostate cancer, this mode of treatment is mainly used in the more advanced Stage IV cases.
Meanwhile, prostate cancer is related to ageing – incidence increases with age. It is the third most common cancer among men, constituting 8.1% of all cancer in men.
"With prostate cancer, men should be more aware of the early symptoms and immediately seek advice if they do have symptoms suggestive of prostate conditions," he says.
Early symptoms of prostate cancer are mainly related to the passing of urine. These include hesitancy in passing urine, dribbling, and blood in urine and flow stream.
Age aside, there are also a few lifestyle risk factors identified. Some of these are high dietary fat, high dairy and calcium intake, and excessive multivitamin use.
When it comes to treatment options, surgery and radiation therapy are available for prostate and testicular cancer.
"Unique to prostate cancer is the usage of hormonal treatment to control it. This is due to the fact that the growth of prostate cancer is influenced by the male hormone," says Dr Nik.
He shares that besides testicular and prostate cancer, the other top cancers among men are lung cancer and colorectal cancer – which are among the top three cancers affecting Malaysian men.
If you have been diagnosed with cancer, Dr Nik advises patients to be selective about the mass of information out there.
"Some are good but some can be misleading and not based on facts and science.
"Besides finding out more about cancer from your doctor, another valuable source of information and support for cancer patients is the cancer support groups. There are numerous cancer survivor support groups in Malaysia."
To ensure you keep yourself updated on your health condition, Dr Nik recommends health screenings that include screening for colorectal cancer.
"This involves screening for stool occult blood and colonoscopy examination.
"For those at risk of lung cancer, a low dose CT scan is an option to screen for lung cancer.
Let's keep the conversations going on cancer affecting men beyond Movember, together.
Source: The Star
Back