Malaysian Long Covid Patients Turn To Private Hospitals
12 August 2021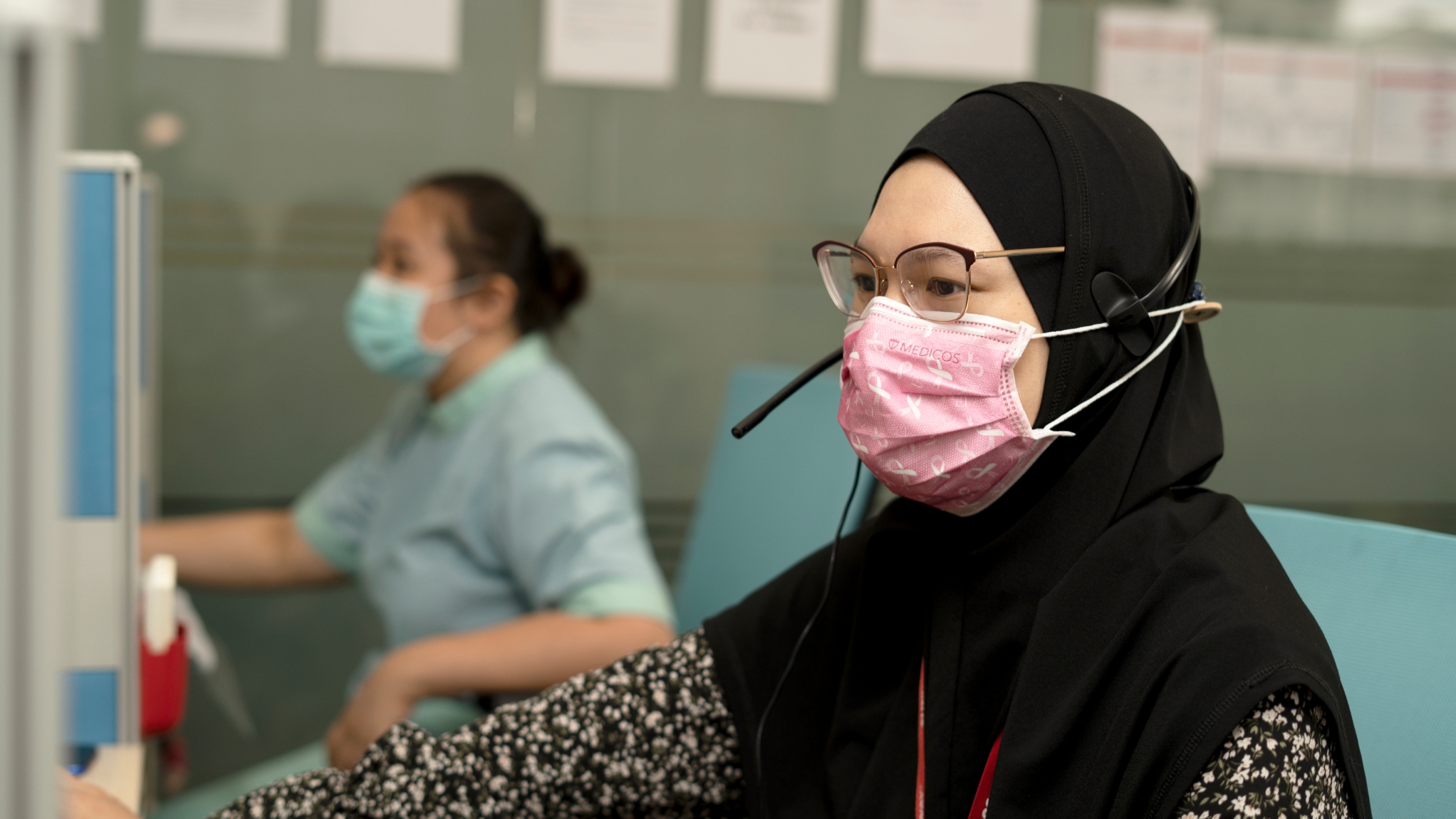 IT professional Abdul Aziz Yusof first found out he had Covid-19 on May 9 after suffering episodes of throbbing headaches that interfered with his sleep at night.
Several of his work colleagues tested positive for the coronavirus a few days earlier. When his PCR test came back positive, his wife and three children also tested for Covid-19, though none showed any symptoms.
His two daughters were in the clear, but his wife and son tested positive for the virus.
All three were identified as Category One patients at the onset, but Abdul Aziz and his wife quickly deteriorated just a few days later. His wife started experiencing shortness of breath and was eventually admitted to Sungai Buloh Hospital on May 16 for six days.
Abdul Aziz, whose condition was not as severe, was admitted to Sunway Medical Centre after being put on their waiting list. His oxygen level at that time was hovering between 90 and 97 per cent. A normal level of oxygen is usually 95 per cent or higher. Values under 90 per cent are considered low and the person may require oxygen support.
"By the time I was admitted and my diagnosis was made, my lungs had already been infected, and my condition progressed to Category Four. I was immediately put in the intensive care unit (ICU) ward," he told ColdBlue via an email interview in late July.
Abdul Aziz was in ICU for about six days before transfer to a general Covid-19 ward, where he stayed for another five days and was later discharged. Most people with mild cases of the coronavirus who recover typically recover within one or two weeks, while severe cases can take six weeks or more and may sustain lasting damage to the lungs and other organs.
While Abdul Aziz's recovery from Covid-19 has been swift, some symptoms persist.
"I can't sleep at night. I am fully awake from 1am till morning. I didn't use to have this issue," he said, describing experiences of extreme fatigue during the day. "It affects my work, and my team members may be stressed out because I will send work emails in the wee hours at night."
Abdul Aziz is not alone. Many others who have contracted and recovered from the virus later reported long-term symptoms such as extreme tiredness and difficulty sleeping that would negatively affect a person's ability to carry out their daily activities. These lingering symptoms that develop or continue after acute Covid-19 are often described as long Covid.
Abdul Aziz does simple exercises such as walking around his neighbourhood to increase stamina to cope with these symptoms. His doctor has also prescribed him steroids and continues to go for follow-up appointments at Sunway Medical Centre. "My next appointment this month is to decide whether I would need to continue taking steroids."
Long Covid In Malaysia
Malaysia's ongoing battle to contain the more transmissible Delta variant of the coronavirus will see many more patients suffering from long Covid.
Researchers estimate about 10 to 30 per cent of Covid-19 patients become long haulers, according to a study published last year by the British Medical Journal (BMJ) and a more recent article from The Journal of the American Medical Association (JAMA).
In June, Health director-general Dr Noor Hisham Abdullah cited a study by the Ministry of Health (MOH) that found two-thirds, or 66 per cent of 1,004 Covid-19 patients in Categories Four and Five, suffering from long Covid.
He said the five common symptoms were fatigue, breathing difficulties during activity (exertional dyspnea), insomnia, cough, and anxiety.
"This syndrome is a condition in which a former Covid-19 patient still shows signs and symptoms for a period of up to 12 weeks or more, and those symptoms cannot be explained by any alternative diagnosis.
"This condition results from a complication of Covid-19 infection on the function of various organs in an individual's body," Dr Noor Hisham said, as quoted by The Straits Times.
Sunway Medical Centre consultant respiratory physician Dr Kow Ken Siong said over 200 long Covid symptoms have been identified globally. On average, patients with long Covid may have up to 56 symptoms that include chronic tiredness, breathlessness, raised heart rate, delusions, insomnia, loss of taste and smell, headache, mobility issues, muscle pain, fever and strokes, he said.
"Based on my own experience of treating Covid-19 patients, generally, those with long Covid symptoms experience lingering symptoms of up to three months.
"One of the longest sufferers of long Covid was recorded at 10 months. Whether it can turn into a permanent disability, only time and more data and research would be able to tell us," Dr Kow told CodeBlue. "We hope that sufferers of long Covid will eventually return to normal."
He said most long Covid patients are identified upon return for follow-up checks if their initial infection was severe enough to require hospitalisation.
"However, I understand that not all patients that have recovered from the initial infection are given a follow-up. A patient is more likely to get a follow-up appointment from a private health care centre," Dr Kow said.
To overcome this shortcoming, some private health care institutions like Sunway Medical Centre plan to establish a post-Covid recovery clinic.
"At this stage, there are very few guidelines regarding the treatment of long Covid as this is still a developing situation. We know and understand very little still about long Covid due to lack of research and data (especially in Malaysia)," Dr Kow said.
He added that targeted treatments are currently being administered to long Covid patients. "For example, if the patient suffers from a loss of smell, some doctors will give a short course of intranasal steroids and short courses of oral steroids to reduce inflammation," Dr Kow said.
Some researchers are looking at Covid-19 vaccines to reduce the symptoms of long Covid, which experts say are theoretically possible, though studies remain inconclusive.
Dr Akiko Iwasaki, professor of immunobiology at Yale School of Medicine, who's researching long Covid, said as many as 30 to 40 per cent of those who get the vaccine reported improvements to their symptoms.
"I've heard from people who say they no longer have 'brain fog,' their gastrointestinal problems have gone away, or they stopped suffering from the shortness of breath they've been living with since being diagnosed with Covid-19," Dr Iwasaki said.
Sunway Medical Centre's Covid-19 Ward
Sunway Medical Centre is one of 112 private hospitals in Malaysia that are treating Covid-19 patients, which collectively provide 1,277 ward beds and 129 beds, according to Health Minister Dr Adham Baba last month, though the number may have increased since.
Some private hospitals have also agreed to accept non-Covid patients as Malaysia's total Covid-19 cases surpassed the one million mark last month and the public health system was described to be at a breaking point.
Dr Ericson Chia Kwan Min, an internal medicine physician at Sunway Medical Centre, said the private hospital deals with Covid-19 patients from Categories One to Five and has seen a surge in younger ICU patients in the past month, in tandem with experiences at government hospitals.
"When Covid-19 first hit our shores last year, many ill patients were much older, had multiple comorbidities such as diabetes, hypertension, heart disease, and obesity.
"Over the last three months, however, we have been seeing younger patients — some in their 20s and 30s — many of whom do not have comorbidities or are obese/chronic smokers who progress to Categories Four and Five," Dr Chia said. "We are also seeing patients with severe Covid-19 pneumonia very early on in their disease."
Similar to the situation in public hospitals, Chia said there is also a chance that a Covid-19 outbreak can take place in a general ward, which would add a burden to staffing and resources.
"Not to mention the emotional and mental distress. So, yes, the ward will definitely be closed off, with patients who test positive being moved to the Covid wards and those who do not, remaining at the said ward until their repeat swabs come out as negative," he said.
Despite seeing a surge in Covid-19 caseloads in recent months, Dr Chia said he is hopeful that the country's high vaccination rates will help to alleviate the burden on the health system by reducing the number of severely ill coronavirus patients.
"With high vaccination rates, I see the light at the end of the tunnel. So get yourselves vaccinated, always maintain good hygiene and self-awareness," Dr Chia said.
Source: CodeBlue
Back