Opportunity for a more meaningful life
21 November 2020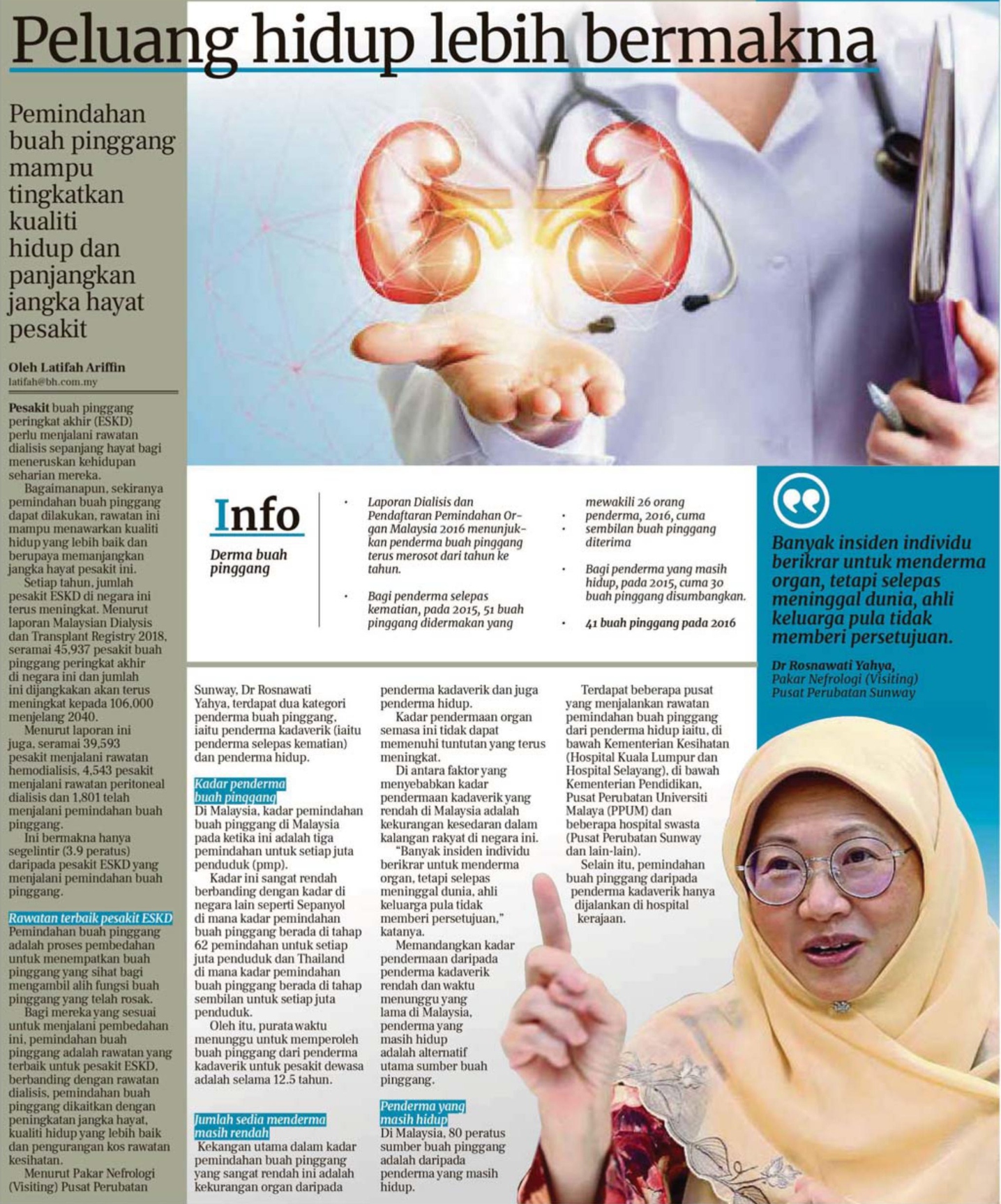 End stage kidney disease (ESKD) patients need to undergo lifelong dialysis to continue their daily lives. However, if a kidney transplant can be performed, this treatment can offer a better quality of life and prolong the lifespan of the patient.
Every year, the number of ESKD patients in the country continues to increase. According to the Malaysian Dialysis and Transplant Registry 2018 report, there are a total of 45,937 ESKD patients in the country and this number is expected to increase to 106,000 by 2040.
The report also reported a total of 39,593 patients who underwent haemodialysis treatment and 4,543 patients who underwent kidney transplants. This means that only a handful (3.9%) of ESKD patients underwent a kidney transplant.
Kidney transplant is a surgical process to place a healthy kidney to restore the function of a damaged kidney.
For those who are suitable to undergo this surgery, kidney transplant is the best treatment for ESKD patients compared to dialysis treatment. Kidney transplant is associated with increased life expectancy, better quality of life and reduced health care costs.
According to Sunway Medical Centre Consultant Nephrologist (Visiting) Dr Rosnawati Yahya, there are two categories of donors namely deceased donors and living donors.
In Malaysia, the current kidney transplant rate is three transfers per million population (pmp). This rate is very low compared to other countries such as Spain where the rate is 62 transplants per million population, and Thailand where the rate is nine per million population.
Therefore, the average waiting time to obtain a kidney from a deceased donor for an adult patient is 12.5 years.
The main reason for this very low rate of kidney transplants is the lack of organs from deceased and living donors. The current organ donation rate cannot meet the ever-increasing demands.
Among the factors that cause the low rate of deceased donors in Malaysia is the lack of awareness among the people in the country.
"There are many incidents where individuals have vowed to donate their organs, but after death, their family members refuse to give their consent," Dr Rosnawati said.
Given the low donation rate from deceased donors and the long waiting time in Malaysia, living donors is the alternative to obtain a kidney. In Malaysia, 80% of kidneys are from living donors.
There are several hospitals that carry out kidney transplants from living donors namely, under the Ministry of Health (Hospital Kuala Lumpur and Hospital Selayang), under the Ministry of Education [University of Malaya Medical Centre (UMMC)] and several private hospitals (Sunway Medical Centre and others).
Kidney transplants from deceased donors are only performed at government hospitals.
Source: Berita Harian
Back