Palliative care eases the patient's final journey
17 October 2020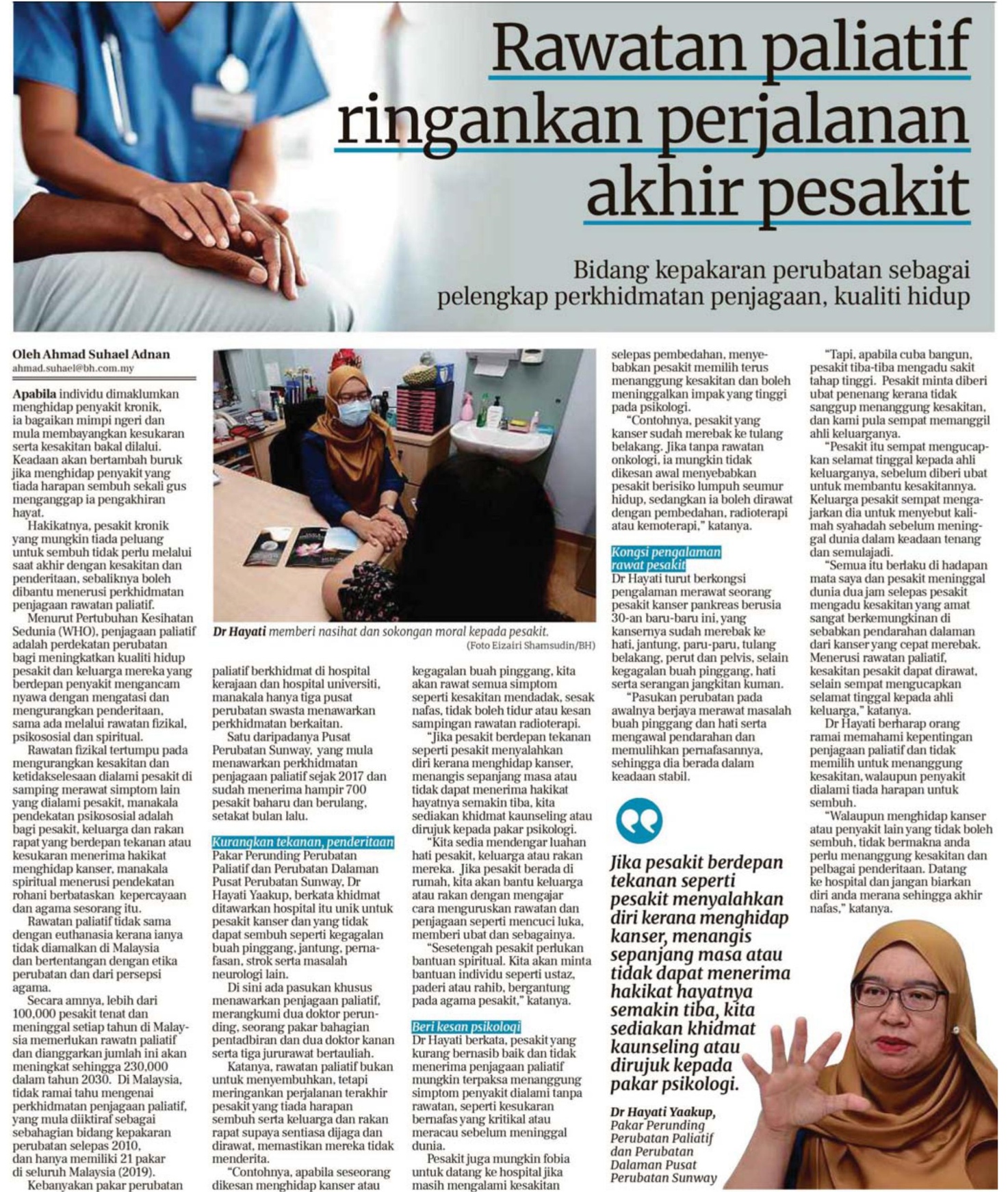 When an individual is informed that they are afflicted with a chronic disease, it is a nightmare to imagine the difficulties and pain that he or she has to experience. The situation worsens if the individual suffers from a disease that has no hope of recovery and hence considering it the end of his or her life.
The fact is, patients with chronic disease who may have no chance of recovery do not have to go through their last moments in pain and suffering, instead their condition can be assisted through palliative care.
According to the World Health Organization (WHO), palliative care is a medical approach to improving the quality of life of patients and their families facing life-threatening diseases by overcoming and reducing suffering whether through physical, psychosocial and spiritual treatment.
Physical treatment focuses on reducing the pain and discomfort experienced by the patient as well as treating other symptoms experienced by the patient, while the psychosocial approach is for patients, family and close friends who face pressure or difficulty in accepting the reality of being diagnosed with cancer. Meanwhile, the spiritual approach is based on the individual's beliefs and religion.
Palliative treatment is not the same as euthanasia because it is not practised in Malaysia and is contrary to medical ethics and from the religious perceptive.
More than 100,000 patients who die every year in Malaysia are in need of palliative care and it is estimated that this number will increase to 230,000 in 2030. In Malaysia, not many know about palliative care which was recognised as a medical expertise after 2010, and has only 21 experts throughout Malaysia (2019).
Most palliative physicians serve in government hospitals and university hospitals, while only three private medical centres offer such services. One of them is Sunway Medical Centre, which started offering its palliative care services in 2017 and has received nearly 700 new and recurrent patients as of last month.
Sunway Medical Centre Consultant Palliative Medicine and Internal Medicine Physician, Dr Hayati Yaakup said the services offered by the hospital are unique to cancer patients and those with diseases that cannot be cured such as kidney failure, heart, respiratory, stroke and other neurological problems.
Here, there is a dedicated team offering palliative care, comprising two consultants, an administrative division specialist, two senior doctors and three certified nurses.
Dr Hayati said, palliative treatment is not to cure but to ease the last journey of patients who have no hope of recovery as well as having their family and close friends to always be cared for, ensuring they do not suffer.
"For example, when a person is diagnosed with cancer or kidney failure, we will treat all of their symptoms such as sudden pain, shortness of breath, insomnia or side effects of radiotherapy treatment.
"If the patient is in stress such as blaming himself or having cancer, crying all the time or not being able to accept the fact that the end of his life is near, we provide counselling services as well as refer the patient to a psychologist.
"We are ready to listen to the patients, their families or friends. If the patient is at home, we assist family or friends by teaching them how to manage the patient's treatment and care such as cleaning their wounds, giving medicine and so on.
"Some patients may need spiritual help and we seek the help of individuals such as ustaz, priests or monks, depending on the religion of the patient," she said.
Dr Hayati added that patients who were less fortunate and did not receive palliative care may have to bear the symptoms of the disease without treatment, such as breathing difficulties or hysteria before death.
Patients may also develop a phobia to come to the hospital if they are still in pain after surgery, causing the patient to choose to continue to bear the pain which may leave a high impact on their psychological state.
"For example, patients with cancer that has spread to the spine. Without oncology treatment, it may not be detected causing the patient to be paralyzed for life when it can be treated with surgery, radiotherapy or chemotherapy," Dr Hayati said.
Dr Hayati shared her experience in treating a pancreatic cancer patient in his 30s recently, whose cancer had spread to the liver, heart, lungs, spine, stomach and pelvis as well as suffering from kidney and liver failure and bacterial infections.
"The medical team initially managed to treat his kidney and liver problems as well as control the bleeding and restore his breathing. He was in stable condition but when he tried to get up, the patient suddenly complained of acute pain. The patient asked to be given a sedative because he was not willing to bear the pain, giving us time to call his family members.
"The patient had time to say goodbye to his family members, before being given medicine to help his pain. The patient's family had the opportunity to have him to recite the syahadah before he passed away in a calm and natural state.
"It all happened right in front of my eyes and the patient passed away two hours after he complained of acute pain that was likely due to internal bleeding from the cancer that spread quickly. Through palliative treatment, the patient's pain could be treated, besides given time to say goodbye to his family members," Dr Hayati said.
She hopes the public understands the importance of palliative care and not choose to bear with the pain, even though they may have no hope of recovery.
"Even if you have cancer or other incurable diseases, it does not mean you have to bear the pain and suffering. Come to the hospital and do not let yourself suffer until the end of life," she said.
Source: Berita Harian
Back