Robotic Technology Gets You Back To The Things You Love, Quicker
23 August 2022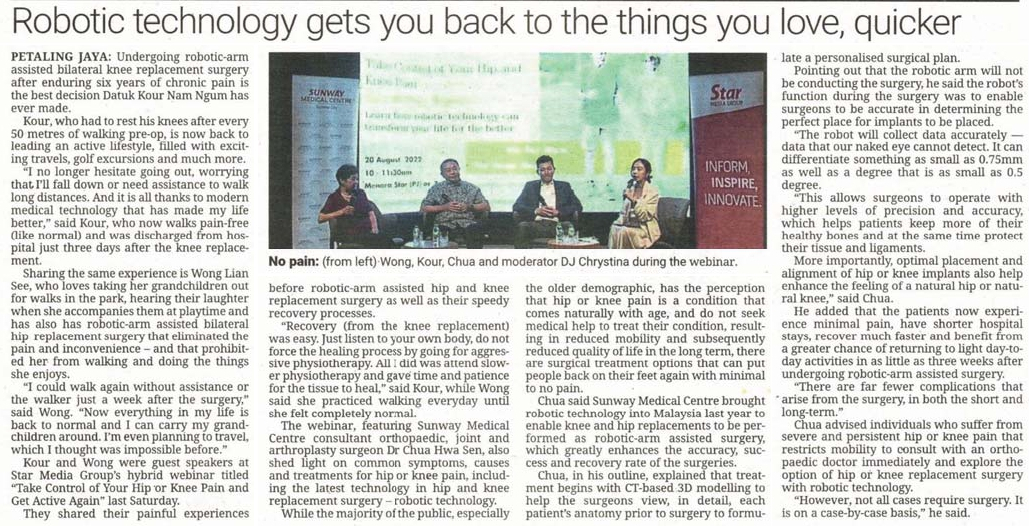 Undergoing robotic-arm assisted bilateral knee replacement surgery after enduring six years of chronic pain is the best decision Datuk Kour Nam Ngum has ever made.
Kour, who had to rest his knees after every 50 metres of walking pre-op, is now back to leading an active lifestyle, filled with exciting travels, golf excursions and much more.
"I no longer hesitate going out, worrying that I'll fall down or need assistance to walk long distances. And it is all thanks to modern medical technology that has made my life better," said Kour, who now walks pain-free (like normal) and was discharged from hospital just three days after the knee replacement.
Sharing the same experience is Wong Lian See, who loves taking her grandchildren out for walks in the park, hearing their laughter when she accompanies them at playtime and has also has robotic-arm assisted bilateral hip replacement surgery that eliminated the pain and inconvenience – and that prohibited her from walking and doing the things she enjoys.
"I could walk again without assistance or the walker just a week after the surgery," said Wong. "Now everything in my life is back to normal and I can carry my grandchildren around. I'm even planning to travel, which I thought was impossible before."
Kour and Wong were guest speakers at Star Media Group's hybrid webinar titled "Take Control of Your Hip or Knee Pain and Get Active Again" last Saturday.
They shared their painful experiences before robotic-arm assisted hip and knee replacement surgery as well as their speedy recovery processes.
"Recovery (from the knee replacement) was easy. Just listen to your own body, do not force the healing process by going for aggressive physiotherapy. All I did was attend slower physiotherapy and gave time and patience for the tissue to heal," said Kour, while Wong said she practiced walking everyday until she felt completely normal.
The webinar, featuring Sunway Medical Centre consultant orthopaedic, joint and arthroplasty surgeon Dr Chua Hwa Sen, also shed light on common symptoms, causes and treatments for hip or knee pain, including the latest technology in hip and knee replacement surgery – robotic technology.
While the majority of the public, especially the older demographic, has the perception that hip or knee pain is a condition that comes naturally with age, and do not seek medical help to treat their condition, resulting in reduced mobility and subsequently reduced quality of life in the long term, there are surgical treatment options that can put people back on their feet again with minimal to no pain.
Chua said Sunway Medical Centre brought robotic technology into Malaysia last year to enable knee and hip replacements to be performed as robotic-arm assisted surgery, which greatly enhances the accuracy, success and recovery rate of the surgeries.
Chua, in his outline, explained that treatment begins with CT-based 3D modelling to help the surgeons view, in detail, each patient's anatomy prior to surgery to formulate a personalised surgical plan.
Pointing out that the robotic arm will not be conducting the surgery, he said the robot's function during the surgery was to enable surgeons to be accurate in determining the perfect place for implants to be placed.
"The robot will collect data accurately — data that our naked eye cannot detect. It can differentiate something as small as 0.75mm as well as a degree that is as small as 0.5 degree.
"This allows surgeons to operate with higher levels of precision and accuracy, which helps patients keep more of their healthy bones and at the same time protect their tissue and ligaments.
More importantly, optimal placement and alignment of hip or knee implants also help enhance the feeling of a natural hip or natural knee," said Chua.
He added that the patients now experience minimal pain, have shorter hospital stays, recover much faster and benefit from a greater chance of returning to light day-to-day activities in as little as three weeks after undergoing robotic-arm assisted surgery.
"There are far fewer complications that arise from the surgery, in both the short and long-term."
Chua advised individuals who suffer from severe and persistent hip or knee pain that restricts mobility to consult with an orthopaedic doctor immediately and explore the option of hip or knee replacement surgery with robotic technology.
"However, not all cases require surgery. It is on a case-by-case basis," he said.
Source: The Star
Back