Striving To Educate Public on Diabetes
30 November 2021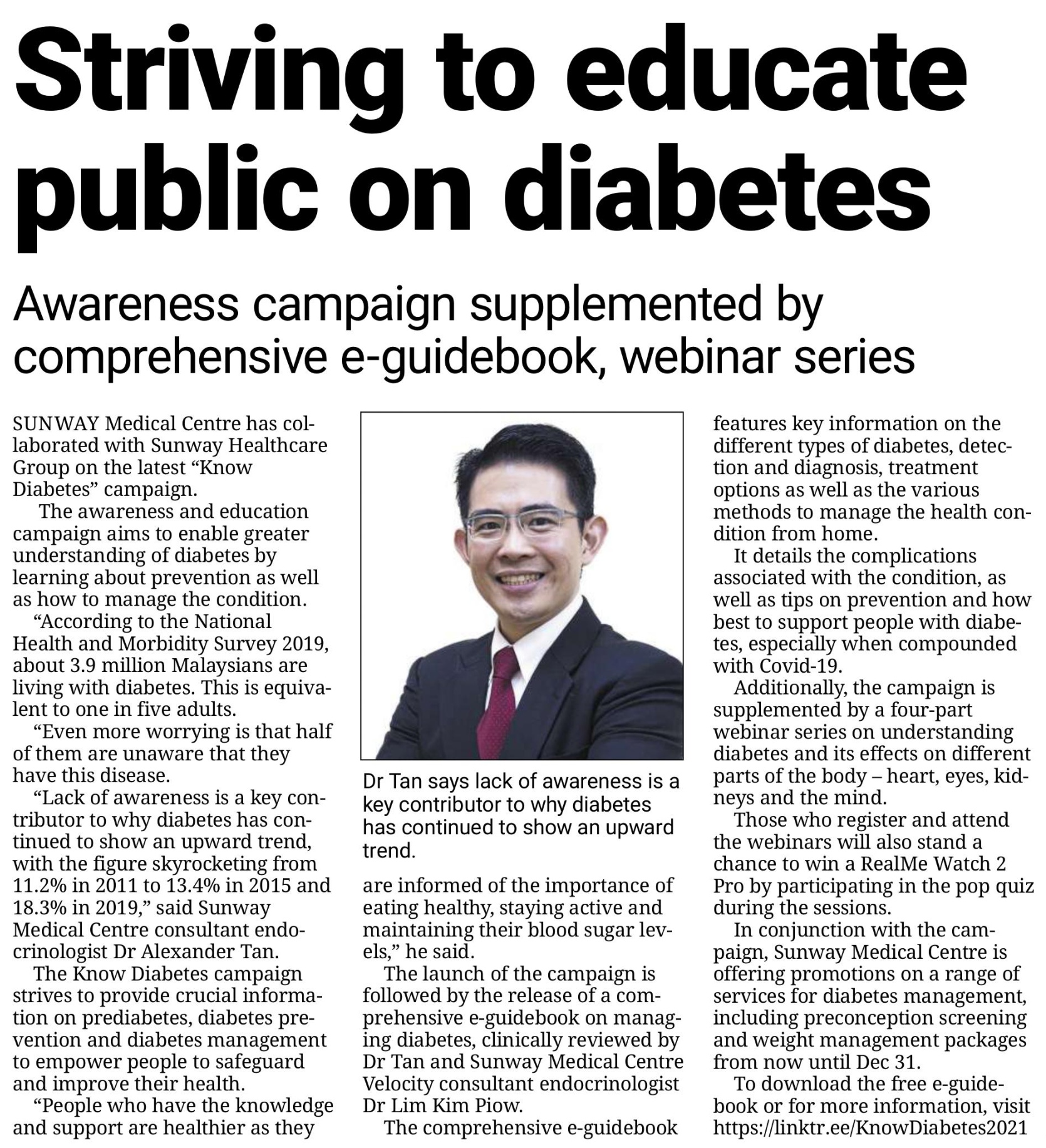 Sunway Medical Centre has collaborated with Sunway Healthcare Group on the latest "Know Diabetes" campaign.
The awareness and education campaign aims to enable greater understanding of diabetes by learning about prevention as well as how to manage the condition.
"According to the National Health and Morbidity Survey 2019, about 3.9 million Malaysians are living with diabetes. This is equivalent to one in five adults.
"Even more worrying is that half of them are unaware that they have this disease. Lack of awareness is a key contributor to why diabetes has continued to show an upward trend, with the figure skyrocketing from 11.2% in 2011 to 13.4% in 2015 and 18.3% in 2019," said Sunway Medical Centre consultant endocrinologist Dr Alexander Tan.
The Know Diabetes campaign strives to provide crucial information on prediabetes, diabetes prevention and diabetes management to empower people to safeguard and improve their health.
"People who have the knowledge and support are healthier as they are informed of the importance of eating healthy, staying active and maintaining their blood sugar levels," he said.
The launch of the campaign is followed by the release of a comprehensive e-guidebook on managing diabetes, clinically reviewed by Dr Tan and Sunway Medical Centre Velocity consultant endocrinologist Dr Lim Kim Piow.
The comprehensive e-guidebook features key information on the different types of diabetes, detection and diagnosis, treatment options as well as the various methods to manage the health condition from home.
It details the complications associated with the condition, as well as tips on prevention and how best to support people with diabetes, especially when compounded with Covid-19.
Additionally, the campaign is supplemented by a four-part webinar series on understanding diabetes and its effects on different parts of the body – heart, eyes, kidneys and the mind.
Those who register and attend the webinars will also stand a chance to win a RealMe Watch 2 Pro by participating in the pop quiz during the sessions.
In conjunction with the campaign, Sunway Medical Centre is offering promotions on a range of services for diabetes management, including preconception screening and weight management packages from now until Dec 31.
To download the free e-guidebook or for more information, visit https://linktr.ee/KnowDiabetes2021
Source: The Star
Back