Sunway Medical Centre Recognised as Malaysia Smart Hospital 2021
17 July 2021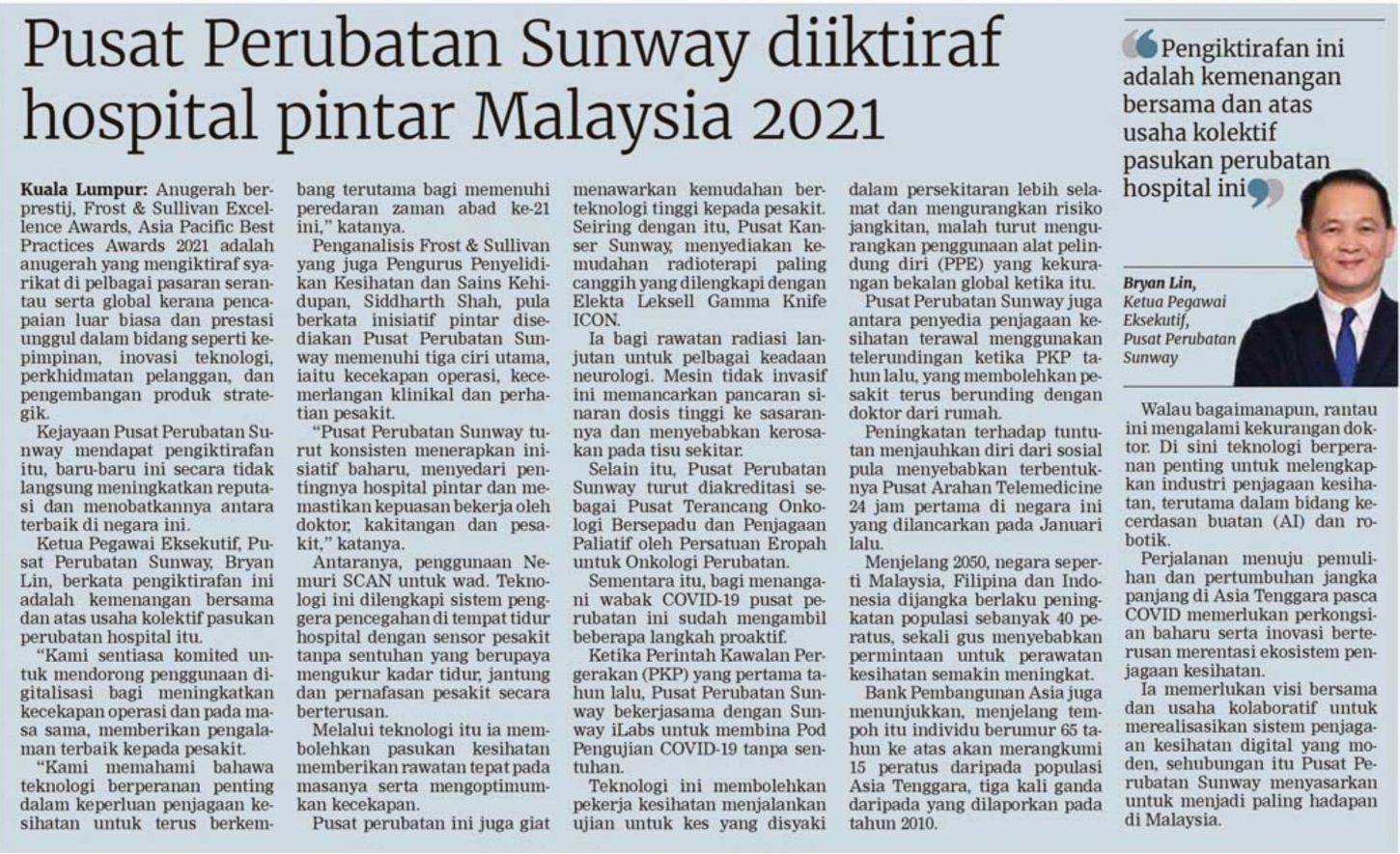 The prestigious Frost & Sullivan Asia Pacific Best Practices Awards is an award that recognises companies in various regional and global markets for outstanding achievements and superior performance in areas such as leadership, technological innovation, customer service, and strategic product development.
The success of Sunway Medical Centre in gaining that recognition recently indirectly boosted its reputation and crowned it among the best in the country.
Sunway Medical Centre, Chief Executive Officer, Bryan Lin, said the recognition was a collective effort by the hospital's team.
"We are always committed to push forward digitalisation to continuously improve operational efficiency while enhancing patient experience.
"We recognise that technology plays an integral role in the ever-evolving needs of healthcare, especially to meet the demands of the 21st century," he said.
Frost & Sullivan analyst, Siddharth Shah, Research Manager on Healthcare & Life Sciences said the smart initiatives provided by Sunway Medical Centre met three key characteristics, namely operational efficiency, clinical excellence, and patient centricity.
"Sunway Medical Centre has consistently adopted new initiatives, recognising the importance of smart hospitals and ensuring clinician, staff and patient satisfaction," he said.
Among them is the use of Nemuri SCAN for wards. This technology features a built-in fall prevention alarm system on the hospital beds with contact-free patient sensor that continuously measures patient's sleep, heart and respiratory rates. This enables the healthcare team to provide timely care while optimising efficiency and safety.
The hospital also actively offers high-tech facilities to patients. Sunway Cancer Centre prides itself in providing state-of the-art radiotherapy facilities with the Elekta Leksell Gamma Knife ICON.
It is for advanced radiation treatment for multiple neurological conditions. This non-invasive machine emits high-dose radiation beams to its target and causing little to no damage to the surrounding tissues.
Meanwhile, to address the COVID-19 pandemic, the hospital has taken several proactive measures.
During the first Movement Control Order (MCO) last year, the hospital partnered with Sunway iLabs to build the contactless COVID-19 Testing Pod.
This technology allows health workers to conduct tests for suspected cases in a safer environment and reduce the risk of infection. It also reduced the use of personal protective equipment (PPE) which was in short supply globally at the time.
The hospital was also among the earliest healthcare providers to use teleconsultation during MCO last year, which allowed patients to continue to consult with doctors from home.
With the rising demands in times of social distancing, this eventually led to the establishment of the first 24-hour Telemedicine Command Centre in the country, which was launched in January this year.
It requires a shared vision and collaborative efforts to realise a modern digital healthcare system, in which case Sunway Medical Centre aims to be at the forefront in Malaysia.
Source: Berita Harian
Back