Sunway Medical Centre's Her Stories Aims To Elevate Women's Voices
08 March 2022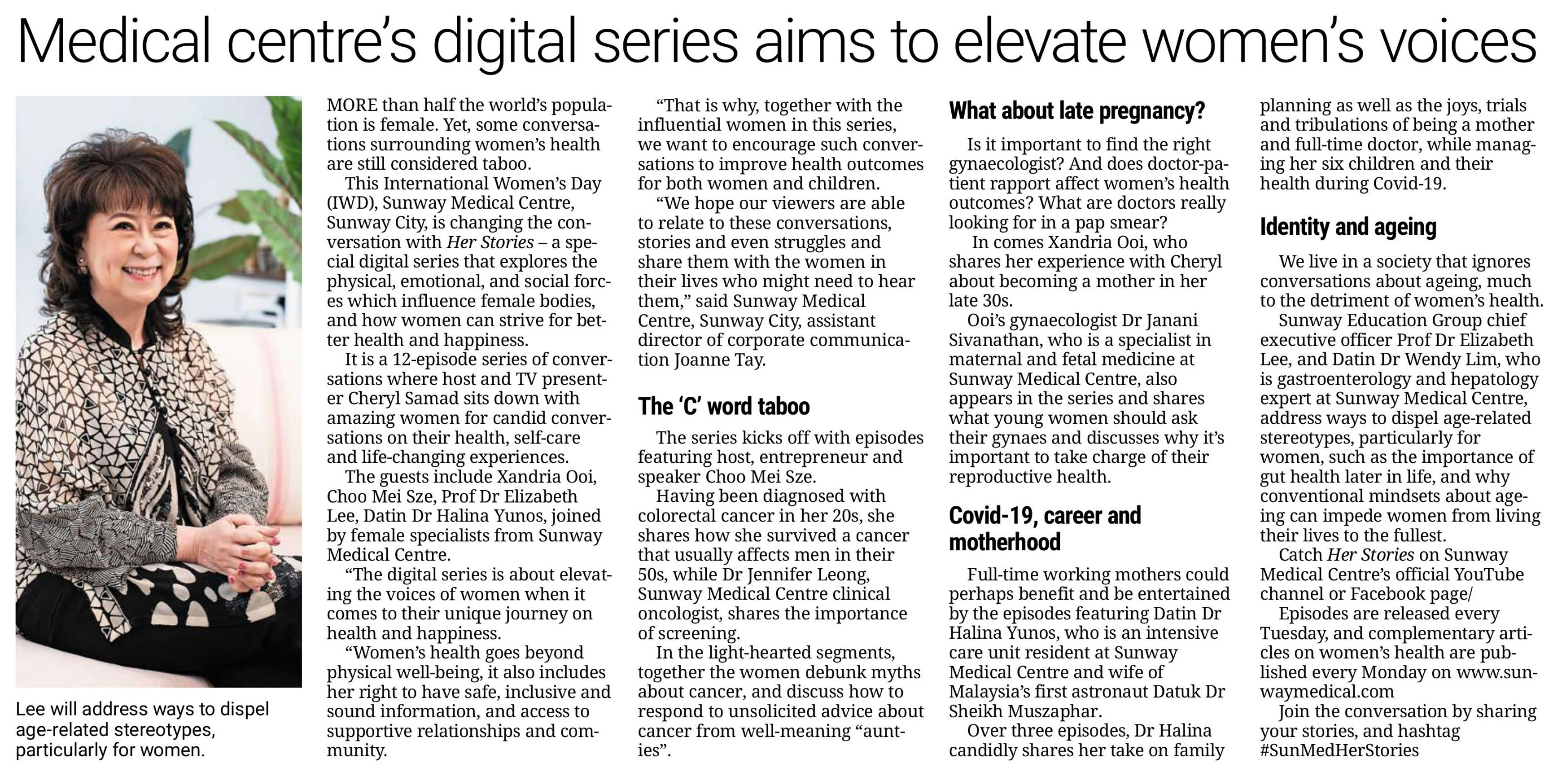 More than half the world's population is female. Yet, some conversations surrounding women's health are still considered taboo.
This International Women's Day (IWD), Sunway Medical Centre, Sunway City, is changing the conversation with Her Stories – a special digital series that explores the physical, emotional, and social forces which influence female bodies, and how women can strive for better health and happiness.
It is a 12-episode series of conversations where host and TV presenter Cheryl Samad sits down with amazing women for candid conversations on their health, self-care and life-changing experiences.
The guests include Xandria Ooi, Choo Mei Sze, Prof Dr Elizabeth Lee, Datin Dr Halina Yunos, joined by female specialists from Sunway Medical Centre.
"The digital series is about elevating the voices of women when it comes to their unique journey on health and happiness.
"Women's health goes beyond physical well-being, it also includes her right to have safe, inclusive and sound information, and access to supportive relationships and community.
"That is why, together with the influential women in this series, we want to encourage such conversations to improve health outcomes for both women and children.
"We hope our viewers are able to relate to these conversations, stories and even struggles and share them with the women in their lives who might need to hear them," said Sunway Medical Centre, Sunway City, assistant director of corporate communication Joanne Tay.
The series kicks off with episodes featuring host, entrepreneur and speaker Choo Mei Sze.
Having been diagnosed with colorectal cancer in her 20s, she shares how she survived a cancer that usually affects men in their 50s, while Dr Jennifer Leong, Sunway Medical Centre clinical oncologist, shares the importance of screening.
In the light-hearted segments, together the women debunk myths about cancer, and discuss how to respond to unsolicited advice about cancer from well-meaning "aunties".
What about late pregnancy? Is it important to find the right gynaecologist? And does doctor-patient rapport affect women's health outcomes? What are doctors really looking for in a pap smear?
In comes Xandria Ooi, who shares her experience with Cheryl about becoming a mother in her late 30s.
Ooi's gynaecologist Dr Janani Sivanathan, who is a specialist in maternal and fetal medicine at Sunway Medical Centre, also appears in the series and shares what young women should ask their gynaes and discusses why it's important to take charge of their reproductive health.
Full-time working mothers could perhaps benefit and be entertained by the episodes featuring Datin Dr Halina Yunos, who is an intensive care unit resident at Sunway Medical Centre and wife of Malaysia's first astronaut Datuk Dr Sheikh Muszaphar.
Over three episodes, Dr Halina candidly shares her take on family planning as well as the joys, trials and tribulations of being a mother and full-time doctor, while managing her six children and their health during Covid-19. Identity and ageing We live in a society that ignores conversations about ageing, much to the detriment of women's health.
Sunway Education Group chief executive officer Prof Dr Elizabeth Lee, and Datin Dr Wendy Lim, who is gastroenterology and hepatology expert at Sunway Medical Centre, address ways to dispel age-related stereotypes, particularly for women, such as the importance of gut health later in life, and why conventional mindsets about ageing can impede women from living their lives to the fullest.
Catch Her Stories on our official YouTube channel or Facebook page.
Episodes are released every Tuesday, and complementary articles on women's health are published every Monday on our blogpost.
Join the conversation by sharing your stories with the hashtag #SunMedHerStories.
Source: The Star
Back