The Advantages of Minimally Invasive Surgery for Children
20 August 2021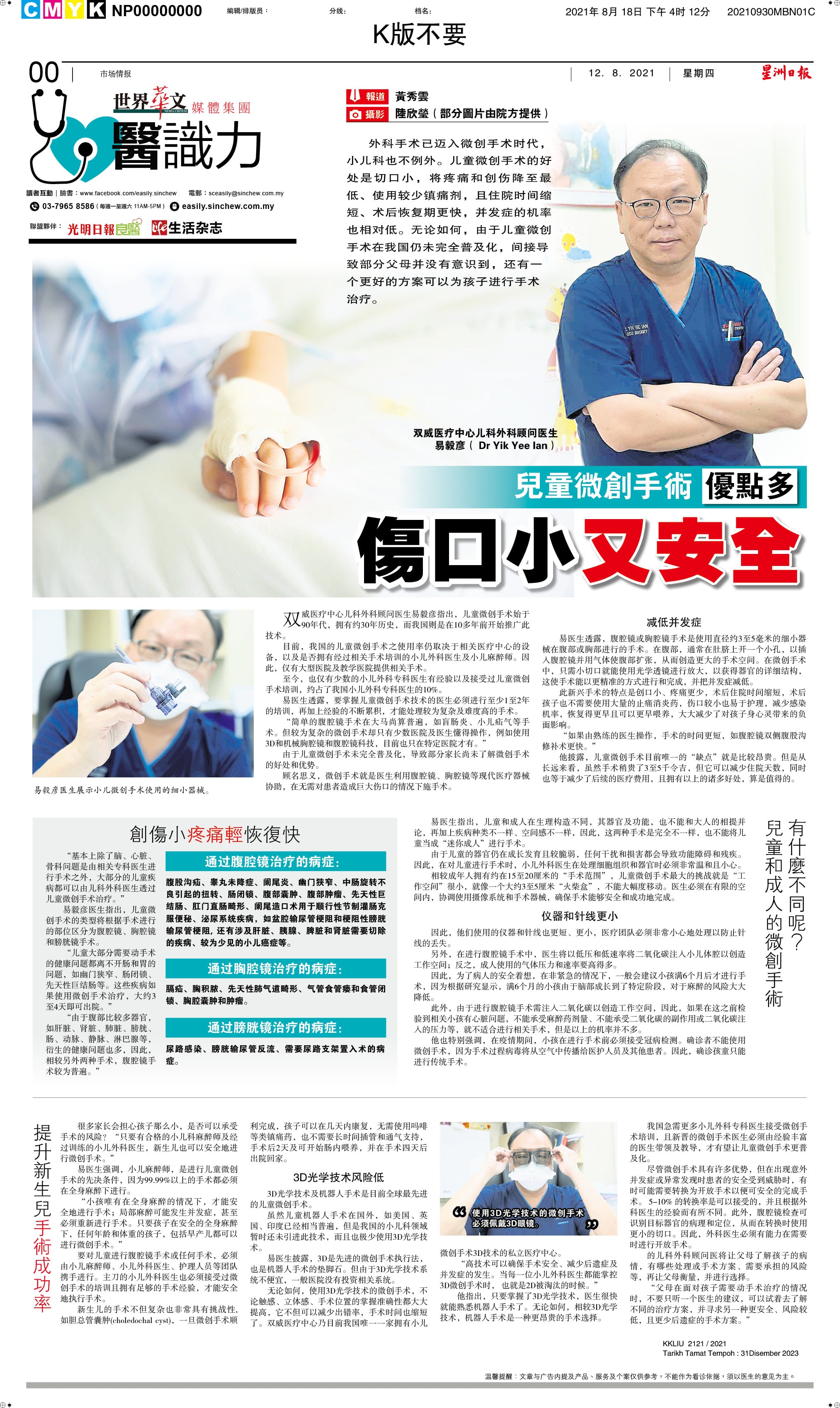 Surgery has moved into the era of minimally invasive surgery, and for paediatrics is no exception. Yet, minimally invasive surgery for children is still not well known in Malaysia, leading to parents not realising that there is a better option should their child require surgical treatment.
Ast he name implies, minimally invasive surgery is when doctors use modern medical devices such as laparoscopes and thoracoscopes to assist in performing surgery without causing large wounds to the patient. The benefits of this surgery in children include smaller incisions, minimal pain and trauma, less analgesia, shorter hospital stays, faster post-operative recovery, and relatively low incidence of complications.
Dr Yik Yee Ian, Consultant Paediatric Surgeon at Sunway Medical Centre, explains that in minimally invasive surgery, only a small incision is required for the surgery to be performed and completed precisely with fewer complications. Smaller wounds mean they are easier to care for less, lesser chance of infection, earlier recovery and feeding, and significantly less negative impact on the child's mind and body.
He disclosed that the only 'downside' to minimally invasive surgery in children is that it is more expensive. But in the long run, it can reduce the number of days in the hospital which equals to the reduction in follow-up medical costs, in addition to its other benefits, making it worthwhile.
Many parents are concerned whether their child will be able to cope with the risks of surgery due to their young age but Dr Yik assures that, "with qualified and trained paediatric surgeons and paediatric anaesthesiologists, minimally invasive surgery can be safely performed on children and even, newborns".
"Minimally invasive surgery can be perform on a child of any age and weight, including premature babies, as long as the child is under safe general anaesthesia. A team of medical professionals come together to perform the procedure safely," he added.
After undergoing minimally invasive surgery, a child can recover within a few days without the need for analgesics such as morphonine, prolonged intubation and ventilator support, and he can start enteral feeding two days after surgery and discharged four days after surgery.
Robotic surgery using 3D optical technology is the most advanced minimally invasive surgery for children. This method improves the accuracy in surgical position, reducing errors and shortens operating time. Sunway Medical Centre is the only private hospital in Malaysia with this technology for minimally invasive surgery in children.
Despite the many advantages of minimally invasive surgery, in the event of unexpected complications or abnormal findings which puts the patient at risk, open surgery may sometimes be necessary to complete the procedure safely.
A consultant paediatric surgeon can advise parents on their child's conditon, the management and surgical options available and the risks involved, and allow them to weigh in and make their decision.
"Parents who are faced with a situation where their child needs surgical treatment can try to understand the different treatment options and look at various surgical options that are safer and less risky," Dr Yik said.
Source: Sin Chew
Back