What is influenza and its prevention
31 March 2020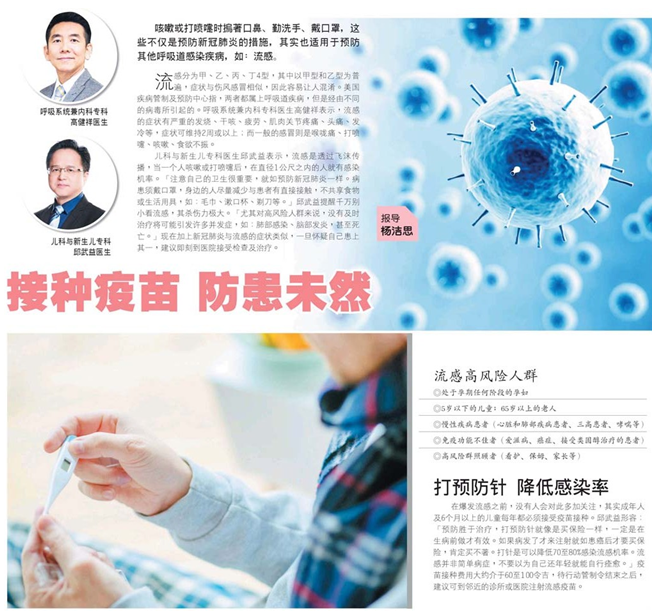 COVID-19 is currently the most concerning health issue today, causing anxiety in many who develop symptoms such as cough and fever. However, influenza should not be ignored. In fact, the influenza infection broke out early this year with confirmed cases in various areas in the country, resulting in a scramble for vaccinations causing a shortage of vaccines at one point.
Yet, people have been ignoring the seriousness of this infection and shifted their focus to the world's pandemic disease. There is no vaccine for COVID-19, but influenza can be prevented through vaccination.
"In countries with four seasons, the influenza virus is seasonal due to climate and seasonal changes. For Malaysia, a tropical rainforest country with summer all year round, the influenza virus has no seasonal difference therefore the entire year is considered the 'peak season' where the virus is latent," said Dr Kow Ken Siong, Consultant Respiratory and Internal Medicine Physician, Sunway Medical Centre.
"Influenza can happen any time, especially during the rainy season between December and March, and May and August in our country. The World Health Organization (WHO) believes that vaccination is effective to prevent influenza and recommends adults and children over six months to get vaccinated yearly to reduce the risk of infection or complications," said Dr Khoo Boon Aik, Consultant Paediatrician and Neonatologist, Sunway Medical Centre.
As influenza spreads through droplets, it is important to take care of personal hygiene. Covering your mouth and nose when coughing or sneezing, washing your hands regularly and wearing a mask are not only the measures to prevent the spread of COVID-19, but also prevents other respiratory infections such as influenza.
Influenza is divided into four types – A, B, C and D. Type A and B are common and have symptoms similar to a cold and flu, that often confuses people. According to the US Centre of Disease Control and Prevention (CDC), both types are upper respiratory infections but are caused by different viruses.
Dr Kow said the symptoms for influenza are severe fever, dry cough, fatigue, muscle and joint pain, headache and chills, which can last for two weeks or more. Meanwhile, the symptoms of the common cold are sore throat, sneezing, cough and loss of appetite.
Influenza spreads through droplets, therefore when a person coughs or sneezes, those within one metre of that person might be at risk of getting infected, said Dr Khoo. Like how we prevent the spread of COVID-19, patients are required to wear masks, minimise direct contact with surrounding people and are advised not to share food or household items such as towels, cups and razors.
Dr Khoo also reminded to not underestimate influenza as it can be deadly. "Delay in treatment may lead to complications such as lung infections, brain inflammation and even death, particularly those in high risk populations," he said.
As the symptoms for COVID-19 are similar to influenza, it is advisable to go to the hospital for examination and treatment as soon as you suspect that you are having one of the symptoms.
"Prevention is better than cure. Vaccination is like buying insurance. It must be done before you get sick to be effective. You cannot heal from influenza just because you are young as it is not a simple illness. With vaccination, it is possible to reduce the chance of getting influenza by 70% to 80%," Dr Khoo said, adding that the vaccine costs between RM60 and RM100.
It is recommended to visit a nearby clinic or hospital for the influenza vaccination after the Movement Control Order (MCO).
The most important thing to prevent any disease is our own resistance, said Dr Khoo, who also indicated that a good lifestyle can boost our immune system.
"Maintaining regular exercise, eating a balanced diet, drinking enough water and getting enough sleep are the laws for strengthening the immune system. Also, breastfeeding is a good option for infants with lower immune system," he said.
A breastfed child will do better than the average child. When a child is sick, the mother's body knows what antibodies her child needs through his or her saliva, thus producing milk with that antibody for the child.
For those with chronic disease, the way to prevent influenza is to take their medications regularly and manage their disease. They should also take extra care on their diet and lifestyle habits, and boost their immune system.
People at high risk for influenza
Pregnant women at any stage of pregnancy
Children under 5 years old; senior citizen above 65 years old
Patients with chronic diseases (heart and lung diseases, high blood pressure, asthma)
Immunocompromised persons (AIDS, cancer, steroid patients)
Caregivers of high-risk groups (carers, nannies, parents)
Source: Oriental Daily News
Back