Sunway Medical Centre Wins Frost & Sullivan Asia Pacific Best Practices Award for 2021 Malaysia Smart Hospital Company of the Year
17 June 2021
Sunway Medical Centre Wins Frost & Sullivan Asia Pacific Best Practices Award for 2021 Malaysia Smart Hospital Company of the Year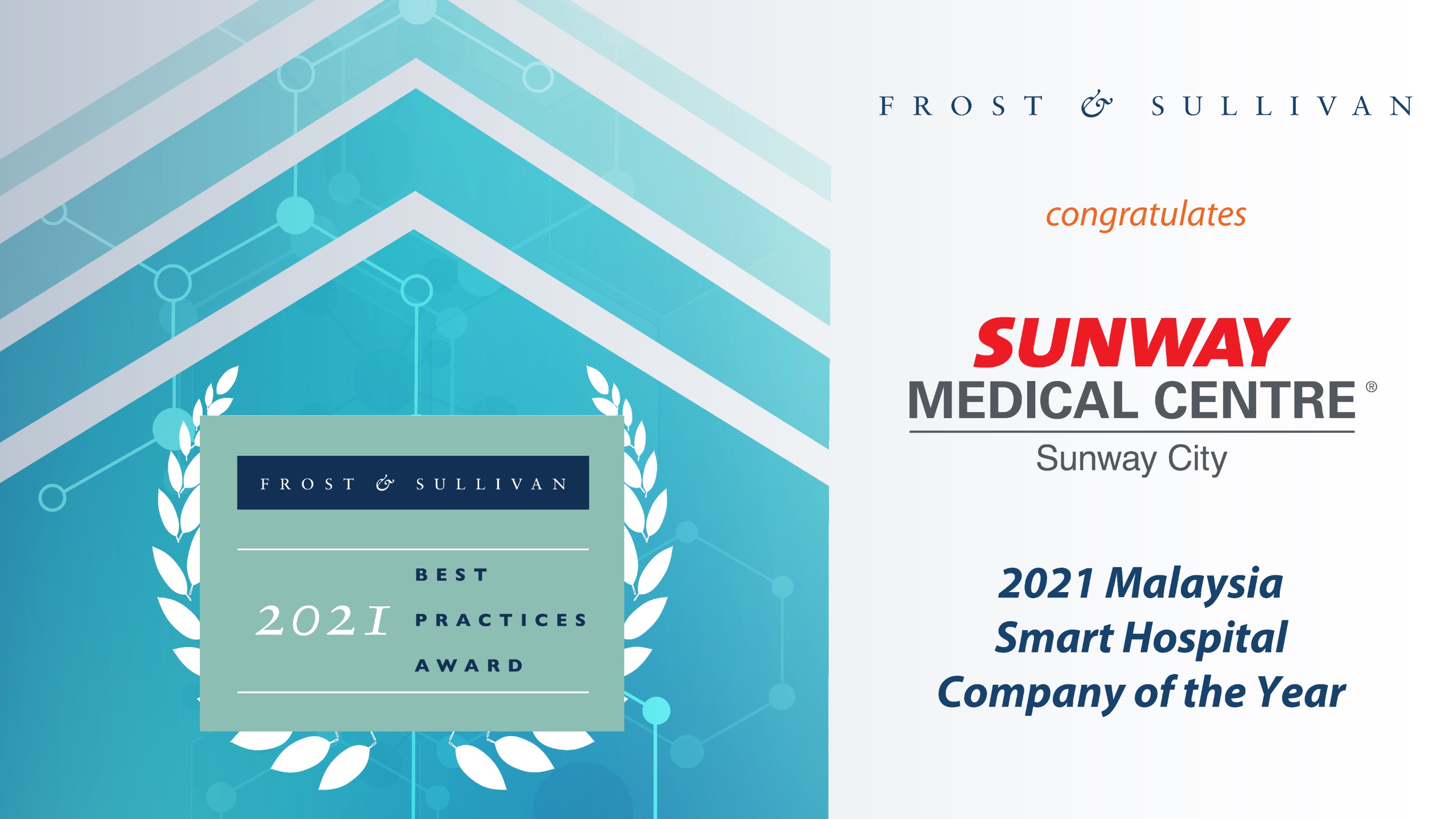 SUNWAY CITY, PETALING JAYA, 17 June 2021 – Sunway Medical Centre (SMC), Sunway City was recently recognised for their innovative and purposeful use of smart hospital technology at the prestigious Frost & Sullivan Asia Pacific Best Practices Awards, where the tertiary hospital bagged the 2021 Malaysia Smart Hospital Company of the Year.
The Frost & Sullivan Excellence Awards recognise companies in a variety of regional and global markets for demonstrating outstanding achievement and superior performance in areas such as leadership, technological innovation, customer service, and strategic product development.
Bryan Lin, Chief Executive Officer of Sunway Medical Centre, credits this exciting win to a collective effort by the team, "Our hospital has always been committed to push forward digitalisation to continuously improve operational efficiency while enhancing patient experience. We recognise that technology plays an integral role in the ever-evolving needs of healthcare, especially to meet the demands of the 21st century."
"The arrival of COVID-19 has definitely accelerated the urgency to provide safe and quality care for our patients. I am thankful for a diligent team who constantly seeks out new solutions to serve the needs of our patients and staff better. Often times, it's a mammoth task that requires us to rethink the way we do things. Without a robust teamwork, this recognition would not have been possible. There are still a lot to do but this award is a testament that we are on the right track and we look forward to an exciting time of growth ahead,' he adds with pride.
According to a Frost & Sullivan analyst, Siddharth Shah, Research Manager on Healthcare & Life Sciences, "Sunway Medical Centre's smart initiatives fulfill the three pillars of smart hospitals that we were looking for - operational efficiency, clinical excellence, and patient centricity. The hospital consistently adopts new initiatives, recognizing the importance of smart hospitals and ensuring clinician, staff and patient satisfaction."
He elaborates, "Sunway Medical Centre's integrated smart approach includes robotic process automation and initiatives to improve standard operating procedures for operational efficiency, state-of-the-art medical equipment, virtual care services, customized inpatient meal orders, online appointment bookings and Malaysia's first Telemedicine Command Centre for clinical excellence."
A COVID-19 Safe Hospital
Sunway Medical Centre was one of the earliest healthcare providers who adopted teleconsultation during Malaysia's Movement Control Order (MCO) period last year, which allowed patients to continue to consult doctors from home. With the rising demands in times of social distancing, this eventually led to the establishment of the first 24-hour Telemedicine Command Centre in the country, which was launched in January this year.
During the first MCO, Sunway Medical Centre also collaborated with Sunway iLabs to build a contactless COVID-19 Testing Pod to enable healthcare workers to conduct testing for suspected cases in a safer environment. The air-conditioned, filtered contactless pods not only reduced the use of personal protective equipment (PPE), which was in short global supply then, but medical officers could also stay within the pods longer. This minimises the risks of infections.
In March this year, Sunway Medical Centre became a designated COVID-19 vaccination centre (Zon Pemberian Vaksin) during Phase 1 of the National Immunisation Programme, administering vaccines for medical frontliners across 12 private hospitals. Today, the hospital continues to serve the nation as a Pusat Pemberian Vaksin (PPV) in fulfilling the needs of the public in Phase 2 of the programme, especially the elderly.
Cutting-Edge Medical Technologies and Facilities
As a Centre of Excellence within the hospital, the Sunway Cancer Centre prides itself as being one of the most advanced radiotherapy facilities around. Amongst others, it is equipped with Elekta Leksell Gamma Knife ICON, an advanced radiation treatment for multiple neurological conditions. This non-invasive machine delivers high dose beams of radiation to its target while causing little to no damage to surrounding tissues. The hospital is also accredited as a Designated Centre of Integrated Oncology & Palliative Care by the European Society for Medical Oncology.
Another example is the use of Nemuri SCAN for wards. This technology features a built-in fall prevention alarm system on the hospital beds with contact-free patient sensor that continuously measures patient's sleep, heart and respiratory rates. This enables the healthcare team to provide timely care while optimising efficiency and safety.
In a collaboration with the Ministry of Health Malaysia and adhering to international guidelines, Sunway Medical Centre introduced a Comprehensive Health Assessment Tool (C.H.A.T.), a simple and effective online tool that helps individuals assess their risk of developing high-risk diseases by answering a series of health-related questions. This allows the public to self-evaluate before meeting with the hospital's consultants for further assessment. C.H.A.T. also provides certified medical advice and lifestyle change recommendations that empower users to start taking charge of their own health.
A World-Class Hospital Experience
While the hospital focuses largely on medical technologies, the management team also recognises that Customer Service and other areas of hospital management play a vital role to enhance the overall patient experience, setting Sunway Medical Centre apart from its competitors.
Sunway Medical Centre introduced Chef Delight, an inpatient meal ordering application that allows patients to view the full menu of meals and beverages from their mobile devices. With this, patients are then able to consider their choices and pre-order ahead of time, in full comfort and convenience.
Meanwhile, concierge response time improved by 75% with the implementation of PORTZO, a concierge management system that helps track and communicate with the concierge staff via real-time location capability. The system helps to reduce concierge turnaround time in responding to service requests such as moving of patients from wards to radiology and operating theatre, delivery of medical documentation etc. These are just two examples amongst the many that the hospital has implemented.
According to an article by the Bangkok Post, healthcare spending in Southeast Asia is forecast to increase to USD740 billion by 2025, compared with $420 billion spent in 2017. And according to estimates, the global digital health market is expected to exceed USD504.4 billion by 2025. With this timely recognition, Sunway Medical Centre is certainly poised for growth locally and ready to serve international patients when travels are once again made possible.
Back