SARS-CoV-2 Neutralising Antibody (NAb) Test
16 July 2021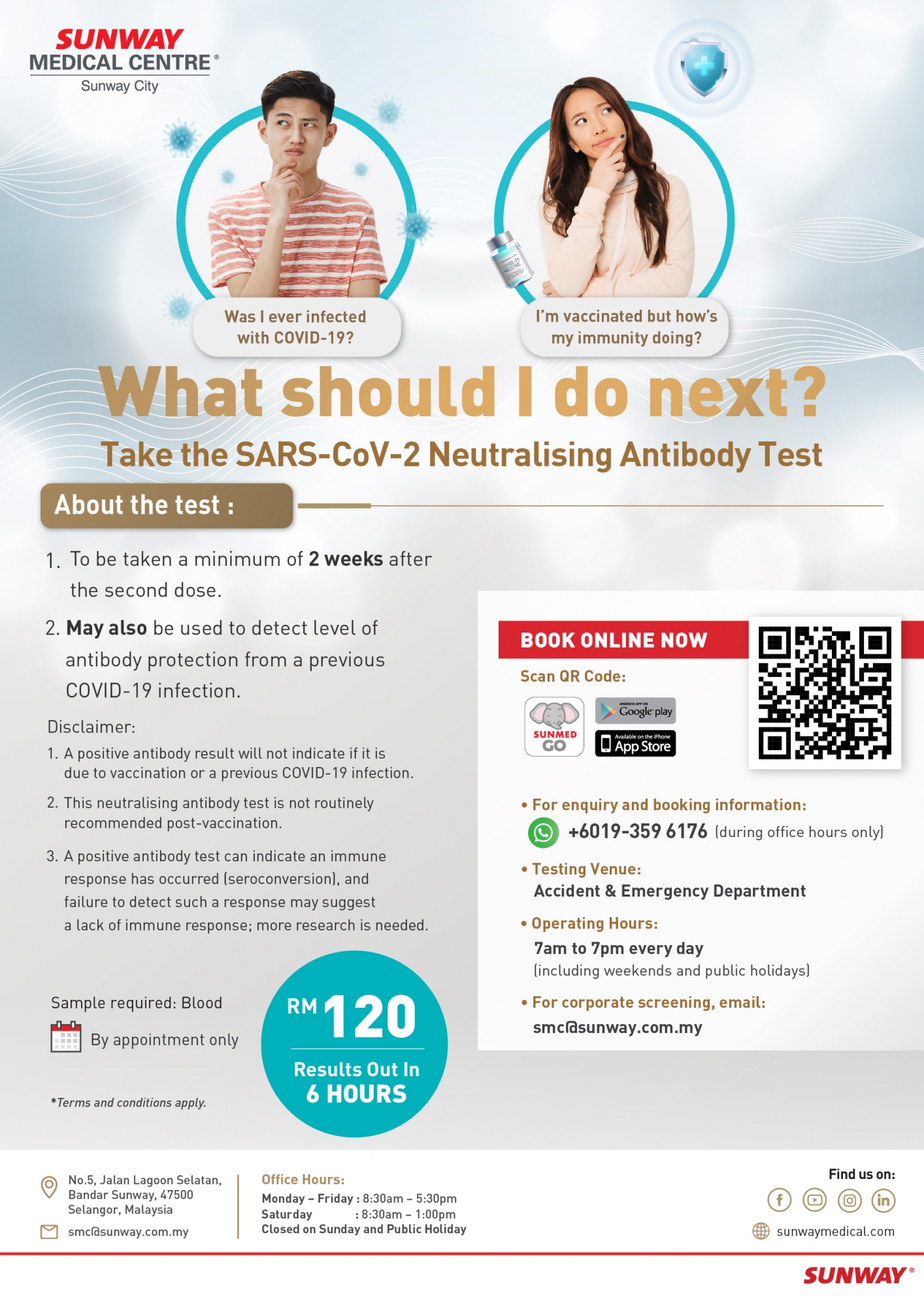 Reap Verifiable Benefits From Your Vaccination!
— Our new neutralising antibody test is available at the Accident & Emergency Department from 7am to 7pm every day.
For those who have
Taken full doses of the COVID-19 vaccine for at least 2 weeks;
Recovered from a COVID-19 infection for at least 2 weeks; or
Anxiety or suspicion about an undiagnosed or asymptomatic past COVID-19 infection.
IF YOU HAD a COVID-19 infection in the past, there would be antibodies in your body, but they might not function the way you want them to. Some antibodies bind to the viral antigens but do not block them from infecting your cells. Neutralising antibodies are the immune proteins that protect you, as they stop the virus from releasing its harmful effects.
The SARS-CoV-2 Neutralising Antibody Test detects the presence of antibodies that have a blocking or neutralising function (i.e. neutralising antibodies) against the COVID-19 virus.
The test assesses the level and longevity of your immunity— the effectiveness of your vaccine, or whether you have been previously infected. A positive result indicates how well your immune system is prepared against the virus. The higher your level of neutralising antibodies, the better your immunity.
Many antibody tests, such as IgM, IgG, or total antibody, do not tell whether the antibodies detected are capable of fighting the virus, which are what functionally protect you. Taking the test two weeks after you have been vaccinated, or recovered from an infection, can be an accurate way to check whether you have developed immunity towards COVID-19.
Like other antibody tests, the NAb test is a blood test, and provides results in a few hours.
How to get the test:
WhatsApp us for enquiries +6019-359 6176
Test details and pricing apply to Sunway Medical Centre, Sunway City.
Terms & conditions apply. Contact us to learn more!
Back