Tele-Consultation
17 April 2020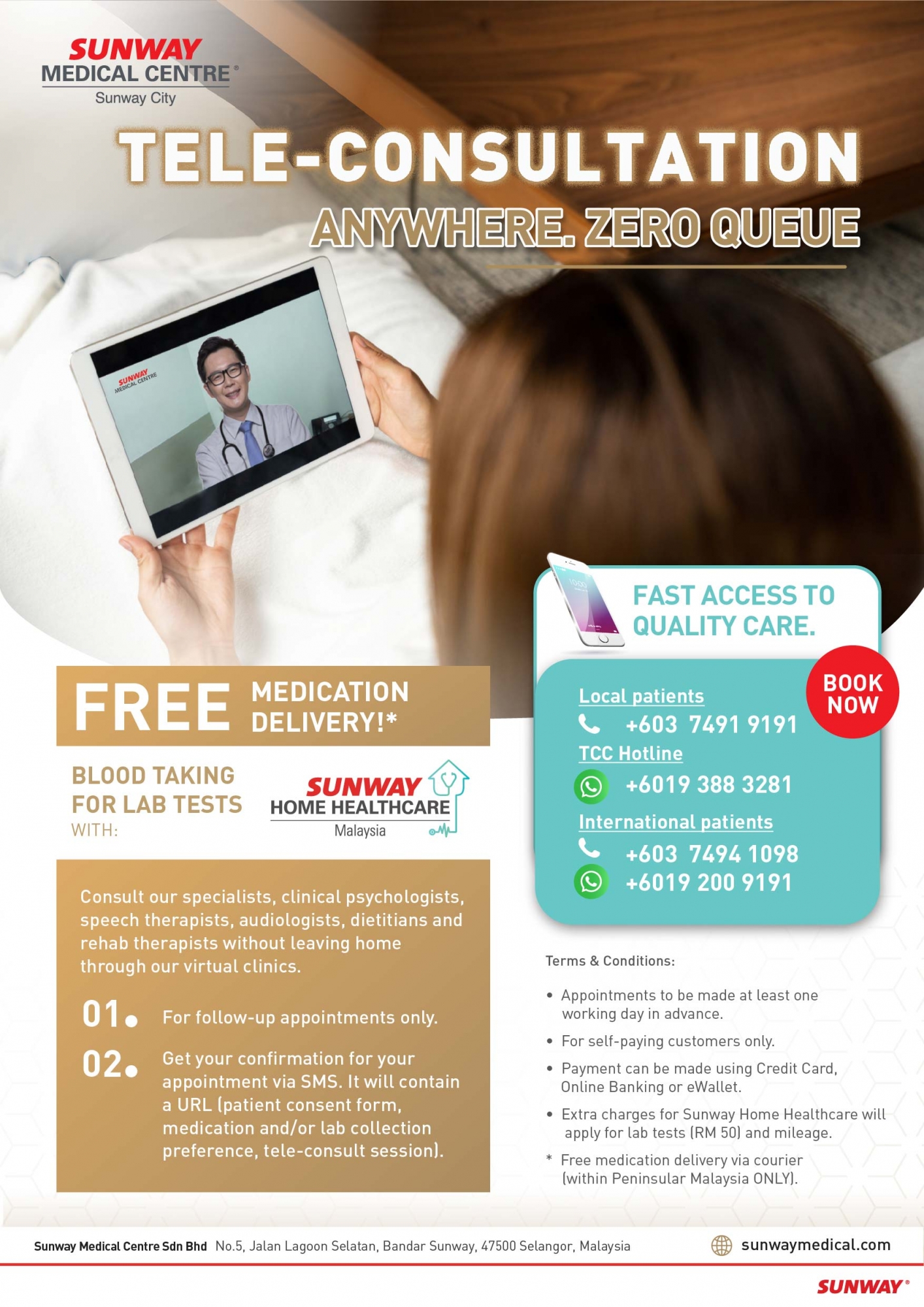 Sunway Medical Centre offers Tele-Consultation where patients can consult their doctors, clinical psychologists, speech therapists, audiologists, rehabilitation team (podiatrist, physiotherapists and occupational therapists) and dietitians without the need to be physically present, with an appointment made at least one working day before.
Tele-Consultation is mainly for follow-up patients and those who seek a second opinion.
There is also medication delivery nationwide and home phlebotomy (blood test) services within the Klang Valley. The medication delivery fee is currently waived and within Peninsular Malaysia.
For appointments, call +603 7491 9191 for local and international patients +603 7494 1098.
Patient FAQ
General Questions
What is Teleconsultation (or Telemedicine / Online Health Service / Virtual Consultation)?
This service allows patients to consult doctors without the need to be physically present.
Is Teleconsultation appropriate for every medical condition? What are the conditions that can be consulted using this method?
The service is available for follow-up patients and patients who require a second opinion. Most stable conditions are able to be consulted via Teleconsultation. However, teleconsultation has its own limitations compared to face-to-face consultation. Please do get further advice from our doctor as you may be required to come to the hospital for a follow-up.
Is the online consultation platform safe to protect my medical information privacy?
We have been assured that the software complies with HIPAA and GDPR standards. HIPAA (Health Insurance Portability and Accountability Act of 1996) is the United States legislation that provides data privacy and security provisions for safeguarding of medical information. The General Data Protection Regulation (GDPR) is a legal framework that sets guidelines for the collection and processing of personal information from individuals who live in the European Union (EU). Both HIPAA and GDPR have provisions in line with the Malaysian Personal Data Protection Act 2010.
Is patient consent required for the Teleconsultation?
Patient consent is required so that the patient understands the possible risks, benefits and rights associated with the use of Teleconsultation.
Is a video consultation required or can it be an audio consultation instead?
Teleconsultation should be conducted using both video and audio.
Appointment with Doctor
How do I make an appointment for a Teleconsultation service?
You may call or email our doctor's clinic in order to make an appointment or to contact our Customer Service Hotlines for further assistance. Our local patient hotline is +603 7491 9191 and our International patient hotline is +603 7494 1098.
Can I cancel or reschedule a Teleconsultation appointment?
You can always call or email our doctor's clinic or contact our Customer Service should you wish to make changes to your appointment.

How is the diagnosis made without any physical observation being made? What if the doctor asks me to carry out laboratory tests and imaging tests?
Our doctor shall consult to the best of his or her capability while carrying a Teleconsultation session. However, should you be required for any tests or required for a more detailed diagnosis, our doctor shall advise accordingly.
Medication
How do I get my medication if a prescription is provided during my Teleconsultation session?
Our Pharmacists will contact you on the arrangement of medication delivery.
Does Sunway Medical Centre deliver medication across international borders for international patients?
Medication delivery to international countries is limited by the wide variability of customs requirements and restrictions on delivery, depending on the destination country the patient resides in. As such, Sunway Medical Centre does not guarantee successful international medication delivery. Hence, the general advice would be:
The Pharmacy Department of Sunway Medical Centre discourages delivery for foreign patients due to various uncertainties in the time frame and challenges in customs clearance. Preferably, we would advise doctors to provide their patients with a recommendation letter. Patients may then use this recommendation letter to obtain a prescription from their local doctors.
In the event that international medication delivery is absolutely necessary, the Pharmacy Department will assist in checking with our courier service provider on the availability of delivery service to the destination country with the address provided by the patient, documents required and delivery cost. If delivery is possible, the Pharmacy Department will work with our International Patient Center (IPC) to communicate the information and obtain consent to proceed with delivery.
If delivery is not possible, the Pharmacy Department will work with IPC to inform the prescribing physician and patient accordingly.
Home Sample Taking
Can blood tests be done at home?
Our Sunmed@Home provides a home sample-taking service. You may call our Sunmed@Home team in order to make an appointment. Hotlines are +603-7491 1477 and +6019-216 6477.
Laboratory Report Delivery
How can I receive a copy of my laboratory test results?
You will receive your laboratory test results by way of a Laboratory Report. You are advised to collect the Report in person at the hospital for the purpose of maintaining confidentiality. However, should you wish for the report to be delivered to you, we can arrange for its delivery to an address that you specify.
Payment
What are the payment methods available?
We accept online banking, e-wallet and credit cards for local transactions and Flywire for international transactions.
Will I be able to use my insurance as a payment method?
The service is available to self-paying patients only.
Back