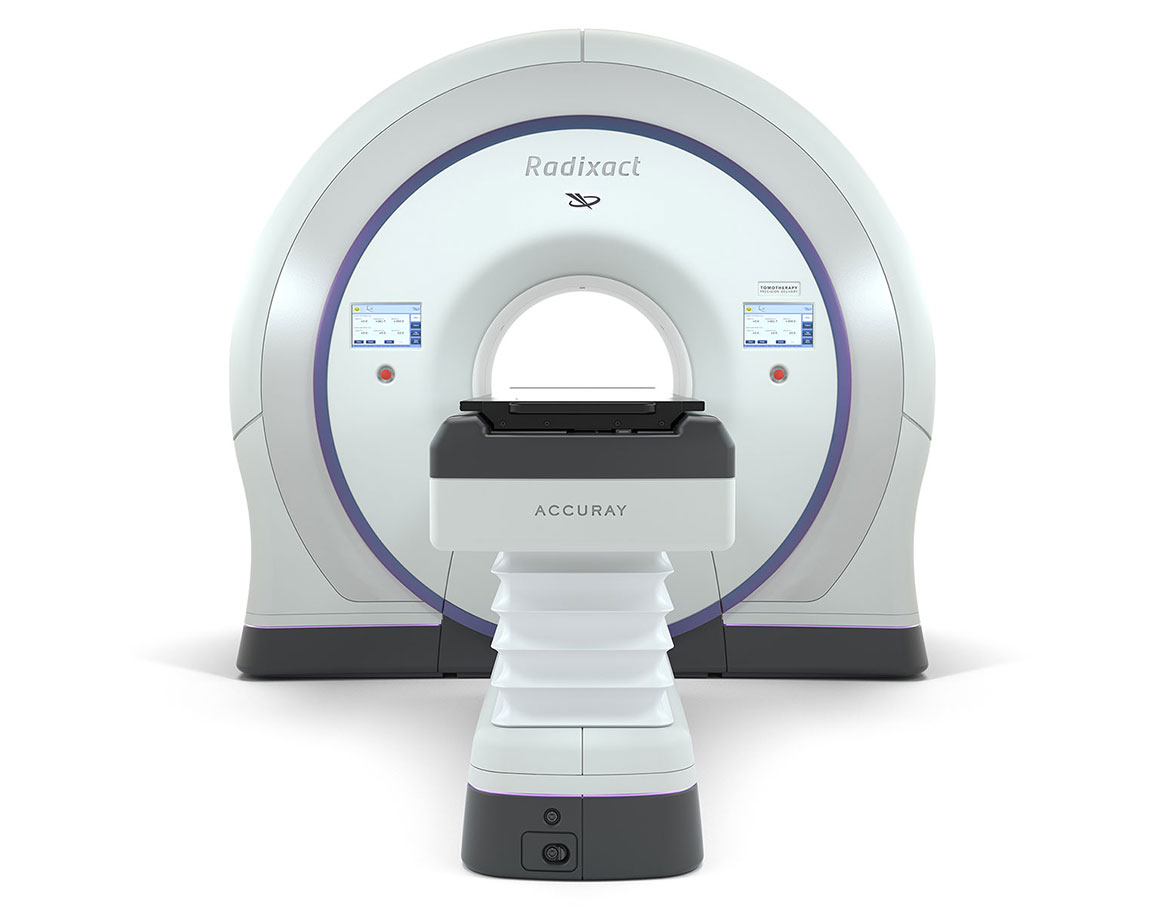 Sunway Medical Centre is proud to introduce Radixact-X9 Tomotherapy, the next-generation image-guided tumour treatment delivery system that uses refined x-ray beamline to provide unrivalled treatment precision to the patients.
See. Plan. Treat.
Radixact-X9 Tomotherapy provides a fully integrated platform for uniquely smart treatment planning, data management and treatment delivery.
SEE
PLAN
TREAT

With Data Management System

Remote review of daily imaging
Individual user privileges
Disaster recovery features, including automatic backup and data mirroring

With Treatment Planning System

Dose calculation on a single treatment planning workstation
Treatment plan comparison
Auto segmentation of head and neck, brain, male pelvis
Precise Adaptive Radiation Therapy

With Treatment Delivery System

Real-time motion synchronisation
Dose sculpting mode
Continuous 360-degree treatment delivery
Versatility in action.
Real-time monitoring.
Designed to accommodate all forms of patient and tumour motion with daily imaging, Radixact-X9 Tomotherapy uses real-time imaging to guide the treatment each day, allowing doctors to adjust patient treatment based on even the smallest changes in patient anatomy continually.
Game-changing precision.
Radixact-X9 Tomotherapy enables continuous delivery from 360 degrees around the patient with highly conformal and homogeneous dose to the tumour. A clinician can also deliver treatment from specific fixed angles, shaping the radiation to the tumour while sparing healthy tissue.
Intelligent treatment planning and delivery.
A uniquely smart radiation therapy system, Radixact-X9 Tomotherapy is designed to deliver scalable, highly precise treatment for patients with a variety of individual clinical needs. The automated adaptive radiation therapy also allows clinicians to easily identify patients that require treatment re-planning, taking treatment precision to entirely new levels.
Revolutionary treatment customised to suit your needs.
Using a refined x-ray beamline and next-generation imaging technology, Radixact-X9 Tomotherapy is built to provide unprecedented flexibility in providing personalised treatment for a wide range of possible indications.
Schedule an appointment with us. Now.
At Sunway Medical Centre, we equip our medical team with the latest technologies and treatment systems to deliver value-based care and treat a wide range of indications with high-quality outcomes. We are here to understand your specific needs and customise the radiotherapy treatment plan for you accordingly. Make an appointment with your treating oncologist now to determine the type of treatment that is best suited to your condition.
Contact
For more information or appointments, please call: