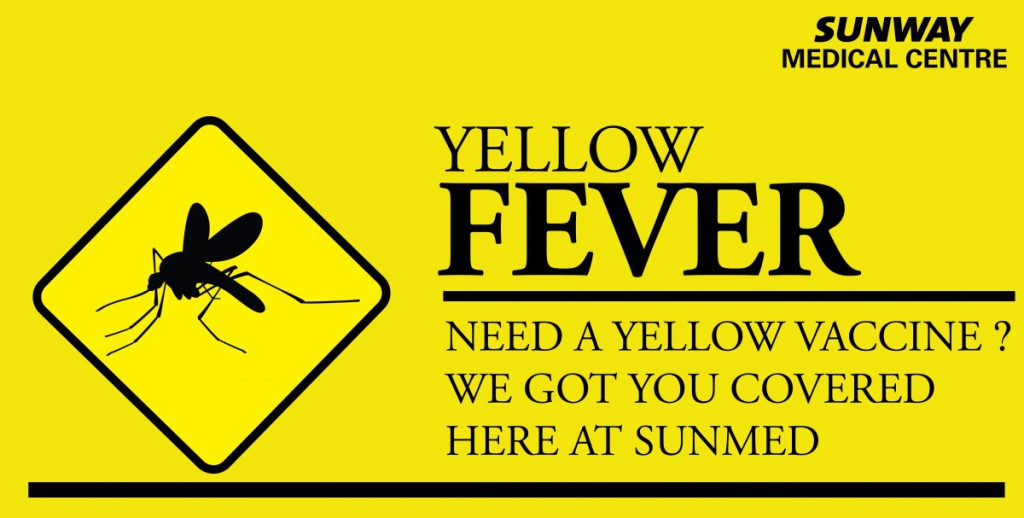 Are you going for a trip to South America or Africa?
Find out if yellow fever vaccine is needed at your destination and plan ahead to get it. Yellow fever vaccine is the best protection against yellow fever disease, which can be fatal. Sunway Medical Centre in one of approved yellow fever vaccinating centres in Malaysia.
To register, seek more information or enquiries, kindly contact us at:
Tel
+603-7491 1198
+603-7491 1302
Operation Hours:
Monday – Friday: 8:30am – 5:30pm
Saturday: 8:30am – 12:30pm
Location
4th Floor, Tower A, Sunway Medical Centre
6 things you need to know about Yellow Fever!
What is Yellow fever?
Yellow fever is an acute viral haemorrhagic disease spread to people by the bite of an infected mosquito. It affects the liver and kidneys, causing fever and the "yellow" refers to the sign of jaundice that affects some patients which can be fatal.
Other signs and symptoms of yellow fever include headache, jaundice, muscle pain, nausea, vomiting and fatigue.
Who should get Yellow fever vaccine?
Yellow fever vaccine is recommended for people age 9 months or older. People who are usually excluded from vaccination include:
infants aged less 9 months or older;
pregnant women – except during a yellow fever outbreak when the risk of infection is high;
people with severe allergies to egg protein; and
people with severe immunodeficiency due to symptomatic HIV/AIDS or other causes, or who have a thymus disorder.
Where does Yellow fever occur?
Yellow fever virus is found in tropical and subtropical areas of South America and Africa. Proof of yellow fever vaccine may be required for entry into certain countries.
Where and when do you need to get Yellow fever vaccine?
It is best to arrange an appointment with your GP or a travel clinic doctor six to eight weeks prior to departure in case a series of vaccines are needed. Yellow fever vaccine should be given at least 10 days before entering a country where immunisation is a legal requirement in order to avoid quarantine procedures. Immunisation against yellow fever only requires a single dose of vaccine, which usually gives most people lifetime immunity. Also, in most cases, once you have been vaccinated, the certificate is valid for life.
Why is it important to get vaccinated?
The yellow fever vaccination is the best way to protect against the yellow fever virus, a severe and sometimes fatal infection. Also, a single dose provides life-long protection against yellow fever disease.
How soon do people get sick after being bitten by an infected mosquito?
The incubation period (time from infection to illness) is usually 3-6 days. Since Yellow fever and certain diseases are spread by mosquito bites, you can prevent this by:
Using insect repellent
Wearing long-sleeved shirts and pants when outdoors
Sleeping in an air-conditioned or well-screened room or under an insecticide-treated bed net
Covering cribs, strollers, and baby carriers with mosquito netting to protect your baby or child
Reference: