Kids Health Screening Package
10 August 2021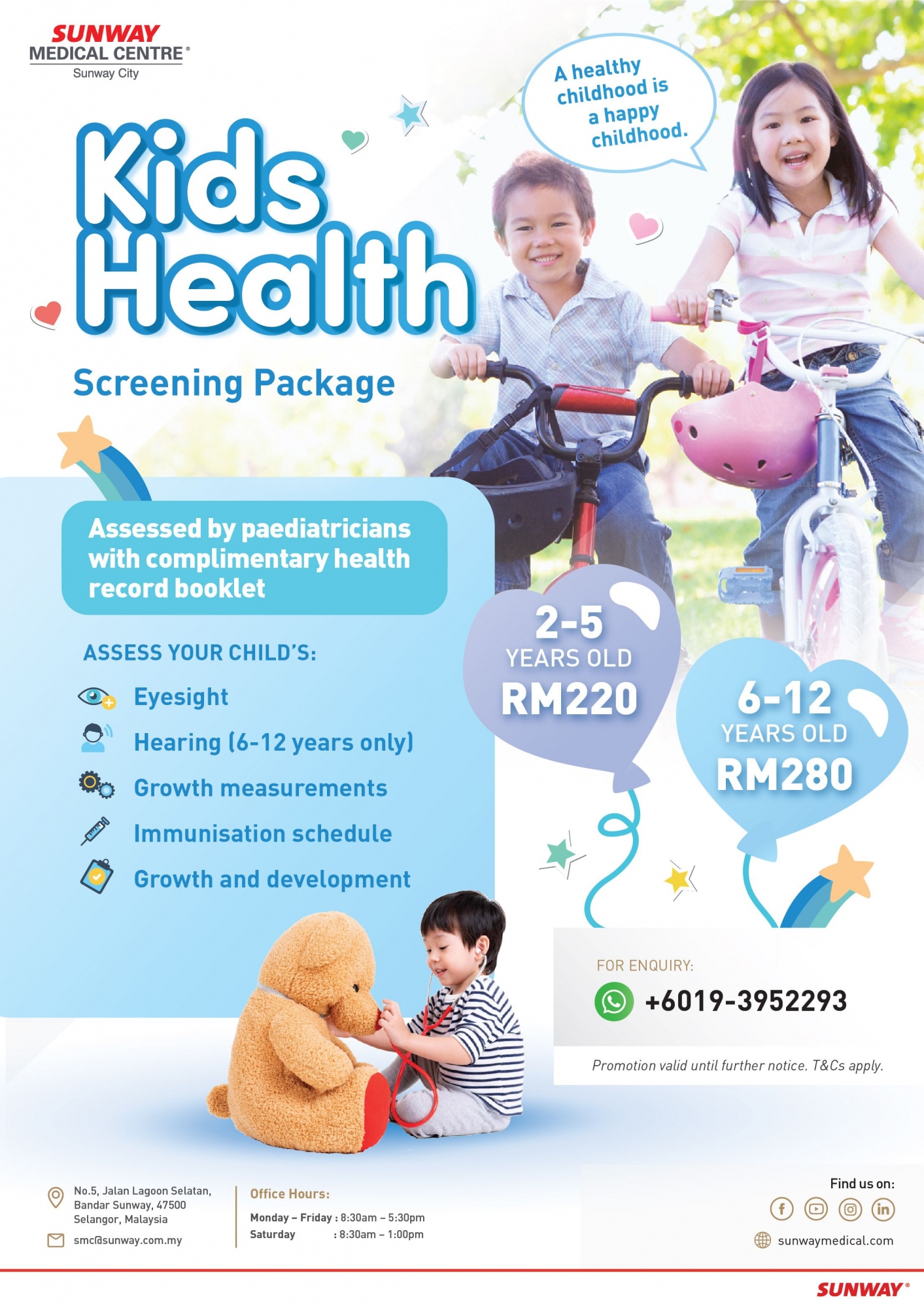 A healthy childhood is a happy childhood!
Assessed by Paediatricians | With Complimentary Health Record Booklet

Health screening is an integral part of the preventive healthcare routine for all children.
Parents may overlook the importance of scheduling annual health screenings for their children as it would seem unnecessary when nothing is going wrong. However, visits to the paediatricians should not be reserved only for sick days, but should be an essential part of childhood to ensure the child continues to grow and develop normally, from vision, hearing, mental health, to nutrition.
Routine checks reduce the risks of delaying childhood vaccines, sensory screenings, and various health measurements that track physical, behavioural, and emotional growth.
The quicker we address the underlying issues, the less likely for lurking conditions to have lasting effects.
Our package includes complete assessments for:
Eyesight • Gross & Fine Motor Skills • Speech & Language Skills • Behavioural Skills • Bodily Measurements • Vaccination History • Hearing (age 6-12 only)
Terms and conditions:
This promotion applies to new and self-paying customers only.
This promotion is valid until further notice.
This promotion does not include additional blood or imaging tests, medications, procedures, or subsequent follow-up consultations.
Each new promotion sign-up is entitled to a Paediatric Health Record Booklet.
This promotion is available by appointment only; customers are required to book an appointment via the registration form above.
For enquiries and clarifications, call or WhatsApp +6019-3952293
Sunway Medical Centre reserves all rights to amend any terms and conditions without prior notice.
Your little one counts on you. So count on us.
How often does my child need a full body check-up?
To ensure healthy growth and development, all children are recommended to regularly have routine health screenings/body check-ups, which means at least semi-annually for 2 to 4 year-olds, and annually for children aged 5 years and above.
Check-ups help us discover any hidden issues early so that we can do something about them. Early detection also makes most conditions easier to treat.
Check-ups allow your paediatrician to promote your child's wellbeing by providing useful information on injury prevention, nutrition, physical activity, and improving lifestyle habits based on individual results.
Why does my child need a developmental milestone assessment?
Developmental milestone assessment maps your child's key skills in playing, learning, behaving, and physical movement, comparing them to the representative sample of children of similar age. When skills are not achieved or not following the predicted pattern, we can plan for further examination, monitoring, and solutions to encourage healthier growth.
Why should my child's immunisation schedule be reviewed?
By reviewing your child's immunisation schedule, your paediatrician can update their vaccination if necessary, so that your child gets full protection against invasive infections and diseases.
Optional vaccines such as influenza, rotavirus and chickenpox vaccines are not included in the National Immunisation Program (NIP), which means children will have to visit their paediatrician to receive the vaccines.
What should I prepare before my visit?
You should bring your child's existing vaccination and health record book on the day of your health screening appointment.
What can I expect from my visit?
Our paediatricians always take time to listen and communicate warmly with each child, ensuring that they feel comfortable and more involved in the process. Your child is encouraged to ask questions and talk about themselves, which helps your paediatrician determine your child is healthy and developing optimally.
Their future, safe in your hands.
Office hours (excluding public holidays)
Monday – Friday : 8:30am – 5:30pm
Saturday : 8:30am – 1:00pm
For more enquiries, call or WhatsApp us!
+6019–3952293
Back