Coffee break with Dr Nik Aslan, consultant clinical oncologist.
15 December 2020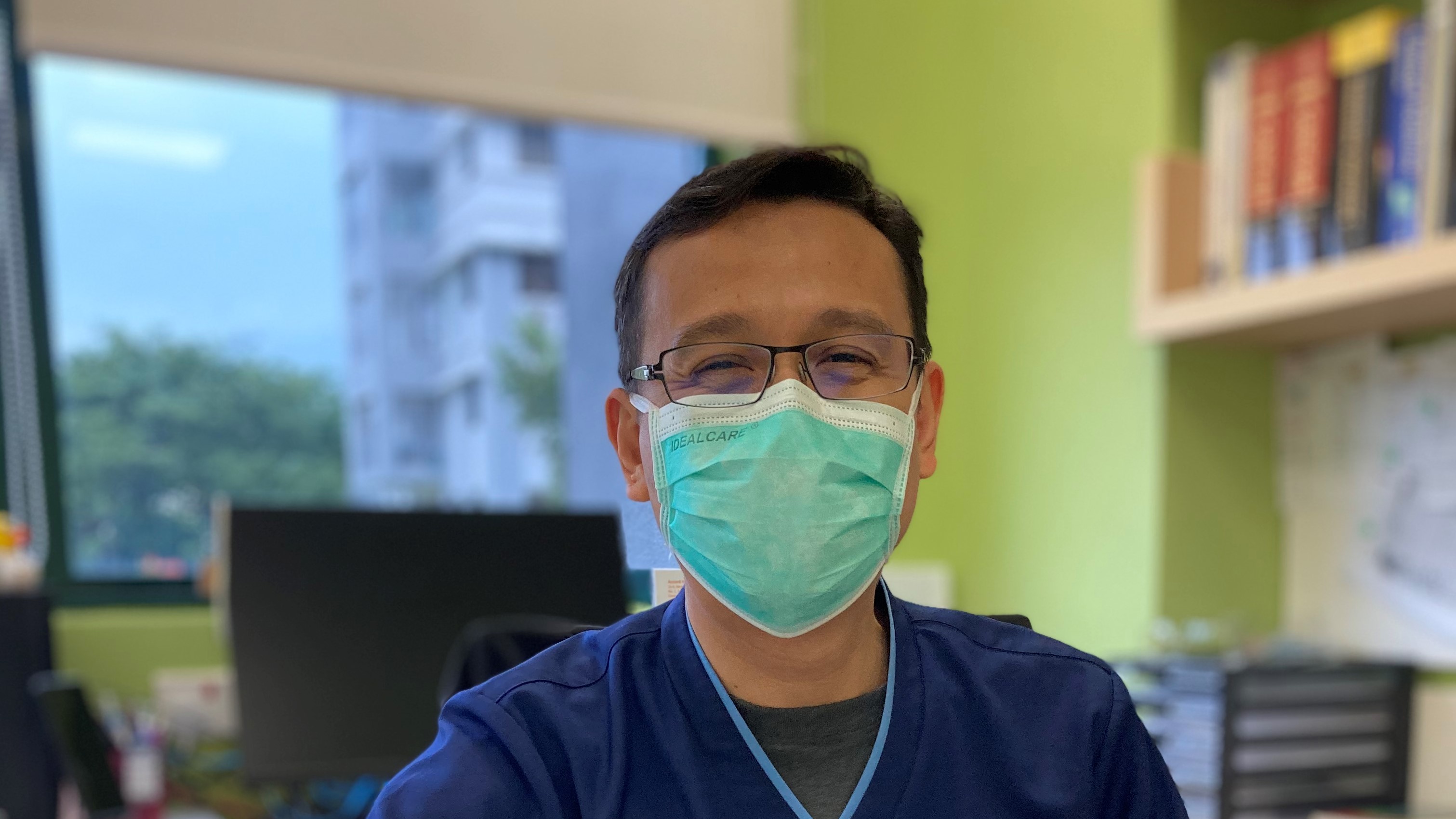 INTERVIEWER
How long have you been with Sunway Medical Centre?
DR NIK ASLAN
More than two years.
INTERVIEWER
How long have you been practising oncology?
DR NIK ASLAN
I've been a specialist since 2008.
INTERVIEWER
What was the process of getting specialised like?
DR NIK ASLAN
After housemanship I was sort of inquiring about oncology, so I did a few months of attachment at the department. The head of department at that time told me that I needed to go around and gain a wider experience before I made up my decision, so I went out and did other postings.
INTERVIEWER
For other specialties?
DR NIK ASLAN
Internal medicine, orthopaedics, surgery, accident and emergency, paediatrics.
INTERVIEWER
And you still finally settled on oncology.
DR NIK ASLAN
It was not a field that medical students, the general public, or even other doctors really understood. There were a lot of myths surrounding cancer. To a lot of people, the idea was that if you had cancer it was basically a death sentence and there was not much you could do.
INTERVIEWER
That is a misconception?
DR NIK ASLAN
Not the only one. There was also a widespread belief that chemotherapy equalled suffering and would kill you. Cancer in the general perception was a depressing subject, but what I saw when I was attached to the oncology department was more than that.
If the oncologist was equipped and knowledgeable, he could actually make a life-changing difference to patients. To improve their pain levels, lessen their suffering, and to allow them to have a better life. No matter how short a life they had left.
That was when I realised there was a lacking in both understanding and appreciation for oncological services, which made me want to become a contributing part of the endeavour.
INTERVIEWER
When did that epiphany occur?
DR NIK ASLAN
2001.
I still remember the accepted attitude at that time. Nowadays we wouldn't have said this, but at that point in time, when a physician diagnosed you with lung cancer, the patient would be told that since they had lung cancer, there was nothing that could be done and they should just go home and pray.
INTERVIEWER
Really?
DR NIK ASLAN
Just go back, pray, and ask for god's forgiveness.
INTERVIEWER
Based on the current mortality rates, doesn't lung cancer still mean death?
DR NIK ASLAN
It applies to all stage four cancers, not just lung. It is true that you will eventually die from the cancer, that is a fact. But how I see it is that we can always try to prolong the patient's life and improve its quality, there is always a way to help. If you don't do anything, they will just die sooner, and die with a lot of pain and suffering.
I've had a lot of patients who were in great pain and distress when they came in. The satisfaction for me as an oncologist comes from being able to do everything that I can do, to see a positive change in a patient's demeanour as compared to my first meeting with them. For many lung cancer patients, if you do nothing they won't survive for more than a year.
INTERVIEWER
So there is hope even when it's terminal.
DR NIK ASLAN
There was a terminal lung cancer patient who came in with quite agonising symptoms, but his response to the treatment we gave him was so successful, that after it he recovered well enough so as to travel to Japan and Singapore, and had a good remaining life. He survived for over three years after his diagnosis.
From being bedridden, we managed to get him up and about, to spend more quality time with his family. Giving them extra time together.
That's something that I think we often overlook when we are healthy. Before this patient had cancer he was a workaholic. He was always busy managing his own business, coming home late at night, and working on weekends.
INTERVIEWER
Cancer actually gave him the chance to reconnect with what really mattered.
DR NIK ASLAN
He knew he didn't have long to live, even though we helped him to prolong it. He decided that he would spend the time he had left travelling with his wife and children.
INTERVIEWER
What was the treatment he received?
DR NIK ASLAN
Everything we could give him we gave him. Chemo, radiation, targeted therapy.
INTERVIEWER
As a terminal patient wouldn't he be feeling pain all over his body nevertheless?
DR NIK ASLAN
Initially yes. After treatment the pain lessened.
INTERVIEWER
How did you lessen the pain without opiates?
DR NIK ASLAN
If you're able to control the cancer from growing and spreading, the pain will be reduced.
INTERVIEWER
Did he have to come to the hospital for treatment throughout that three years?
DR NIK ASLAN
He came back to take his medication every two months.
INTERVIEWER
What about the use of strong painkillers like morphine?
DR NIK ASLAN
He did need that initially, before our treatment.
Morphine used to be the answer when something was deemed unresolvable. There was this young African boy. The cancer had destroyed half of his pelvis when he was referred to me.
INTERVIEWER
How old was he?
DR NIK ASLAN
He was just about eight years old. At that time the paediatricians and orthopaedics had done all that they could and couldn't offer any more treatment that would make things better.
INTERVIEWER
What kind of cancer was that?
DR NIK ASLAN
A rhabdomyosarcoma, a soft tissue cancer.
Expectations among us were low. Some had suggested at that time, to "just give him a little bit of radiation to relieve his pain a little, so that he doesn't need so much morphine."
But since he was young and was in a lot of pain, I offered a bit of more aggressive treatment to shrink the cancer as much as I could, to prolong control of the cancer as much as I can, and perhaps to give him some chance. I went all out with the radical radiotherapy. It was a challenging treatment to give.
He was able to stand after the treatment, and survived long enough to migrate to the USA.
INTERVIEWER
He was cured?
DR NIK ASLAN
I was very surprised one day when my staff told me a doctor from the States was looking for me via email. I was informed that the hospital there had done the scans on him and saw that the cancer was smaller and under control. They were planning for further surgery and an orthopaedic prosthesis so he would be able to walk properly again.
INTERVIEWER
Which stage cancer did he have?
DR NIK ASLAN
The cancer was locally advanced. It hadn't spread to other parts of the body, but it had grown huge.
INTERVIEWER
Unable to be operated on?
DR NIK ASLAN
It was just too big; nearly all of the pelvis was occupied by cancer. The bowel was pushed up and the bladder was squashed. It would be a tremendously difficult surgery with not as high a chance of removing all the cancer.
INTERVIEWER
What does radical radiotherapy entail?
DR NIK ASLAN
Extremely high dose. I went all out while being as safe as I could be. I wanted to give him a chance at life.
INTERVIEWER
On the flipside of feeling satisfied in having saved a person's life, isn't it depressing when someone died on you?
DR NIK ASLAN
Especially if you've known the patient for years. You come to grow fond of them. You know their family, their life.
INTERVIEWER
Do you think being at a job that deals with death so closely influences the way you see life?
DR NIK ASLAN
It does.
INTERVIEWER
Was your youngest patient the African boy?
DR NIK ASLAN
No, I had a baby patient. He had leukemia, and I had to perform radiotherapy on the testicle.
Another one was a toddler, who had cancer of the eye, a retinoblastoma. So we did radiotherapy on the eye.
INTERVIEWER
Wouldn't the therapy have blinded the child?
DR NIK ASLAN
The region was already affected, because it was cancer of the retina. He couldn't see or walk. The eye was bulging.
After treatment I knew the patient got better when he entered the clinic running. He could see better.
INTERVIEWER
What function does on-call oncologists serve?
DR NIK ASLAN
When the patient came to the hospital in pain, already diagnosed and confirmed with cancer from another hospital. They might arrive at Accident and Emergency in the middle of the night, then the on-call oncologist would have to go over and admit the patient.
INTERVIEWER
But what can an oncologist do at the point of emergency? Is there such a thing as emergency radiotherapy?
DR NIK ASLAN
There are cases where emergency radiotherapy is needed. It doesn't happen often though.
Urgent radiotherapy would be needed for some acute conditions such as when the tumour causes severe haemorrhage unsuitable for surgery or other ways to stop the bleeding, or when the cancer has spread to the spine causing risk of paralysis.
INTERVIEWER
Does social disadvantage predispose you to cancer? Off the top of my head an analogy would be HIV/AIDS, which affects the poor more than the well-educated.
DR NIK ASLAN
HIV/AIDS also predisposes you to cancer. When your immune system is deficient you tend to get cancer more easily. Your immune system plays an important part in the body's defence against tumours.
So if you survived HIV/AIDS for long enough you are much more likely to get certain types of cancer, and more likely to die from it because your immune system is compromised.
INTERVIEWER
For ordinary people who have no underlying conditions or particularly hazardous lifestyle habits, how can we prevent cancer?
DR NIK ASLAN
Some cancers are caused by viruses, so getting vaccinated, getting regularly screened, and avoiding illegal drugs are quite important.
For something like ovarian cancer it's mostly due to hormones.
INTERVIEWER
How can I control my hormones to prevent cancer?
DR NIK ASLAN
Not being overweight is one. Obesity disrupts your hormonal balance and increases your cancer risk.
INTERVIEWER
Are gender-specific and hormone-related cancers prevalent?
DR NIK ASLAN
In my experience, the most common women-specific cancers are colon, breast, and lung cancers.
INTERVIEWER
Are the female lung cancer patients smokers?
DR NIK ASLAN
Nowadays there are many lung cancer patients who are strictly non-smokers.
INTERVIEWER
What caused it then?
DR NIK ASLAN
Could very well be air pollution.
It's mostly the smog and the haze. We are having haze much more frequently these days. We don't know yet if it will have a deadly effect on our body in 10 years' time.
Tags: Coffee Break Series
Back