Long Covid After Recovery
04 August 2021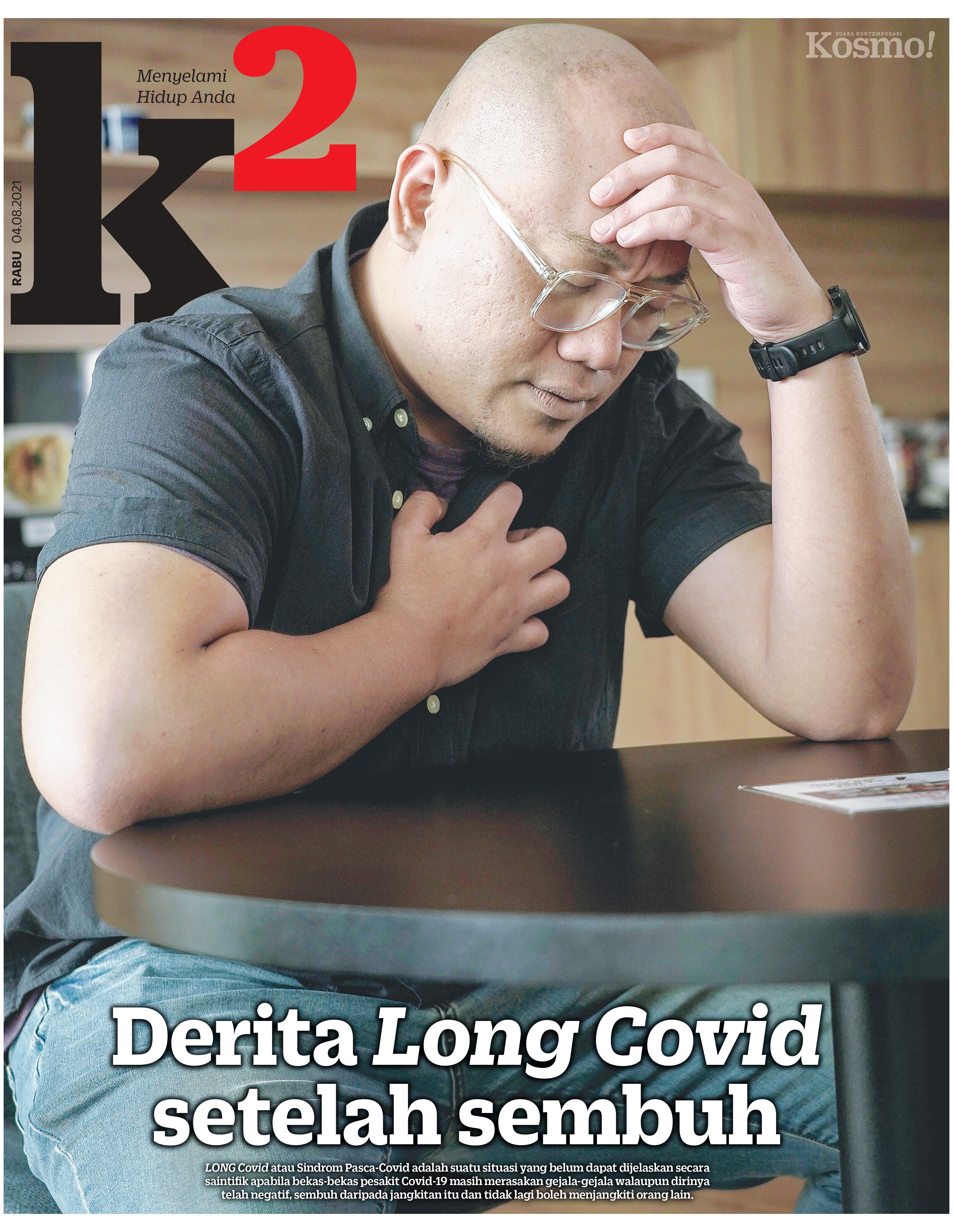 "After testing positive with Covid-19 on 18 January early this year, I had chills at night especially during bedtime. I never experienced such coldness before," said a Covid-19 survivor who prefers to be known as Yong.
When he first tested positive with Covid-19, he was self-quarantined at home when his condition worsened after a few days. He was easily exhausted and felt as if his body was out of oxygen which led him to seek further medical attention at a hospital. He was asked to be put to sleep to ease his breathing. Far from getting any better, Yong was then sent to Kuala Lumpur General Hospital (HKL) before he was confirmed Category 5 which required him to be admitted to an Intensive Care Unit (ICU) with ventilator support.
Fast forward five days later, he was out from the critical stage and was transferred to a normal ward. However, he started to lose his voice, had muscle pain and was lethargic.
"Even after recovering and being discharged from HKL, I was still having symptoms especially lethargy and insomnia, thus I went to a private hospital for follow-up," said Yong who only later knew the symptoms he experienced were part of his Long Covid syndrome post recovery.
While the syndromes experienced may vary for each individual, the Category 5 Covid-19 survivor admitted having extreme muscle pain, exhaustion and breathlessness when talking and walking. Even a 10-metre walk to his room on the second floor of the house took him almost 15 minutes.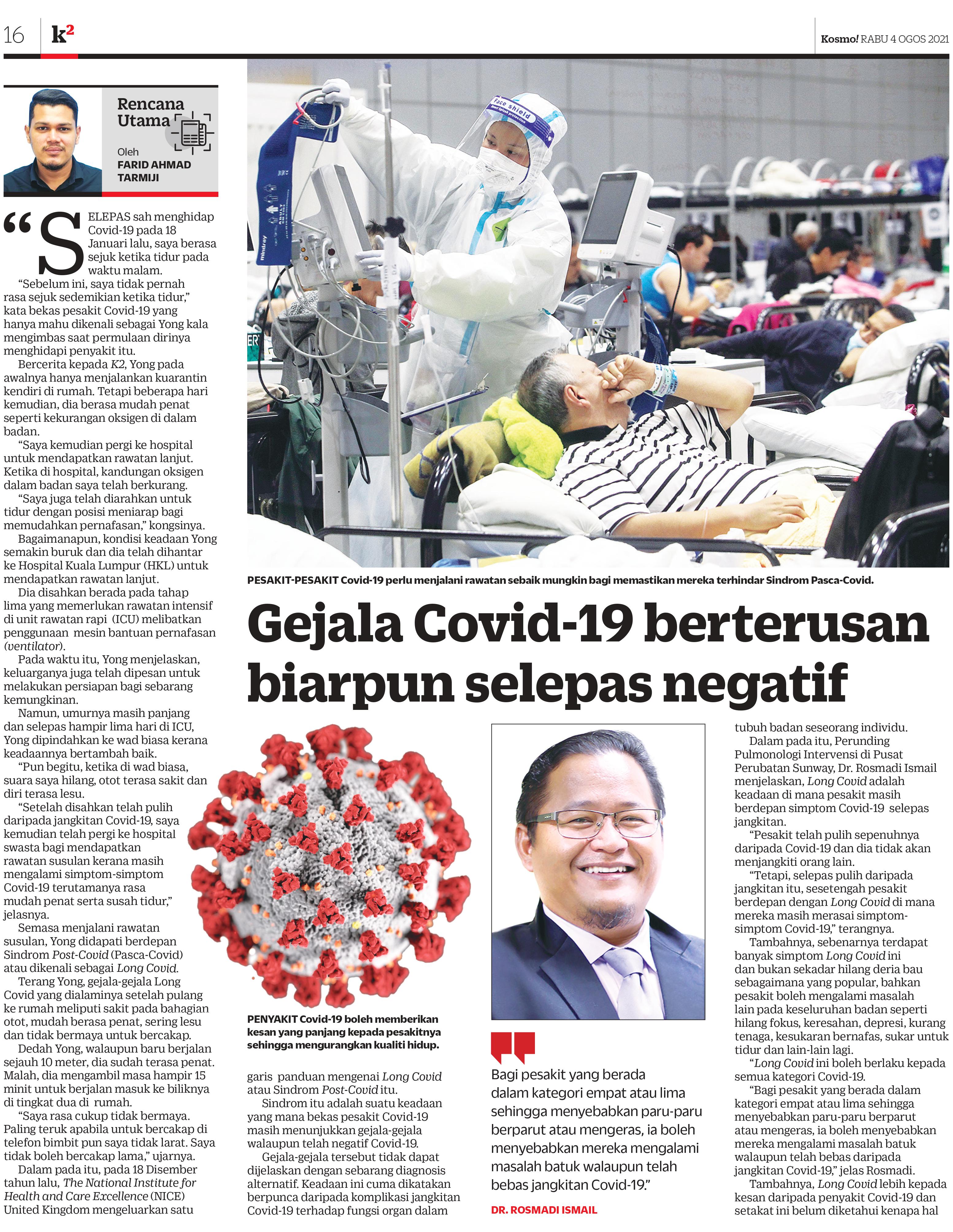 The National Institute for Health and Care Excellence (NICE) United Kingdom issued a guideline on Long-Covid Syndrome on 18 December last year. It explains the situation where recovered Covid-19 patients are still showing symptoms of infection even after they are confirmed negative. There is no alternative diagnosis or explanation for this, but it is believed that it is caused by Covid-19 infection complications on the person's internal organs.
Sunway Medical Centre's Consultant Interventional Pulmonologist, Dr Rosmadi Ismail explains, Long Covid is a condition where fully recovered Covid patients will still experience infection symptoms, but he or she will not infect it to other people.
"There are a couple of Long Covid symptoms, not just losing the sense of smell as what people commonly say, but it can also affect other parts of the body causing poor focus, anxiousness, depression, no energy, out of breath, insomnia and others; to name a few. The symptoms may occur to all categories of Covid patients. However, patients in Category 4 or 5 may have severe cough post recovery due to hardened and scarred lungs.
"Long Covid is the after-effect of coronavirus infection but the actual cause remains a mystery. It is still uncertain if there are chemicals that cause the body's physiology to change as a result of the effects of Covid-19 infection. To date, there is still no specific cure for the Covid symptoms," explains Dr Rosmadi, adding that the symptoms may last up to months after recovery with difficulty in sleeping to be the most common effect faced by many.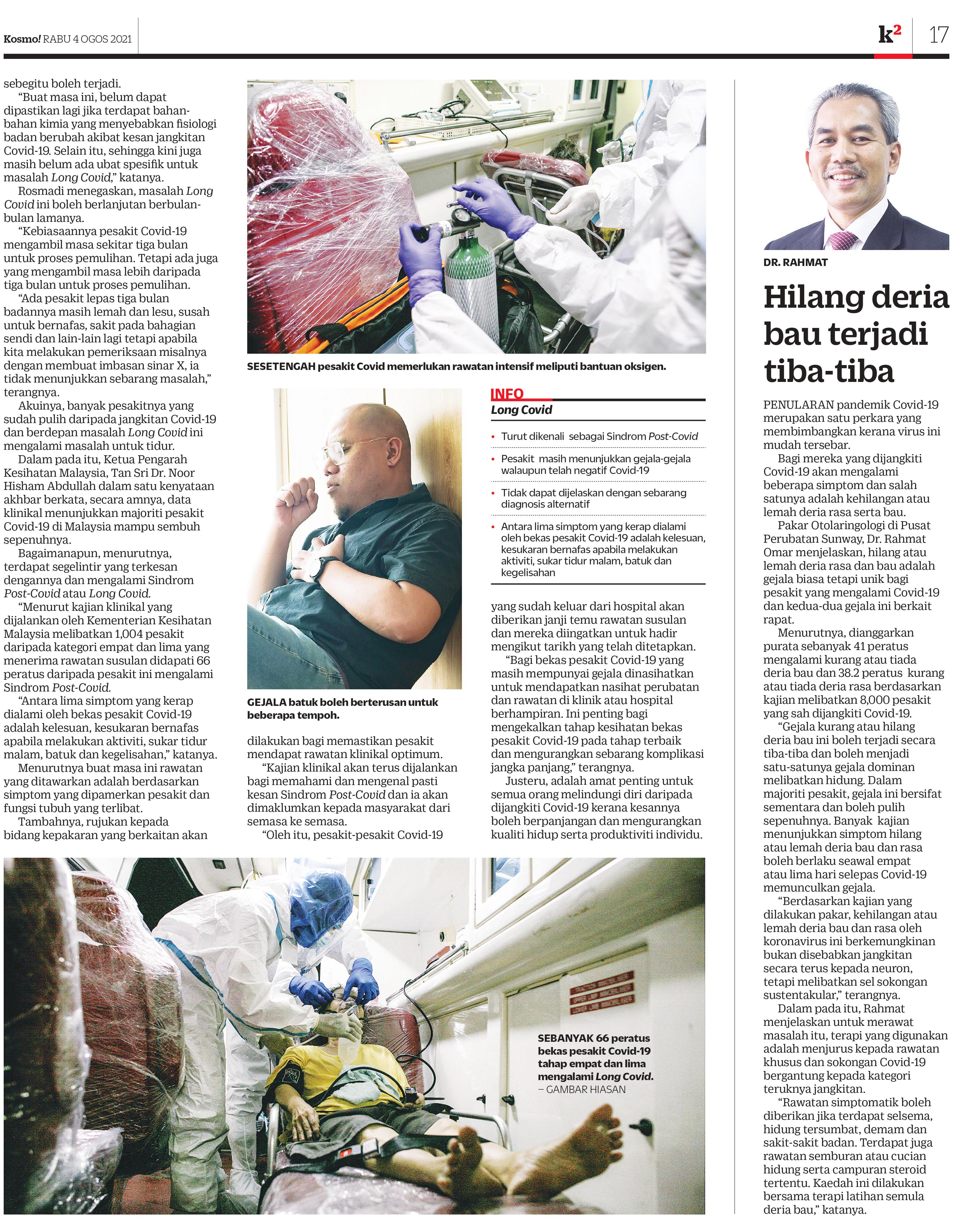 Health Director General, Tan Sri Dr Noor Hisham Abdullah said in a statement, clinical data shows that a majority of Covid-19 patients are able to fully recover, with 66% of 1,004 patients from Category 4 and 5 undergoing follow-up treatment of Long Covid. Patients will be treated accordingly with the symptoms they are experiencing.
Despite heavily influencing the human respiratory system, Long Covid also takes effect on one's ENT functions.
Dr Rahmat Omar, Consultant ENT and Otolaryngologist at Sunway Medical Centre explains losing or deteriorating smell and taste are the common but unique post-symptoms for Covid-19 patients as they are both interrelated. A research conducted on 8,000 positive Covid patients shows that in average 41% are losing or having poor smell sense while 38.2% are recorded with losing or deteriorating taste buds.
"The symptoms can suddenly hit the patients without any warning as early as four to five days after infection. Experts believe the symptoms are most likely not caused by direct infection to the neuron, but sustentacular support cells. In most cases, the symptoms may linger temporarily and have high chances to recover completely over time," he said while adding symptomatic treatment may be given if the patients have a cold, stuffy nose, fever and body aches. There are also spray treatments or nasal washes as well as certain steroid mixtures. This method will be done alongside olfactory sensory retraining therapy.
Source: Kosmo!
Back