Sunway Medical Centre Flags Off "Ride Your Journey [6,000km, 72 Hours]" Campaign for Prostate Cancer
10 December 2021
Sunway Medical Centre Flags Off "Ride Your Journey [6,000km, 72 Hours]" Campaign for Prostate Cancer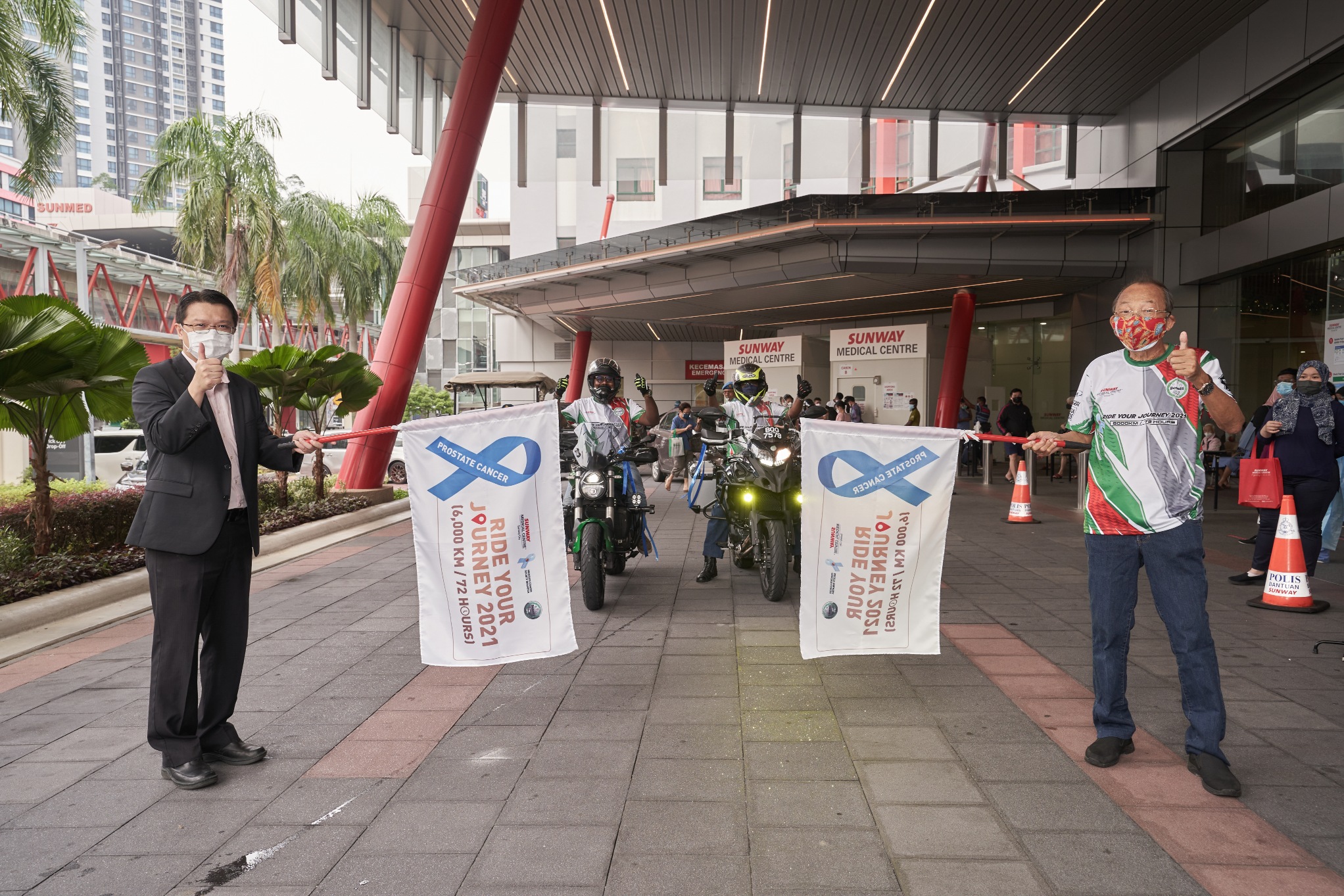 Dr Seow Vei Ken, Medical Director of Sunway Medical Centre, Sunway City (far left) and Wong Kuan Sing, President of Prostate Cancer Society (far right) flagging off the Ride Your Journey [6,000km, 72 Hours) attempt by bikers, Sarawanan Ratnam and Balan Vellasamy.
Sunway City, 10 December 2021 – Motorcycle enthusiasts, Sarawanan Ratnam and Balan Vellasamy, initiated the Ride Your Journey campaign which will see them attempting to ride 6,000 kilometres in 72 hours across Peninsular Malaysia to raise awareness and funds for prostate cancer through Prostate Cancer Society Malaysia. The duo was flagged off in cheers today at Sunway Medical Centre, Sunway City ahead of their journey.
"Sunway Medical Centre has always been a strong supporter of cancer causes. Hence, we are honoured to be the flag off venue for this meaningful event in support of prostate cancer and are extremely proud of the duo who are using their passion for a good cause. We wish them a smooth and safe journey ahead and are confident that they will be able to complete the expedition within the intended time," said Dr Seow Vei Ken, Medical Director of Sunway Medical Centre, Sunway City.
The love of riding their motorcycles brought together two seemingly ordinary strangers who soon challenged themselves to go on long rides. Sarawanan, 38, a business manager and Balan, 59, a restaurant owner had successfully completed 1,600km within 24 hours and 2,500km within 36 hours in the past.
"We are just two friends who are always riding almost every weekend whether to a nearby town or long distance. We unite under the motto of 'Shut Up and Just Ride' because we find joy to just hop on our bikes. For us, enjoying the journey itself matters more than a particular destination. Since biking is mostly a sport for men, we wanted to use this opportunity to send a message across and draw attention to prostate cancer while inspiring more bikers to do the same for a good cause," Sarawanan said.
This time, they are challenging to break the Malaysian Book of Records for longest distance ride in an attempt to complete 6,000km in 72 hours while raising awareness on prostate cancer. On their faithful Benelli motorcycles, they will begin their journey in Penang on 23 December 2021 at 8am and ending at Dataran Merdeka on 26 December 2021 at 8am.
According to the Malaysia National Cancer Registry Report 2012-2016, prostate cancer is the third most common cancer among men and more than 68% of prostate cancer is detected in the late stages (Stage 3 and 4). Yet, most men are shy away from coming forward to do a prostate examination or opt for the prostate-specific antigen (PSA) test. Regular health screening is the best way to detect prostate cancer at the early stage to save lives.
Sarawanan and Balan will be documenting their journey across the Peninsular. Follow their expedition on Sunway Medical Centre's Facebook and contribute to their cause by making a donation to Prostate Cancer Society Malaysia's Maybank account 5126 4262 0116. All proceeds will be channelled to supporting those with prostate cancer.
Back