A Labour of Love - Interview with Labour Ward Manager, Sr Shamani A/P Jayasingam
14 December 2022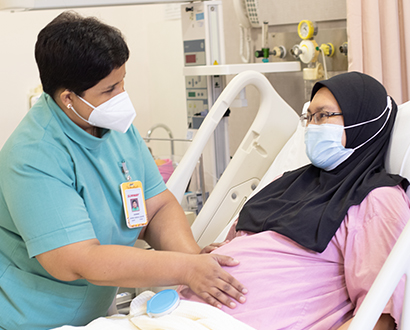 Nothing can compare to the miracle of a child's birth.
The moment when a newborn baby lets out its first cry, announcing his or her arrival to the world is always wondrous; a memory that will forever be imprinted in the parents' minds.
As a Labour Ward Manager, Sr Shamani is blessed to be able to witness and be a part of these moments almost daily on the job.
She and her team of nurses are based exclusively in the Labour Ward, helping mothers through this exciting journey of welcoming these precious little ones into the world.
This time, we sat down to speak with her to find out more about what she does as well as the experiences she's had during her 20 years in this field!

What does she do as a Labour Ward Manager?
When the pregnant mother is brought down to the Labour Ward during established labour (after the cervix has dilated up to 3cm), Sr Shamani and her team will monitor the mother and the soon-to-be-born baby's condition right until its birth.
This includes checking on the mother and baby's vital signs and also how labour is progressing for the mother. This is done using a cardiotocography (CTG), a device that is placed on the mother's abdomen to monitor the baby's heart rate as well as the mother's contractions. All this will be shared with the doctor attending to the delivery.
As the mother is close to delivering the baby, she will encourage the mother to push and provide emotional support.
Once the baby is born, she'll be the one to clean and wrap the newborn to keep him or her warm. During this time, she will also guide the mother on how to breastfeed her baby.

What led her to decide to go into Labour and Delivery?
After completing her diploma back in 1997, she started off her career at Hospital Universiti Kebangsaan Malaysia. It was then that she was given a choice to either be an Operating Theater Nurse or Labour and Delivery Nurse.
She made the choice to be a Labour and Delivery Nurse, and 20 years on, she is here, serving the mothers who give birth at Sunway Medical Centre, Sunway City.
"I love babies, so this was a natural decision for me," she said.

What does she love most about her work?
What she loves most, she says, is seeing the joy that parents experience as they welcome their precious bundle of joy.
Also, when a much-longed-for baby who is conceived through in vitro fertilization (IVF) after countless times of trying is born very prematurely, there will often be a lot of emotional support required from herself and her team.
And since these babies will be here for quite a long period of time before they can be discharged, it is only natural that she and the mother end up bonding with one another and eventually become good friends. In fact, some of these babies' parents still come back to see her to this day.
"We have a very small premature baby born here about 4 to 5 years ago, and they still come back to visit us!" she exclaimed.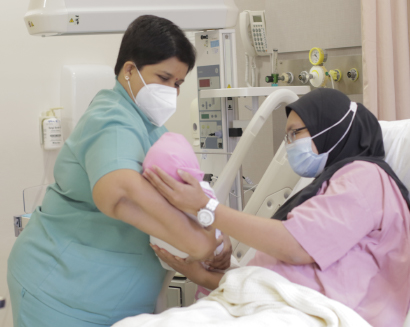 Does she have any advice for those looking to enter this field?
She strongly believes that attitude is crucial for nurses.
"Whatever field you may choose to go in nursing, you should be committed, hardworking and have a mindset of doing your very best for your patients who need you."
Once again, a big thank you to Sr Shamani and the rest of our labour and delivery nurses for helping to bring these precious little ones to the world! Much respect for you and your team for the work you do.
Back