Coffee break with Dr Ahmad Hisham, consultant orthopaedic surgeon.
30 December 2020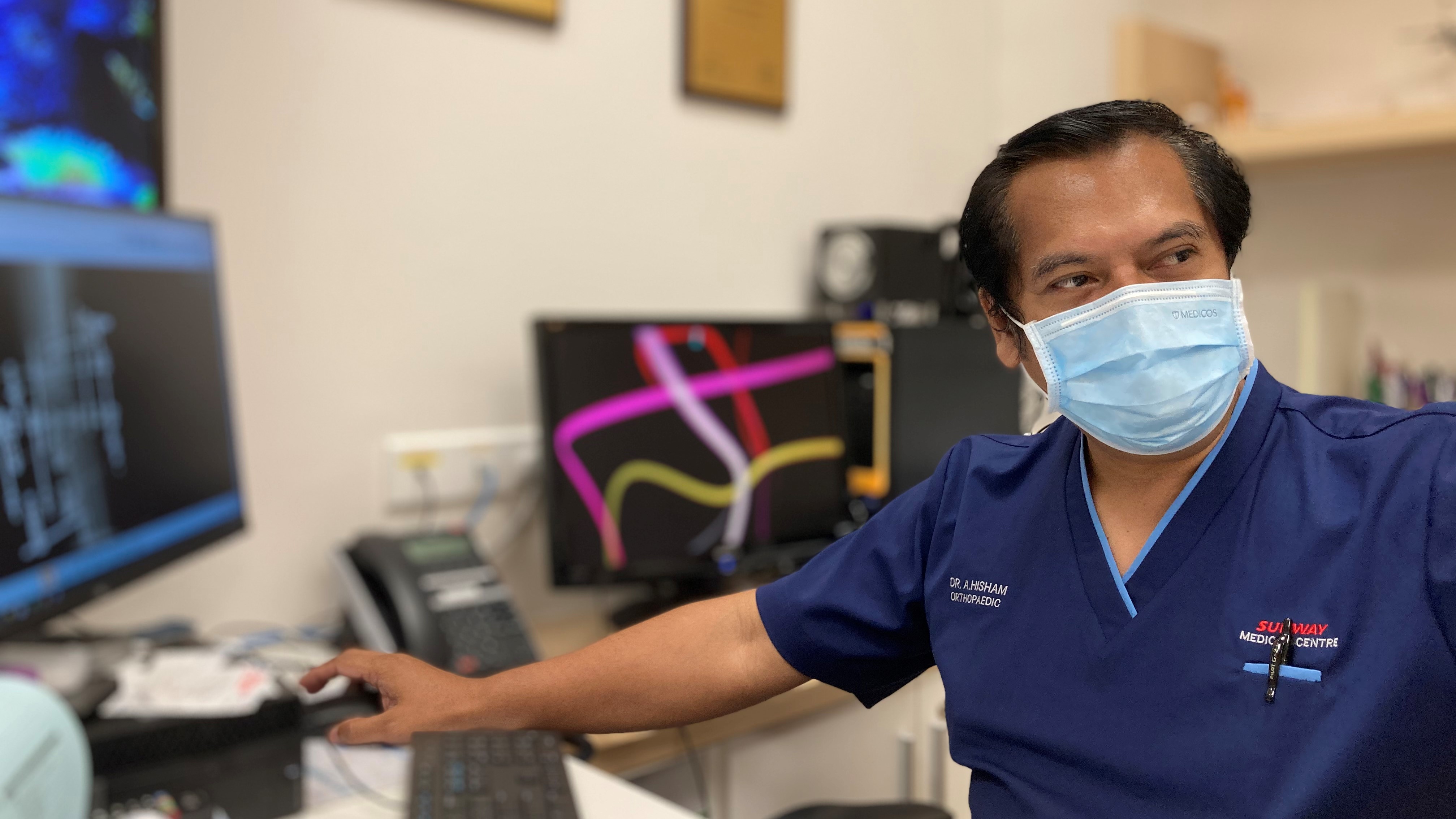 INTERVIEWER
When would you recommend a patient to undergo Total Knee Replacement (TKR)?
DR AHMAD HISHAM
TKR is usually used to treat knee pain when the pain has started to disturb patients' daily activities. If the pain has considerably limited their ability to do any tasks at their workplace or at home.
That, or if the patient is heavily dependent on painkillers on a daily basis, so as when they don't take painkillers the pain would be unbearable. Painkillers usually have side effects, so we don't want the patient's life to depend on it. Surgery at this time would be a good option.
INTERVIEWER
Thhe pain usually affects older people.
DR AHMAD HISHAM
95% of the patients are above fifty years old. There are some younger patients; most of the time osteoarthritis in young people occurs due to trauma.
INTERVIEWER
Car accidents?
DR AHMAD HISHAM
That is part of what is called secondary osteoarthritis. It happens when your cartilage breaks down because of another injury or a specific cause.
Primary osteoarthritis is caused by wear and tear throughout the years, so it mostly affects old people.
Young patients with a prior knee injury, however, are more likely to develop secondary osteoarthritis earlier than uninjured people's chances of getting primary osteoarthritis.
INTERVIEWER
How does old age contribute to osteoarthritis?
DR AHMAD HISHAM
Wear and tear of the joints through the years.
INTERVIEWER
Overuse.
DR AHMAD HISHAM
There's always going to be wear and tear as you get older. It doesn't mean that if you are active you are going to get osteoarthritis earlier.
The fact is, if you stay active regularly up until old age, it actually has a preventive effect against osteoarthritis.
INTERVIEWER
Exercise will not cause the cartilage to wear out sooner?
DR AHMAD HISHAM
The deterioration of your cartilage is ongoing, nobody can stop that. The ability of it to stay healthy longer is influenced by genetic factors, gender, body weight, and activity levels.
If you're inactive you might get osteoarthritis earlier because your cartilage will not be as healthy as an active person.
INTERVIEWER
Does having to undergo TKR mean that the condition has become unsolvable by other methods?
DR AHMAD HISHAM
You always try to give other types of treatment first, such as analgesic, weight-loss plans for obese patients, physiotherapy and intra-articular injection with hyluronic acid. You see if these work, so you can avoid performing surgery on the patient.
You don't normally suggest a TKR if the patient is just in mild pain.
INTERVIEWER
What do you feel about using alternative medicine to treat joint pain?
DR AHMAD HISHAM
There are patients who had tried using alternative medicine, but scientifically there is no evidence to suggest that alternative medicine works.
Up to this day there's no known cure for osteoarthritis, so whatever options that alternative medicine might propose, the fact is that osteoarthritis will not go away completely.
INTERVIEWER
Can I go back to running after the surgery?
DR AHMAD HISHAM
The aim of the surgery is to allow patients to resume their normal daily activities without pain or assistance, so that they can improve their quality of life. We would expect patients to be able to walk and bend their joints again, but without the expectation to jump or run.
INTERVIEWER
It's time to give up the high-impact hobbies.
DR AHMAD HISHAM
TKR can allow patients to recover to the point of ambulation without support or pain, and be able to carry out ordinary functions. But they might not regain a full supple range of the knee.
INTERVIEWER
How long does the implant last?
DR AHMAD HISHAM
Depends on the design of the implant and patients' activity level. The average lasts from ten to fifteen years.
INTERVIEWER
So if I did a TKR at fifty, I'll have to do it again at sixty.
DR AHMAD HISHAM
The artificial knee will be worn out at the end of its lifespan. We will need to perform a revision to change the liner, or remove everything and insert a new implant.
INTERVIEWER
How often do you refer cases for rehabilitation after surgery?
DR AHMAD HISHAM
I do recommend patients to undergo physiotherapy. To improve their recovery in ambulation, muscle strength, and joint movement.
INTERVIEWER
Do patients usually choose which surgeon they wish to be treated by?
DR AHMAD HISHAM
Most of the time my cases are referred from Accident and Emergency. The patients do have a choice of which doctor they want to see, especially if they have been to the same doctor before, or their relatives have.
INTERVIEWER
So most of your cases are trauma and not elective surgeries?
DR AHMAD HISHAM
I tend to do more trauma or sports cases.
INTERVIEWER
How does trauma surgery work? When the Accident and Emergency department calls you after they have received an injured patient, do you get ready to go into surgery right away?
DR AHMAD HISHAM
It depends on how bad the injury is. If it's very severe the surgeon will firstly go to Emergency to see the patient. If the injury is mild then the patient will be redirected to our outpatient clinic.
INTERVIEWER
Let's go back to the beginning. Why did you choose medicine?
DR AHMAD HISHAM
I didn't have a very clear idea of what my ambitions were. My friends were going to medical school, so I tagged along. At the time when I was growing up we weren't exposed to many choices or opportunities. Becoming a doctor is one of the only career pathways that we knew, along with becoming a teacher or a policeman. It's very different from what youngsters have nowadays; there are a million different careers to choose from.
INTERVIEWER
Why did you choose orthopaedics?
DR AHMAD HISHAM
I developed my interest when I was in the orthopaedics department as a medical officer. At my time you would go to orthopaedics after medical surgery and ob/gyn. It's a bit unlike now, where you start doing rotations during housemanship.
I found it a very rewarding specialty. When the patient came to you he was unable to walk, but after your treatment he left the clinic walking again, albeit probably a bit slower.
INTERVIEWER
The change is very immediately apparent.
DR AHMAD HISHAM
The satisfaction comes from the effectiveness of the treatment.
It's unlike when you need to treat diabetes or hypertension, where you would have to monitor the body for years on end, and possibly for the rest of the patient's life, without actually getting to cure it.
INTERVIEWER
You weren't afraid of the blood and the mess.
DR AHMAD HISHAM
When you become a doctor you have to face that naturally, or it's not the right calling for you.
INTERVIEWER
What are some other subspecialities in orthopaedics?
DR AHMAD HISHAM
They include arthroplasty, sports surgery, spine surgery, advance trauma, hand and micro surgery, foot and ankle surgery and tumor surgery.
INTERVIEWER
It sounds like a lot of manual craftwork where you have to be good with your hands.
DR AHMAD HISHAM
You have to know what you are doing, it's not just about being good with your hands. You need to continuously perfect your practical skills and academic knowledge.
There is a bit of carpentry, but mostly being a good surgeon means how well you fare in tackling different problems. Even one simple fracture can have different solutions and different ways of operating on it.
At times it's pretty straightforward. At times the injury is complicated or segmented so you'll be thinking about more than just to put a nail in. You have to keep learning and master your problem-solving brain.
INTERVIEWER
Do you need a lot of physical energy for the carpentry?
DR AHMAD HISHAM
It's a common misconception that orthopaedic surgery is dominated by male surgeons. You don't really need physical force to do most of the surgeries. You need to know how to do it, and to do it the smart way.
INTERVIEWER
What's the longest or the most dangerous surgery that you have ever performed?
DR AHMAD HISHAM
It's not usually dangerous.
The longest surgery I've performed would be a replantation. It means you reattach a severed limb.
INTERVIEWER
Did the patient bring in the severed body part along with himself?
DR AHMAD HISHAM
The whole hand. So the first things you need to reconnect are the arteries and the veins (i.e. the circulation). Then you repair the tendons. Then you reconnect the bones with plates.
INTERVIEWER
How many surgeons were involved in that procedure?
DR AHMAD HISHAM
Two orthopaedic surgeons and one hand microsurgeon. We did it as a team. The hand surgeon was the sub-specialized expert in that area,
INTERVIEWER
Was the condition life threatening?
DR AHMAD HISHAM
It's not often for orthopaedic injuries to be life threatening. What is more difficult to us, sometimes, is the decision to lose the limb.
INTERVIEWER
How long did the replantation surgery take?
DR AHMAD HISHAM
Ten hours. You take breaks in the middle. Since there are a few surgeons, one of us can rest for a while. We take turns.
INTERVIEWER
Do you plan to retire?
DR AHMAD HISHAM
As long as I am able I will continue to perform surgery.
INTERVIEWER
Do you have other specialties that you might be interested in, if not for orthopaedics?
DR AHMAD HISHAM
If I were to go back in time I would still choose orthopaedics.
INTERVIEWER
Right now COVID must have reduced the amount of trauma cases.
DR AHMAD HISHAM
Fewer people are getting into accidents. That is a good thing. But there's also the fact that more people are afraid to come to the hospital because of infection scares.
INTERVIEWER
But if your bones broke, you must come into the hospital. There's no way around it.
DR AHMAD HISHAM
Injuries also dropped because fewer people went out, even if you went out there was nothing much you could do to get injured.
INTERVIEWER
How much has the caseload dropped?
DR AHMAD HISHAM
About 50% in the beginning. Right now we are 70% back on track.
INTERVIEWER
In normal times do you do surgery daily?
DR AHMAD HISHAM
You have to schedule your surgeries around your clinic hours. On days you only do clinic, and on days you only do surgery.
I'm in the clinic all day when I'm not operating. I see patients, read some manuals. There's always a stockpile of medical reports to go through.
INTERVIEWER
Which part of the job do you enjoy more?
DR AHMAD HISHAM
Operating is of course more enjoyable. But you cannot operate without seeing the patients. We need to be synchronised with the patients personally throughout the whole process. Talk to them and answer their concerns before the surgery, get to know their problems, and also observe them post-surgery to see how they are responding to the treatment.
INTERVIEWER
What are the hours like?
DR AHMAD HISHAM
You might be busy if you are on-call. If you're not on-call you stick to office hours. You can schedule your surgeries outside office hours if you want to. All things considered the hours are good.
INTERVIEWER
Good work-life balance?
DR AHMAD HISHAM
There are quite a few orthopaedic surgeons at the hospital, so the on-call schedule can be evenly shouldered by everyone. In a month you might only get a few calls to come in. You're not necessarily on-call every week.
INTERVIEWER
How many surgeries do you do in a week?
DR AHMAD HISHAM
Five when it's busy. In a quiet week you might only get a couple. It fluctuates.
INTERVIEWER
Do you get better the more surgeries you do?
DR AHMAD HISHAM
Number of surgeries indicates your experience and familiarity with the procedures. So that's true up to a point. If you do too many surgeries there's also a danger of burnout.
INTERVIEWER
Would you recommend a medical student to choose orthopaedic surgery?
DR AHMAD HISHAM
Definitely. Just come into the department and see for yourself on how it works. You need to be there to know if it's your true calling.
Tags: Coffee Break Series
Back