Mother's Day Healthy Drink Recipe
28 April 2023
Drink Recipes for Chronic Diseases
Mother's Day is just around the corner, and what better way to show your love than by preparing a healthy drink for your mom? If your mom has a chronic disease, we've got you covered with some delicious and nutritious drink recipes that will satisfy her cravings.
These recipes are for satisfying the cravings of mothers with chronic diseases and are not intended for dietary therapy purposes.

Drink for Diabetes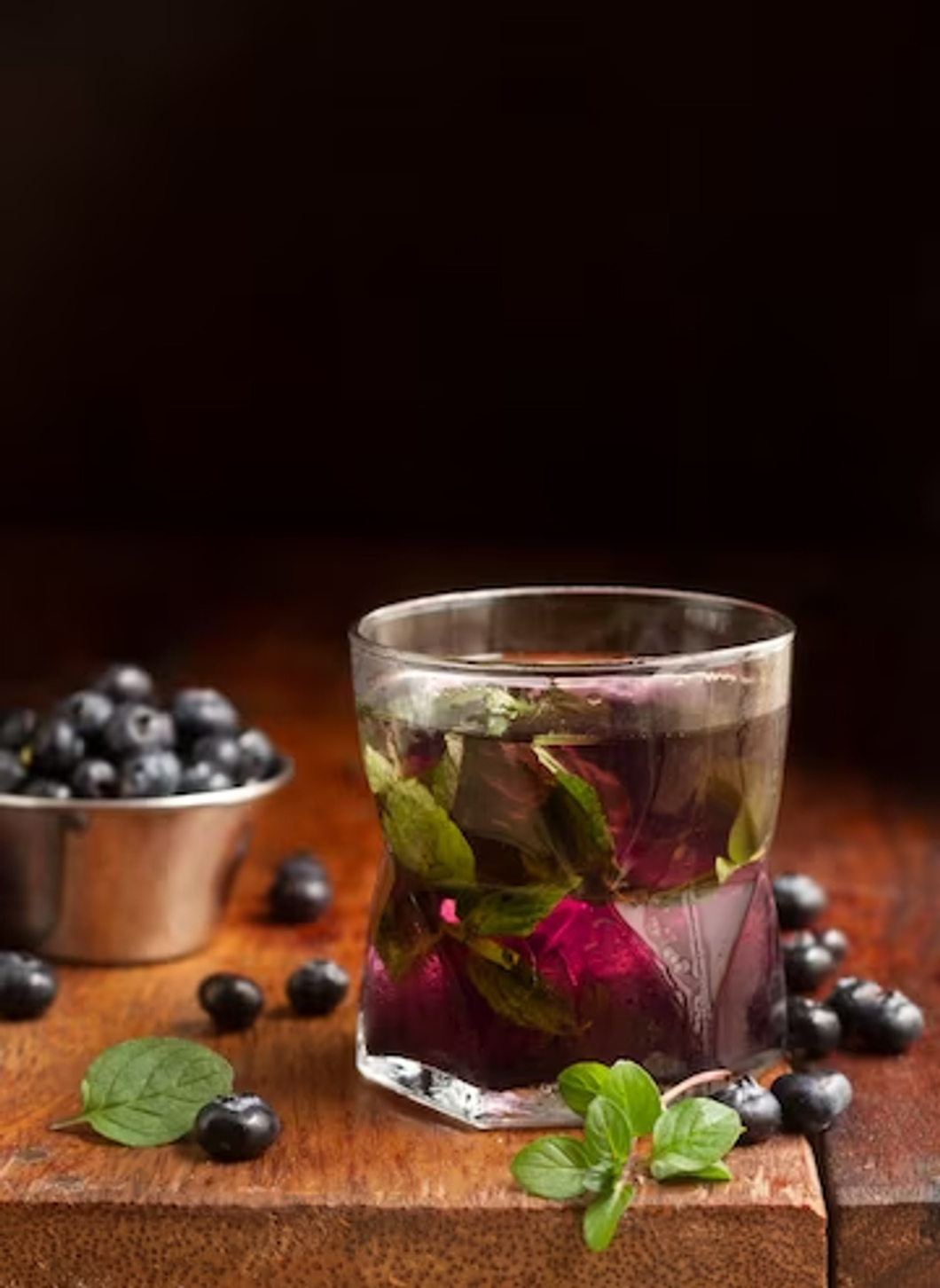 Grape Iced Tea Recipe
A delightful choice for mothers managing diabetes, this refreshing Grape Iced Tea is both enjoyable and helpful.
The sugar substitute provides sweetness without spiking blood sugar levels, while the green or black tea base is known for its numerous health benefits.
A tasty and thoughtful drink for moms watching their sugar intake.
Ingredients
Seedless Red Grapes: 50g (8-10 grapes)
Green Tea: 1 tablespoon / 3 tea bags
Sugar substitute (Sucralose): 5-10g (1-2 sachets)
Water: 1.5 cups (350ml)
Ice Cubes: as needed
Lemon Slices: for garnishing
Instructions
Begin by washing the grapes and soaking them in salt water for 30 minutes to remove dirt. Drain and set aside.
Make the tea by bringing 2 cups of water to a boil, then adding the tea and sugar substitute. Turn off the heat and let it steep for 10 minutes.
Drain the liquid and refrigerate until cold.
Puree the grapes in a blender until smooth, then strain and chill until cold. If you lack a blender, you can crush the grapes with a fork until smooth, then strain the juice through a fine mesh strainer or cheesecloth to remove solid bits.
Take a glass and add some ice cubes, chilled grape juice, and chilled tea.
Add a slice of lemon and serve cold.
Nutrition facts
| Nutrient | Amount per serving |
| --- | --- |
| Calories | 42 kcal |
| Carbohydrates | 10 g |
| Dietary Fiber | 2 g |
| Sugars | 8 g |
| Protein | 0.5 g |
| Fat | 0 g |

Drink for Hypertension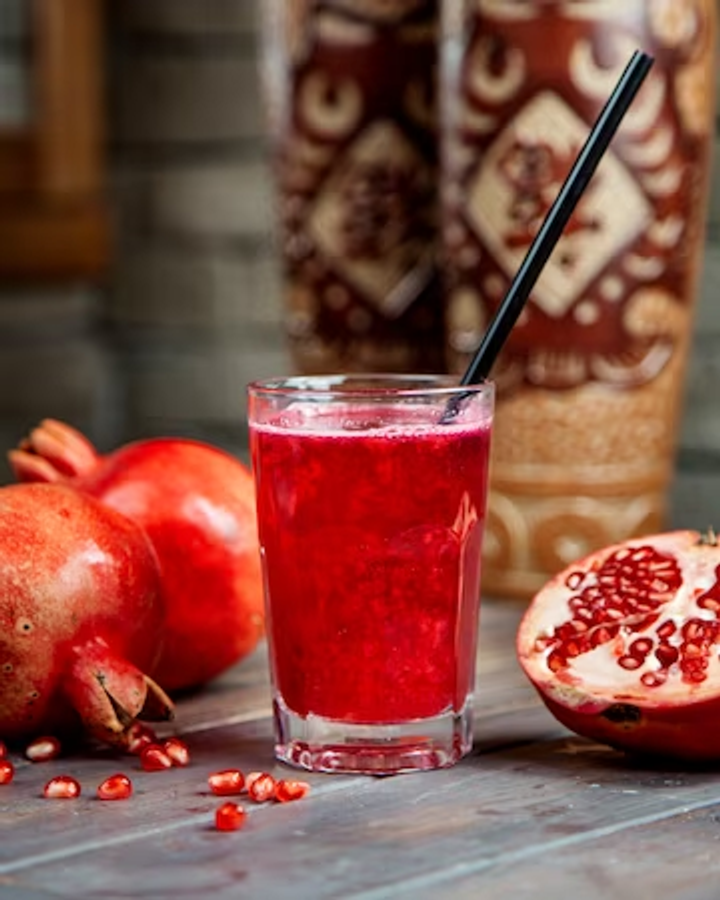 Pomegranate Mocktail Recipe
This vibrant and delicious Pomegranate Mocktail is an excellent option for moms dealing with high blood pressure.
Pomegranate juice is rich in antioxidants, known to support cardiovascular health, while the addition of mint and lime adds a refreshing touch.
A heart-healthy drink that shows you care about your mom's well-being.
Ingredients
Pomegranate juice: 1/4 cup (60 ml)
Half lime (cut in wedges)
6-8 mint leaves
1 cup soda water: 1 cup (250ml)
Sugar substitute (Sucralose): 5-10g (1-2 sachets)
Instructions
In a tall glass, place the sugar substitute and pomegranate juice.
Gently squeeze lime wedges and add the juice to the mixture.
Clap some mint leaves together in your hands to release the scent and add them to the glass.
Put plenty of ice in the glass and pour soda water on top. Stir well.
Garnish with pomegranate seeds, mint, and lime slices.
Nutrition facts
| Nutrient | Amount per serving |
| --- | --- |
| Calories | 42 kcal |
| Carbohydrates | 10 g |
| Dietary Fiber | 1 g |
| Sugars | 8 g |
| Protein | 0.5 g |
| Fat | 0 g |

Drinks for Osteoporosis
Strong Bone Calcium-Rich Chocolate Smoothie Recipe
For mothers who need an extra boost of calcium to support bone health, this delicious and creamy smoothie is a perfect choice.
Packed with calcium from milk and Greek yoghurt, it also contains cocoa powder, which is a good source of iron and other nutrients.
This smoothie is a delicious way to strengthen bones and indulge your mom's sweet tooth.
Ingredients
Ingredients:
Full cream milk: 1 cup (250ml)
Cocoa powder: 1 tablespoon
Low-fat Greek yogurt: 1/4 cup (85 g)
Pure vanilla extract: 1 tablespoon
Crushed ice: 1/2 cup
Honey: 1 tablespoon (optional)
Instructions
Gather all the ingredients and put them into a blender.
Blend the mixture together until it's smooth and well combined.
If you don't have a blender, you can mix all the ingredients in a shaker first and then add ice.
Once the mixture is blended to your liking, pour it into a glass.
Add a few ice cubes if you prefer your smoothie extra cold.
Finally, garnish with a sprinkle of cocoa powder.
Nutrition facts
| Nutrient | Amount per serving |
| --- | --- |
| Calories | 280 kcal |
| Carbohydrates | 21 g |
| Dietary Fiber | 0 g |
| Sugars | 6 g |
| Protein | 13 g |
| Fat | 16 g |
| Calcium | 400 mg |
Note: Nutrition facts are calculated using full cream milk and honey. The nutritional value may vary depending on the ingredients used.

Drinks for Arthritis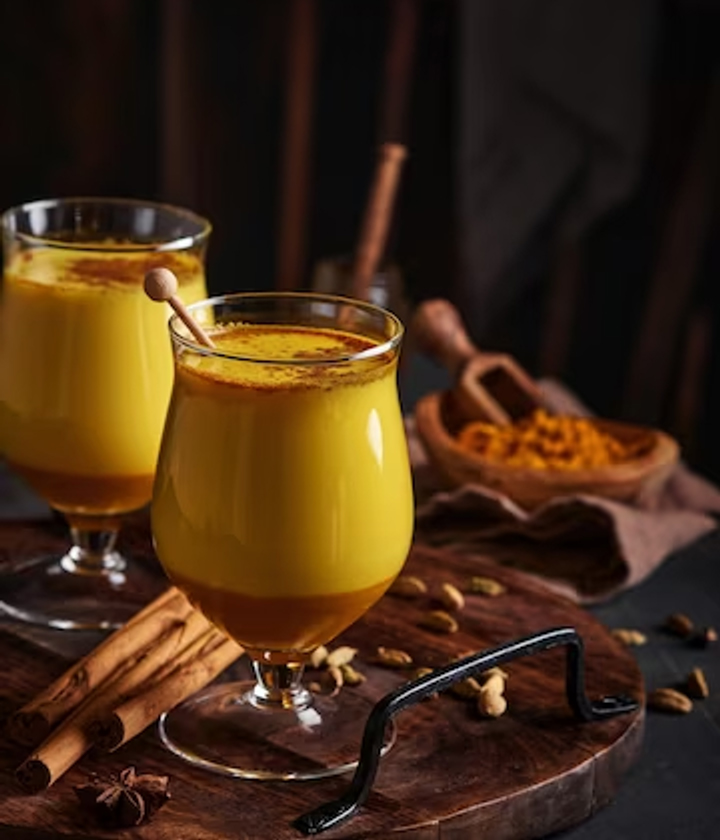 Anti-Inflammatory Turmeric Golden Milk Recipe
For those suffering from inflammation or joint pain, this warm and comforting beverage is a great addition to your mom's daily routine.
Packed with antioxidants and anti-inflammatory properties from turmeric, it can help alleviate discomfort and support overall well-being.
A perfect soothing drink for moms who need some relief.
Ingredients
Full cream milk: 1 cup (250ml)
Ground turmeric: 1/2 teaspoon
Ground ginger: 1/4 teaspoon
Black pepper: 1/4 teaspoon
Honey: 1 teaspoon (optional)
Instructions
Grind the ground turmeric and ginger separately.
To save time, you may use store-bought turmeric and ginger powders.
In a small saucepan, add milk, turmeric, and ginger.
Heat the mixture over low heat, stirring frequently, until warm but not boiling.
Remove from heat and add honey and black pepper, stirring well.
Pour into a mug and enjoy.
Nutrition facts
| Nutrient | Amount per serving |
| --- | --- |
| Calories | 200 kcal |
| Carbohydrates | 17 g |
| Dietary Fiber | 0 g |
| Sugars | 6 g |
| Protein | 8 g |
| Fat | 10 g |
| Calcium | 300 mg |
Back