Sunway Medical Centre, Sunway City's Dedicated Women: A Glimpse Into the Life of Radiologist, Dr Shalini Seeritharan
20 June 2023
In conjunction with International Women's Day this year, Sunway Medical Centre, Sunway City celebrates the dedicated women in healthcare who tirelessly give themselves to their patients, who then go home and give another 100% to their passions outside of work and their families. In this tribute, get a glimpse into the life of Consultant Radiologist, Dr Shalini Seeritharan.
Indulging in Fitness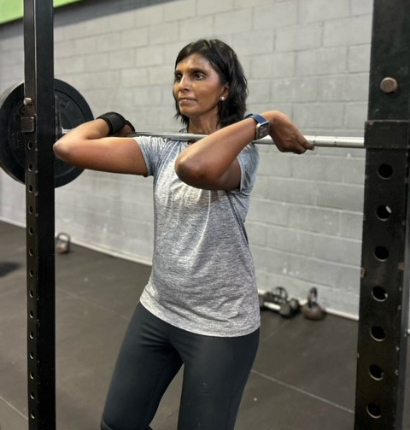 As a specialist doctor who deals with diagnostic medical imaging devices such as x-ray, ultrasound, computerised tomography (CT scan) and magnetic resonance imaging (MRI), Dr Shalini Seeritharan usually spends long hours in aiding with patient diagnosis.
After a busy and stressful day, the Consultant Radiologist chooses to de-stress herself by indulging and immersing herself in fitness. Dr Shalini, who prefers indoor exercise, would diligently make time after work to go to the gym at least three to four times a week, spending at least an hour per session.
The mother to a 15-year-old daughter enjoys CrossFit, as this type of functional workout enables her to build strength and mobility. She has made some good gym friends along her fitness journey and feels excited to see them during their sessions together.
"Some people like to exercise in groups as it keeps them motivated, and it is fun to see familiar faces. But sometimes, we need that time for ourselves so we have the space to clear our minds," she shared.
Dr Shalini admits that she always looks forward to working out at the end of the day and apart from CrossFit, enjoys the calmness of swimming in an outdoor pool during weekends.
She believes the key to maintaining our health is to be fit and one way to stay fit is to watch what we put into our system. "Prevention is better than cure. Being mindful of what we eat is equally important to an active lifestyle. I try to integrate healthy meals and keep the sugar level down as I am living with older folks," she said. She also encourages healthier snack options like mixed nuts or fresh fruits.
"The goal is not just about keeping fit, but to maintain strength, stamina and mobility in years to come. Particularly for women who wear multiple hats every day, we need to take care of our own well-being, to be able to care for others," she stressed.
Back