A new lease of life through kidney transplantation at Sunway Medical Centre
21 June 2021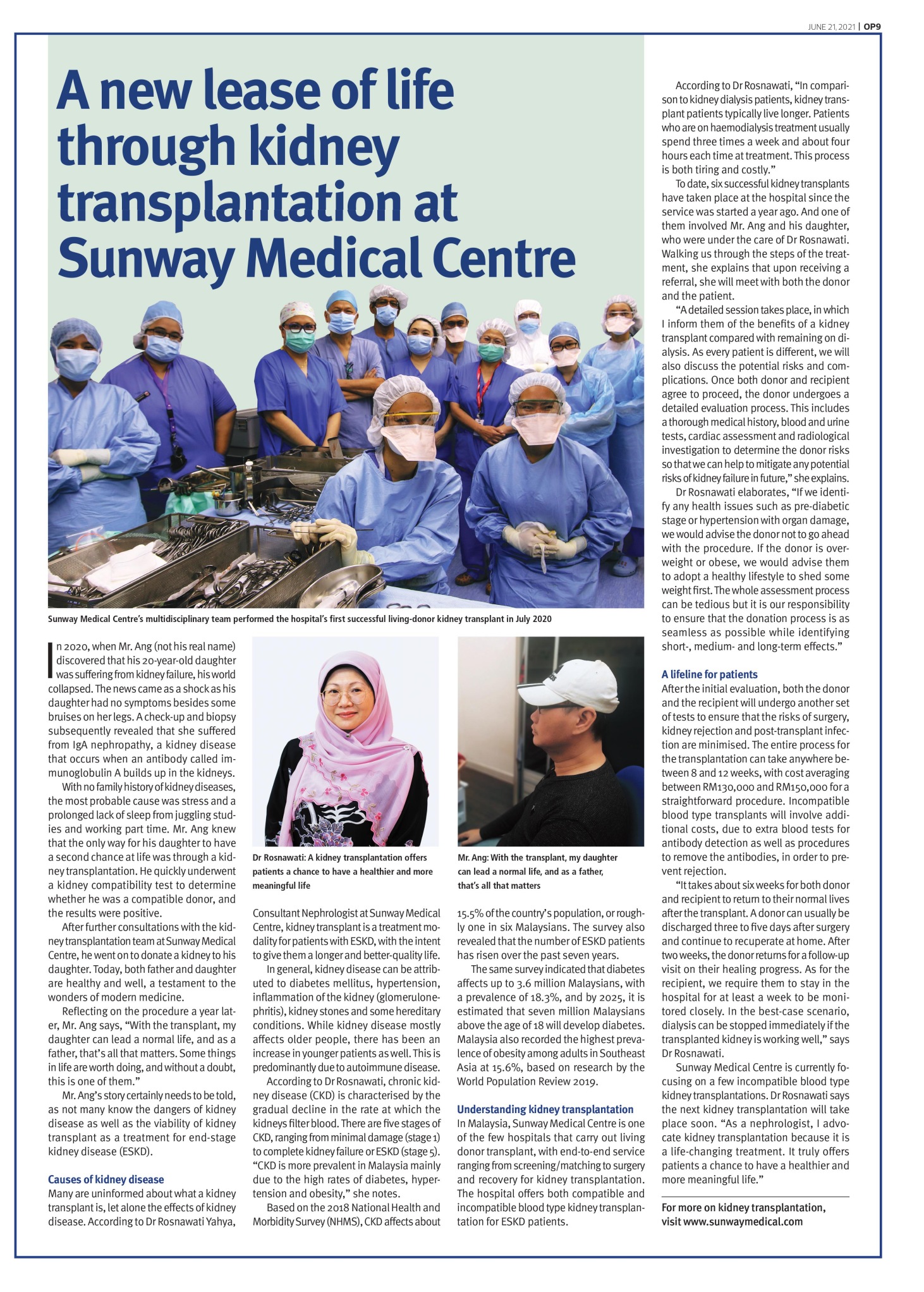 In 2020, when Mr. Ang (not his real name) discovered that his 20-year-old daughter was suffering from kidney failure, his world collapsed. The news came as a shock as his daughter had no symptoms besides some bruises on her legs. A check-up and biopsy subsequently revealed that she suffered from IgA nephropathy, a kidney disease that occurs when an antibody called immunoglobulin A builds up in the kidneys.
With no family history of kidney diseases, the most probable cause was stress and a prolonged lack of sleep from juggling studies and working part time. Mr. Ang knew that the only way for his daughter to have a second chance at life was through a kidney transplantation. He quickly underwent a kidney compatibility test to determine whether he was a compatible donor, and the results were positive.
After further consultations with the kidney transplantation team at Sunway Medical Centre, he went on to donate a kidney to his daughter. Today, both father and daughter are healthy and well, a testament to the wonders of modern medicine.
Reflecting on the procedure a year later, Mr. Ang says, "With the transplant, my daughter can lead a normal life, and as a father, that's all that matters. Some things in life are worth doing, and without a doubt, this is one of them."
Mr. Ang's story certainly needs to be told, as not many know the dangers of kidney disease as well as the viability of kidney transplant as a treatment for end-stage kidney disease (ESKD).
Causes of kidney disease
Many are uninformed about what a kidney transplant is, let alone the effects of kidney disease. According to Dr Rosnawati Yahya, Consultant Nephrologist at Sunway Medical Centre, kidney transplant is a treatment modality for patients with ESKD, with the intent to give them a longer and better-quality life.
In general, kidney disease can be attributed to diabetes mellitus, hypertension, inflammation of the kidney (glomerulonephritis), kidney stones and some hereditary conditions. While kidney disease mostly affects older people, there has been an increase in younger patients as well. This is predominantly due to autoimmune disease.
According to Dr Rosnawati, chronic kidney disease (CKD) is characterised by the gradual decline in the rate at which the kidneys filter blood. There are five stages of CKD, ranging from minimal damage (stage 1) to complete kidney failure or ESKD (stage 5). "CKD is more prevalent in Malaysia mainly due to the high rates of diabetes, hypertension and obesity," she notes.
Based on the 2018 National Health and Morbidity Survey (NHMS), CKD affects about 15.5% of the country's population, or roughly one in six Malaysians. The survey also revealed that the number of ESKD patients has risen over the past seven years.
The same survey indicated that diabetes affects up to 3.6 million Malaysians, with a prevalence of 18.3%, and by 2025, it is estimated that seven million Malaysians above the age of 18 will develop diabetes. Malaysia also recorded the highest prevalence of obesity among adults in Southeast Asia at 15.6%, based on research by the World Population Review 2019.
Understanding kidney transplantation
In Malaysia, Sunway Medical Centre is one of the few hospitals that carry out living donor transplant, with end-to-end service ranging from screening/matching to surgery and recovery for kidney transplantation. The hospital offers both compatible and incompatible blood type kidney transplantation for ESKD patients.
According to Dr Rosnawati, "In comparison to kidney dialysis patients, kidney transplant patients typically live longer. Patients who are on haemodialysis treatment usually spend three times a week and about four hours each time at treatment. This process is both tiring and costly."
To date, six successful kidney transplants have taken place at the hospital since the service was started a year ago. And one of them involved Mr. Ang and his daughter, who were under the care of Dr Rosnawati. Walking us through the steps of the treatment, she explains that upon receiving a referral, she will meet with both the donor and the patient.
"A detailed session takes place, in which I inform them of the benefits of a kidney transplant compared with remaining on dialysis. As every patient is different, we will also discuss the potential risks and complications. Once both donor and recipient agree to proceed, the donor undergoes a detailed evaluation process. This includes a thorough medical history, blood and urine tests, cardiac assessment and radiological investigation to determine the donor risks so that we can help to mitigate any potential risks of kidney failure in future," she explains.
Dr Rosnawati elaborates, "If we identify any health issues such as pre-diabetic stage or hypertension with organ damage, we would advise the donor not to go ahead with the procedure. If the donor is overweight or obese, we would advise them to adopt a healthy lifestyle to shed some weight first. The whole assessment process can be tedious but it is our responsibility to ensure that the donation process is as seamless as possible while identifying short-, medium- and long-term effects."
A lifeline for patients
After the initial evaluation, both the donor and the recipient will undergo another set of tests to ensure that the risks of surgery, kidney rejection and post-transplant infection are minimised. The entire process for the transplantation can take anywhere between 8 and 12 weeks, with cost averaging between RM130,000 and RM150,000 for a straightforward procedure. Incompatible blood type transplants will involve additional costs, due to extra blood tests for antibody detection as well as procedures to remove the antibodies, in order to prevent rejection.
"It takes about six weeks for both donor and recipient to return to their normal lives after the transplant. A donor can usually be discharged three to five days after surgery and continue to recuperate at home. After two weeks, the donor returns for a follow-up visit on their healing progress. As for the recipient, we require them to stay in the hospital for at least a week to be monitored closely. In the best-case scenario, dialysis can be stopped immediately if the transplanted kidney is working well," says Dr Rosnawati.
Sunway Medical Centre is currently focusing on a few incompatible blood type kidney transplantations. Dr Rosnawati says the next kidney transplantation will take place soon. "As a nephrologist, I advocate kidney transplantation because it is a life-changing treatment. It truly offers patients a chance to have a healthier and more meaningful life."
Source: The Edge
Back