Living with Pituitary Tumours
05 June 2022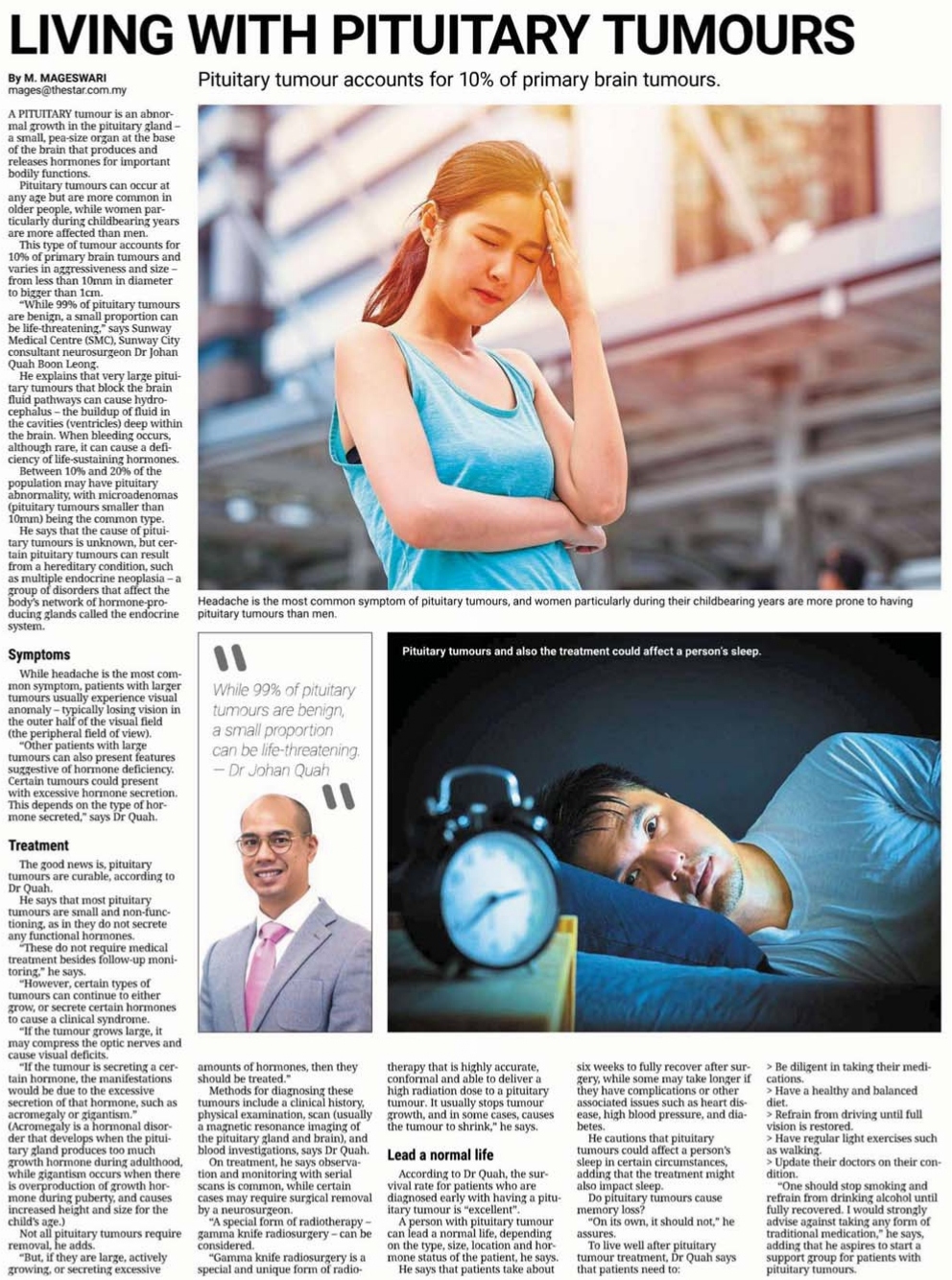 A pituitary tumour is an abnormal growth in the pituitary gland – a small, pea-size organ at the base of the brain that produces and releases hormones for important bodily functions.
Pituitary tumours can occur at any age but are more common in older people, while women particularly during childbearing years are more affected than men.
This type of tumour accounts for 10% of primary brain tumours and varies in aggressiveness and size – from less than 10mm in diameter to bigger than 1cm.
"While 99% of pituitary tumours are benign, a small proportion can be life-threatening," says Sunway Medical Centre, Sunway City consultant neurosurgeon Dr Johan Quah Boon Leong.
He explains that very large pituitary tumours that block the brain fluid pathways can cause hydrocephalus – the buildup of fluid in the cavities (ventricles) deep within the brain. When bleeding occurs, although rare, it can cause a deficiency of life-sustaining hormones.
Between 10% and 20% of the population may have pituitary abnormality, with microadenomas (pituitary tumours smaller than 10mm) being the common type.
He says that the cause of pituitary tumours is unknown, but certain pituitary tumours can result from a hereditary condition, such as multiple endocrine neoplasia – a group of disorders that affect the body's network of hormone-producing glands called the endocrine system.
Symptoms
While headache is the most common symptom, patients with larger tumours usually experince visual anomaly – typically losing vision in the outer half of the visual field (the peripheral field of view).
"Other patients with large tumours can also present features suggestive of hormone deficiency. Certain tumours could present with excessive hormone secretion. This depends on the type of hormone secreted," says Dr Quah.
Treatment
The good news is, pituitary tumours are curable, according to Dr Quah.
He says that most pituitary tumours are small and non-functioning, as in they do not secrete any functional hormones.
"These do not require medical treatment besides follow-up monitoring," he says.
"However, certain types of tumours can continue to either grow, or secrete certain hormones to cause a clinical syndrome.
"If the tumour grows large, it may compress the optic nerves and cause visual deficits.
"If the tumour is secreting a certain hormone, the manifestations would be due to the excessive secretion of that hormone, such as acromegaly or gigantism." (Acromegaly is a hormonal disorder that develops when the pituitary gland produces too much growth hormone during adulthood, while gigantism occurs when there is overproduction of growth hormone during puberty, and causes increased height and size for the child's age.)
Not all pituitary tumours require removal, he adds.
"But, if they are large, actively growing, or secreting excessive amounts of hormones, then they should be treated."
Methods for diagnosis of PTs include a clinical history, physical examination, scan (usually a magnetic resonance imaging (MRI) of the pituitary gland and brain), and blood investigations, says Dr Quah.
On treatment, he says that most commonly is observation and monitoring with serial scans, while certain cases may require surgical removal by a neurosurgeon.
"A special form of radiotherapy – gamma knife radiosurgery – can be considered.
"Gamma knife radiosurgery is a special and unique form of radiotherapy that is highly accurate, conformal and able to deliver a high radiation dose to a pituitary tumour. It usually stops tumour growth, and in some cases, causes the tumour to shrink," he says.
Lead a normal life
According to Dr Quah, the survival rate for patients who are diagnosed early with having a pituitary tumour is "excellent".
A person with pituitary tumour can lead a normal life, depending on the type, size, location and hormone status of the patient, he says.
He says that patients take about six weeks to fully recover after surgery, while some may take longer if they have complications or other associated issues such as heart disease, high blood pressure, and diabetes.
He cautions that pituitary tumours could affect a person's sleep in certain circumstances, adding that the treatment might also impact sleep.
Do pituitary tumours cause memory loss?
"On its own, it should not," he assures.
To live well after pituitary tumour treatment, Dr Quah says that patients need to:
Be diligent in taking their medications.
Have a healthy and balanced diet.
Refrain from driving until full vision is restored.
Have regular light exercises such as walking.
Update their doctors on their condition.
"One should stop smoking and refrain from drinking alcohol until fully recovered. I would strongly advise against taking any form of traditional medication," he says, adding that he aspires to start a support group for patients with pituitary tumours.
Source: The Star
Back