Revved up on journey for prostate cancer cause
15 December 2021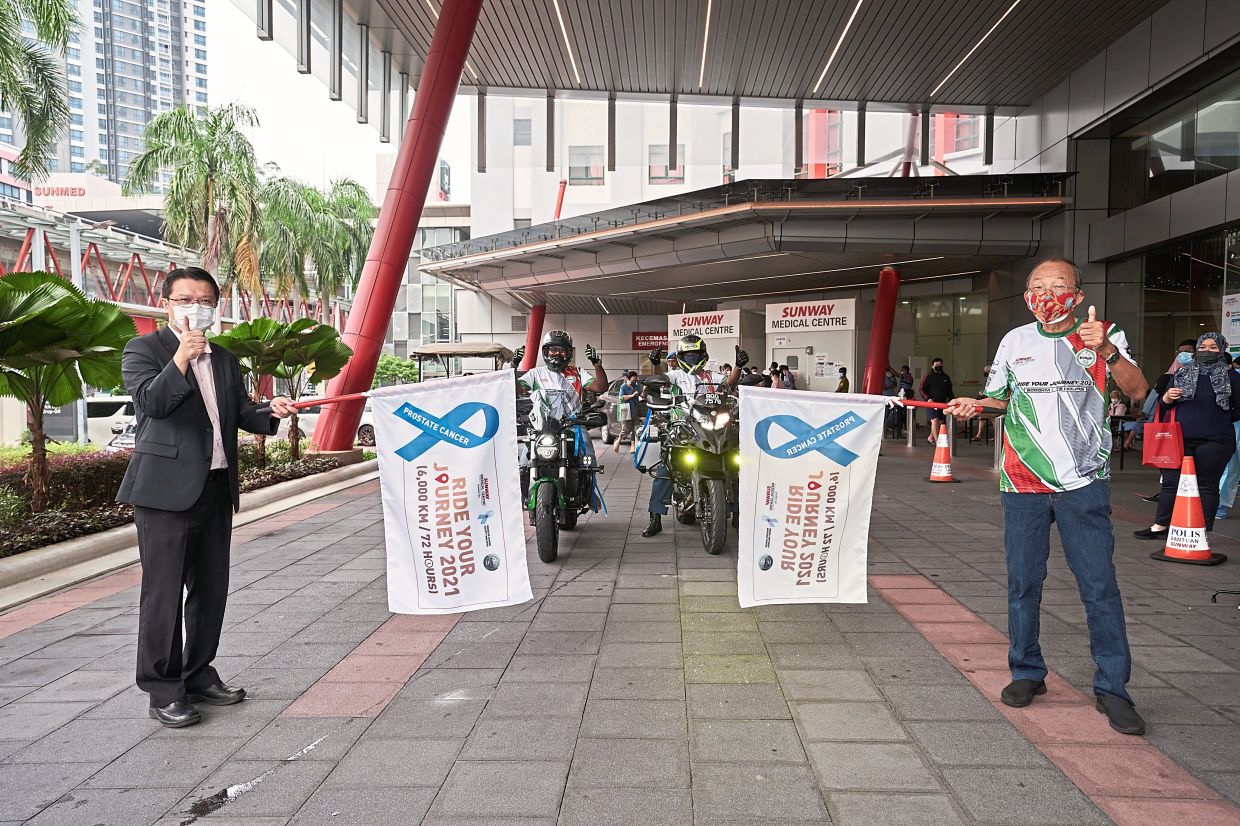 TWO motorcycle enthusiasts have initiated the "Ride Your Journey" campaign, which will see them attempting to ride 6,000km in 72 hours to raise funds in aid of Prostate Cancer Society Malaysia.
The duo, Sarawanan Ratnam and Balan Vellasamy, were flagged off on Dec 10 from Sunway Medical Centre, Petaling Jaya.
"Sunway Medical Centre has always been a strong supporter of cancer causes. So we are extremely proud of this duo who are using their passion for a good cause," said Dr Seow Vei Ken, who is medical director of Sunway Medical Centre.
It was a love of riding motorcycles that brought the two men together.
Sarawanan, 38, a business manager, and Balan, 59, a restaurant owner, previously completed 1,600km within 24 hours and 2,500km within 36 hours.
"We ride almost every weekend either to nearby towns or long distance," said Sarawanan.
"As biking is a sport that largely attracts men, we wanted to use this opportunity to draw attention to prostate cancer while inspiring more bikers to do the same for a good cause," he added.
This time, the duo are looking to earn a place in the Malaysia Book of Records with their feat.
Riding their Benelli motorcycles, they will begin their journey in Penang on Dec 23 at 8am and end their trip at Dataran Merdeka Kuala Lumpur on Dec 26 at 8am.
According to the Malaysia National Cancer Registry Report 2012-2016, prostate cancer is the third most common cancer among men and more than 68% of cases are detected in the late stages (Stage 3 and 4).
Yet, most men shy away from coming forward to undergo prostate examination or the prostate-specific antigen (PSA) test.
Regular health screenings are the best way to detect prostate cancer at an early stage.
Sarawanan and Balan will be documenting their journey.
Follow their expedition on Sunway Medical Centre's Facebook page.
Donations to the Prostate Cancer Society Malaysia can be made to Maybank account 5126 4262 0116.
All proceeds will be channelled to supporting those with prostate cancer.
Source: The Star
Back