Sunway Healthcare embarks on expansion
25 November 2019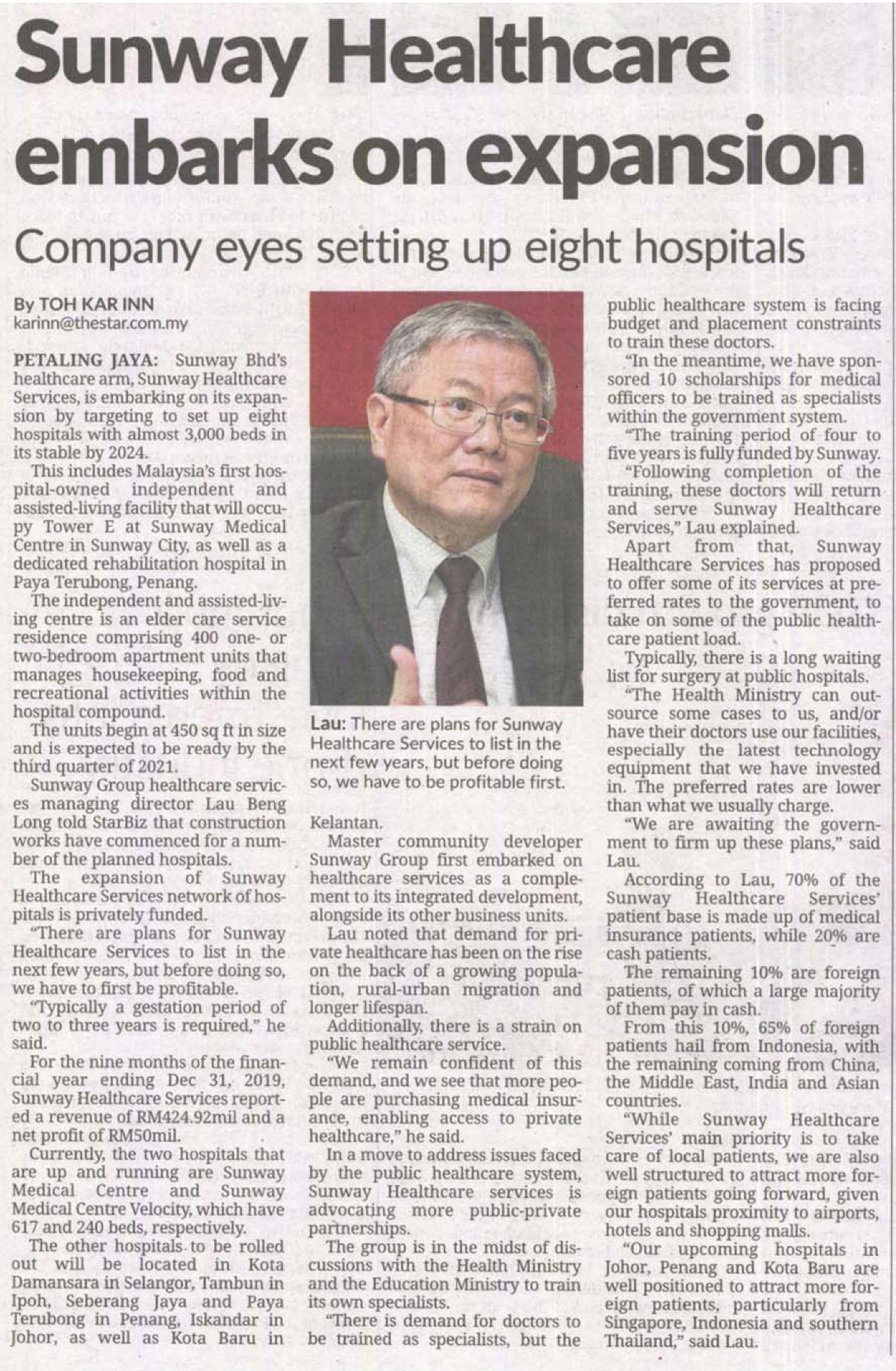 Sunway Bhd's healthcare arm, Sunway Healthcare Services, is embarking on its expansion by targeting to set up eight hospitals with almost 2,000 beds in its stable by 2024.

This includes Malaysia's first hospital-owned independent and assisted-living facility that will occupy Tower E at Sunway Medical Centre in Sunway City, as well as a dedicated rehabilitation hospital in Paya Terubong, Penang.

The independent and assisted-living centre is an elder care service residence comprising 400 one- or two-bedroom apartment units that manages housekeeping, food and recreational activities within the hospital compound.

The units begin at 450 sq ft in size and is expected to be ready by the third quarter of 2021.

Sunway Group healthcare services managing director Lau Beng Long told StarBiz that construction works have commenced for a number of the planned hospitals.

The expansion of Sunway Healthcare Services network of hospitals is privately funded.

"There are plans for Sunway Healthcare Services to list in the next few years, but before doing so, we have to first be profitable.

"Typically a gestation period of two to three years is required," he said.

For the nine months of the financial year ending Dec 31, 2019, Sunway Healthcare Services reported a revenue of RM424.92mil and a net profit of RM50mil.

Currently, the two hospitals that are up and running are Sunway Medical Centre and Sunway Medical Centre Velocity, which have 617 and 240 beds, respectively.

The other hospitals to be rolled out will be located in Kota Damansara in Selangor, Tambun in Ipoh, Seberang Jaya and Paya Terubong in Penang, Iskandar in Johor, as well as Kota Baru in Kelantan.

Master community developer Sunway Group first embarked on healthcare services as a complement to its integrated development, alongside its other business units.

Lau noted that demand for private healthcare has been on the rise on the back of a growing population, rural-urban migration and longer lifespan.

Additionally, there is a strain on public healthcare service.

"We remain confident of this demand, and we see that more people are purchasing medical insurance, enabling access to private healthcare," he said.

In a move to address issues faced by the public healthcare system, Sunway Healthcare services is advocating more public-private partnerships.

The group is in the midst of discussions with the Health Ministry and the Education Ministry to train its own specialists.

"There is demand for doctors to be trained as specialists, but the public healthcare system is facing budget and placement constraints to train these doctors.

"In the meantime, we have sponsored 10 scholarships for medical officers to be trained as specialists within the government system.

"The training period of four to five years is fully funded by Sunway.

"Following completion of the training, these doctors will return and serve Sunway Healthcare Services," Lau explained.

Apart from that, Sunway Healthcare Services has proposed to offer some of its services at preferred rates to the government, to take on some of the public healthcare patient load.

Typically, there is a long waiting list for surgery at public hospitals.

"The Health Ministry can outsource some cases to us, and/or have their doctors use our facilities, especially the latest technology equipment that we have invested in. The preferred rates are lower than what we usually charge.

"We are awaiting the government to firm up these plans," said Lau.

According to Lau, 70% of the Sunway Healthcare Services' patient base is made up of medical insurance patients, while 20% are cash patients.

The remaining 10% are foreign patients, of which a large majority of them pay in cash.

From this 10%, 65% of foreign patients hail from Indonesia, with the remaining coming from China, the Middle East, India and Asian countries.

"While Sunway Healthcare Services' main priority is to take care of local patients, we are also well structured to attract more foreign patients going forward, given our hospitals proximity to airports, hotels and shopping malls.

"Our upcoming hospitals in Johor, Penang and Kota Baru are well positioned to attract more foreign patients, particularly from Singapore, Indonesia and southern Thailand," said Lau.
Source: The Star
Back